About this Event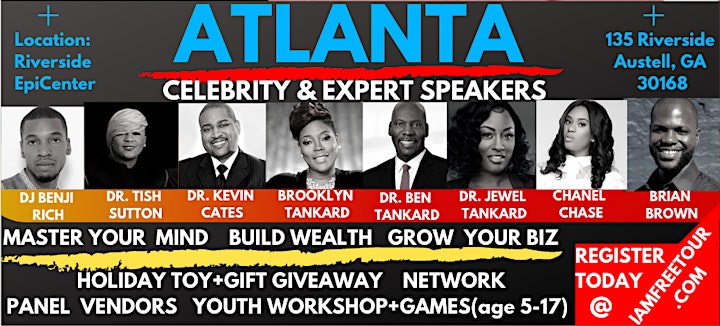 I AM FREE CONFERENCE
is an opportunity for ambitious people from different walks of life and the entire family to be truly empowered mentally, emotionally and financially!
This family friendly event will feature dynamic speakers sharing tangible strategies, an informational Q & A panel, The I AM FREE Holiday Toy/Gift Giveaway, breakfast networking mixer, a youth empowerment workshop/kids gameroom and great vendors.
The I Am Free Conferene 2019 is one of many stops on the I Am Free Tour and will take place on Saturday, December 21st, 2019 in Atlanta, GA at a fabulous facility called the Riverside EpiCenter.
CELEBRITY & SPECIAL GUEST
Bravo TV's favorite family , The Tankards:
Brooklyn Tankard - Empowerment Speaker & Life/Biz Coach Dr. Ben Tankard - Empowerment Speaker Dr. Jewel Tankard - Wealth Coach & Speaker DJ BenjiRich - Master DJ & Panelist
AND other special guest including:
Dr. Tish Sutton - Business/Branding Strategist & Consultant Chanel Chase -Best Selling Author and Empowerment Speaker Brian Brown- Innovative Online Marketing Strategist
WHY ATTEND?
Evolve mentally, emotionally and financially by learning tangible skillsets & life-changing strategies.
Discover your true identity and breakthrough the chains of fear to become a free leader of yourself and in your community.
Connect face to face w/ entreprenuers, creatives, leaders and investors.
Have fun, enjoy music and shop with local vendors.
Empower your children and get free toys if in need.
SCHEDULE
11:00am - 11:30am Registration /Check-In / Coffee Networking Mixer
11:30am - 12:00pm Welcome & Intro by Emcee
12:00pm - 12:30pm Dr. Jewel Tankard - The New Rules of Money
12:30pm - 12:45pm Chanel Chase- Pain, Purpose & The Process /Best Selling Book
12:45pm - 1:00pm Brian Brown- Innovatively Market Your Brand Online
1:00pm - 1:30pm Dr. Ben Tankard - Mastering Your Mind Chat & Performance
1:30pm - 2:00pm Brooklyn Tankard - BreakThrough to The Best Version of YOU
2:30pm - 3:00pm Q & A Panel w/ALL SPEAKERS
3:00pm - 4:00pm IAMFREE Holiday Toy Giveaway & Refreshments
YOUTH SCHEDULE (ages 7yr-17yr)
11:00am - 11:30am Youth Registration /Check-In/Drop Off
11:30am - 12:00pm Welcome
12:00pm - 1:00pm Youth Empowerment Workshop
1:00pm - 3:00pm Game Time in Kids ZoneArcade
3:00pm - 4:00pm IAMFREE Holiday Toy Giveaway & Refreshments
*Located in the Kids Zone Area*
OPPORTUNITIES?
Opportunities are available to participate as a:
Vendor, Sponsor, Ambassador, Speaker, Panelist or Volunteer.
ADDITIONAL INFO?
In 2019, we hosted our very first I AM FREE Tour , in partnership with organizations, colleges and universities across the US. We are now preparing to kick-off our 20 city I AM FREE Tour in 2020 . We look forward to seeing you at the 2019 Conference or one of our many stops across the US in 2020!
WHY SPONSOR?
Increase brand awareness -to a captive audience of your target market.
Cross promote your brand -in different markets across the United States of America.
Over 1 million impressions of brand -when promoted by celebrities via social media and online to millions.
Increase your impact on community -by supporting our mission to provide holiday toys & gifts for kids/parents in need
For questions or if interested in participating please call us at 615-544-5266 or email info@IAMFREETOUR.com