Description
"I am Determined Workshop-Red Dress & Wine Event"
Hosted by TDL Coaching & SOWBO Magazine
Cost: $10.00
Speaker: Tonya Latney
Guest Speaker: TBA (Interested in being a guest speaker in your city email tdlcoaching1@gmail.com)
TDL Coaching & Consulting and SOWBO Magazine want to work with women who are looking to take their vision worldwide.
Join the Dream Coach for a night of mindset and attitude changing. Let's work on your Recipe & Roadmap for your life.
This is the time to showcase your business, book or and share your business story with like-minded women globally. We also want to hear and share your business journey of success to help motivate and encourage future entrepreneurs
If you are looking to make other changes in your life this event is for you as well.

https://www.eventbrite.com/o/tdl-coaching-amp-consulting-16691535549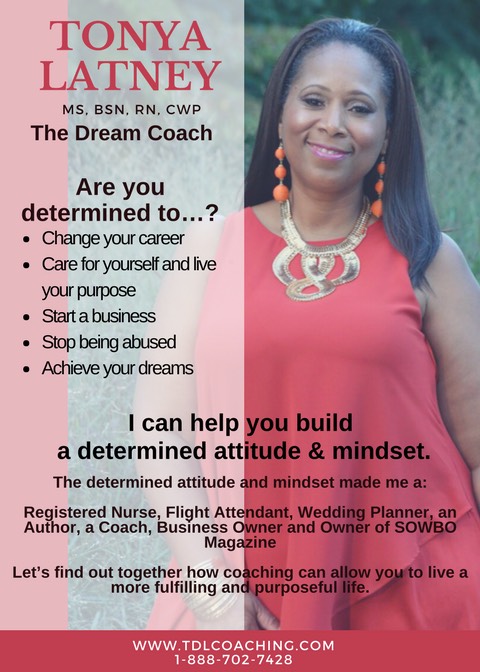 www.tdlcoaching.com
The mission of TDL Coaching & Consulting is to connect with women to help empower and educate them to live happier and healthier lives. We offer to coach on life-personal- business and health. We understand that to live a productive and purpose-filled life you must have a holistic approach to connecting the mind-body-spirit.

Interested in Business:
Society of Women Business Owners is an organization/magazine that brings women business owners and women inspiring to become entrepreneurs together.
www.societyofwomenbusinessowners.com