Description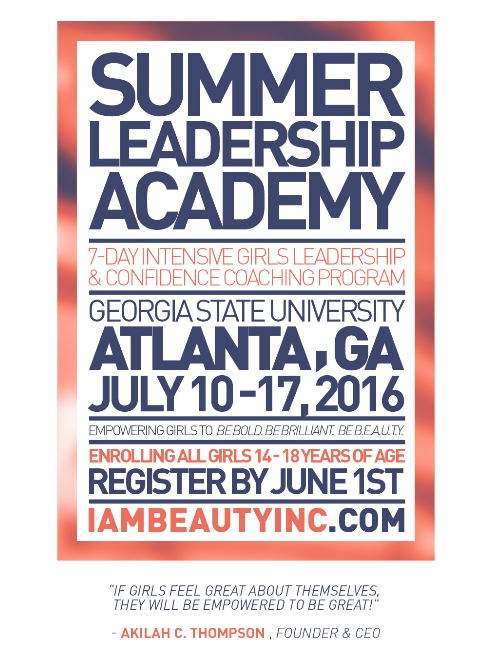 I AM B.E.A.U.T.Y. Summer Leadership Academy (IABSLA) is an annual summer program designed to transform and empower teen girls NOW to become powerful future world leaders. In this 7-day intensive bootcamp style coaching program participants are given tools to build self-confidence, establish mentors, formulate goals , discuss teen issues, prepare for college and hone life skills essential to success.
Our why
According to Dove Statistics,
Only 4% of women around the world consider themselves beautiful.

6 out of 10 girls stop doing what they love, because they feel bad about how they look.

Only 11% of girls globally are comfortable using the word beautiful to describe themselves.
We want to combat these statistics by supporting girls and young women in stepping bolding and confidently into their dreams. We empower participants to love the who they are, believe in the leader they can become and equip them with the tools needed to reach their fullest potential
Our results say participants can expect:
Boost in confidence and sense of self worth

Higher academic performance

Improved behaviors in school and at home

Understanding the importance of urgency & integrity

Increased positive attitude and outlook

Improved communication and social skills

Gain a lifelong sisterhood
And if they are already high performing dreamers, you can expect them to leave the academy soaring to new heights, empowered by the sisterhood, mentorship, and transformation.
Who can attend? High School Girls , 14 - 18 years of age
Our Academy Objectives
We have redefined beauty and empower girls to be B.E.A.U.T.Y. ...Beautiful, Extraordinary, Ambitious, Unlimited, Talented, and Young….which outlines the objectives of our curriculum.
Beautiful - To promote self-love, positivity, and build confidence
Extraordinary - To discover talents, passion and purpose

Ambitious - To create a life vision and formulate goals

Unlimited - To explore the endless possibilities of life through career awareness and exploration

Talented - To introduce and hone life skills essential for success

Young - To encourage living a healthy and active lifestyle
What does the Summer Leader Academy include?
Celebrity Guest, Speakers, & Dynamic Coaches
During this intensive week of training , participants will be empowered and inspired by a host of celebrity personalities, professionals from a variety of industries , success/life coaches and will work with our I AM B.E.A.U.T.Y. founder daily.
Beauty Makeover & "Future Career Photo Shoot"
Participants gain beauty & hygiene tips as well as a makeover from a panel of beauty experts. They will also "live out" their vision in our career photoshoot, where they will be photographed in their future careers.
Conversations with Men
Many teenage girls have questions about boys , things they may not understand about their fathers, etc. In our Conversations with Men Panel, we will gather a distinguished panel of men to participate in an open forum with the girls where they can get a male perspective on a variety of topics.
Daily Team Building & Wellness Activities
We understand the power of teaming and the importance of self-care. Participants will engage in team building exercises to support them in working effectively in teams and as a leader. They will also participate in daily wellness activities which include, fitness classes, yoga, meditation, and gratitude practices.
College Prep & Campus Tours
Participants will get the opportunity to tour the site location and other local college campuses to begin exploring the college application process. We will dive into learning about how to write strong college essays, applying for FAFSA, recommendation letters, taking your SAT or ACT, applying for scholarships, GPA requirements and much more. They will also get to experience life on campus staying in student dormitories and using the university facilities for academy activities.
Signature Mirror Self- Esteem Exercises
Participants engage in self-reflection and mirror activities, daily affirmations, public speaking exercises, and gratitude journaling to gain healthy practices which boost their self esteem and sense of self-worth.
Experiential Self Discovery Processes
Participates will learn more about "who they are" and "what they want to become" in self discovery exercises to identify strengths , talents, opportunities for growth and limiting beliefs about themselves.
Throughout the week self-discovery assessments will be administered to allow participants to become aware of their strengths, personality/leadership styles and love languages. They will also participate in workshops on various topics including networking , public speaking , leadership 101 , and personal branding.
Leadership & Professional Development Workshops


Career Expo & Mock Interviews
During the Career Expo, participants will hone communication skills through activities such as speed mentoring and mock interviews. Based on individual career interests, professionals will be invited to speak on a panel and 1:1 with the girls about their specific area of career interest. Panel discussions with professionals in a variety of industries will expose participants to potential mentors and the education, experience, and skills needed to secure a job in a particular industry.
Party with a purpose!! The girls will create vision boards and make declarations around their future career goals which we will track and support them in achieving after the academy.
Vision Board & Declaration Party
Group Real Talk Discussions & Individual Coaching
Girls Night Out Excursion Each day participants are provided daily open forum discussion opportunities to address issues confronting their generation.
A night out off the campus for dinner and a social activity .
B.E.A.U.T.Y. Bling
All participants will receive beauty packages (including hair , facial and body products) and the 2016 Summer Leadership Academy Special Edition 'I AM BEAUTY" t-shirt.
Tuition
$1,297 ( includes lodging, meals and all activities)
Nonrefundable $500 deposit must be submitted by June 1st.

Balance can be paid in installments by July 1st.
2016 Location Details
Date
Sunday, July 10 - Sunday, July 17, 2016
All participants should plan to arrive in Atlanta by 12pm Sunday, July 10, 2016 as the Summer Leadership Academy will commence Sunday afternoon at 3pm.
Address
Georgia State University
33 Gilmer Street SE Atlanta, GA 30303
Lodging Info
All participants will experience what ​college campus life ​has to offer ​by staying in Georgia State University's Piedmont North housing complex located at 175 Piedmont Avenue NE, Atlanta, GA 30303.
Piedmont North offers a traditional residence hall lifestyle with all the amenities one would expect from a premier housing program. Each room has its own bathroom and is equipped with an extra-long bed with mattress, a wardrobe, dresser, daily linen service​and a desk and chair for each participant​.
​ ​
Rooming with either one or two other young women, the ladies will have the opportunity to create sisterly bonds through the many shared experiences throughout the week.
​To get a feel for Piedmont North,​ take a virtual tour by clicking here. http://tour.circlepix.com/tour/Nitro/loadingPage.htm?tourId=1279736#
​
​
Meals
Three healthy meals will be provided daily with breakfast served at Georgia State University's Piedmont North dining hall. Snacks will also be provided throughout the day to ensure that energy levels remain throughout the exciting Summer Leadership Academy curriculum.
Campus Tours
To promote higher education, campus tours will be conducted at Georgia State University and also Spelman College, an all women's institution seated in a rich history and founded in 1881​. The university scene in Atlanta is very diverse and houses schools that cater to all majors and educational genres. To find out more information regarding Georgia State University or Spelman College check out www.gsu.edu or www.spelman.edu.
Airports to fly into
Those flying into Atlanta should fly into Hartsfield-Jackson Atlanta International Airport. Atlanta is a hub for Delta, Frontier, Spirit and Southwest Airlines so there are many flight options into the city. All girls should plan to arrive no later than 12 pm as activities will begin at 3pm.
Transportation from Airport
Transportation will be provided to Georgia State for participants who will be flying into Atlanta.