| | |
| --- | --- |
| I AM BEAUTY SPRING BOOTCAMP - BRONX | |
Event Details

Did you know ?
Only 2% of women think they are beautiful ….
\\ 90% of eating disorders are found in girls
\\ 44% of teens skip meals as a tactic to losing or controlling weight
\\ Nearly 3 in 10 teen girls in the US will get pregnant at least once before age 20.
\\ 72% of parents of online teens are concerned about how their child interacts online with people they do not know.
\\ 91% of teens have been bullied.
\\ Suicide rates have increased by 60% worldwide; 30% of adolescent girls have thoughts about suicide
We want to make sure girls all over the world are quipped to be wildly successfull and serve as a supportive environment for them as they transition into powerful women. 
Join us for our I AM BEAUTY Spring Leadership Bootcamp!!!! This 8- week adventure will be an experience  that will allow girls to discover who they are , declare who they want to be and equip them with tools to soar boldly into their destinies. 
The Teen program starts off April 30th at 9am and Juniors May 1st at 2pm. Then the program will commence weekly on Saturdays from 9am - 2pm for Teens ( 14-18) and  Juniors ( 10-13) on Sundays from 2 - 7 PM until June 19th.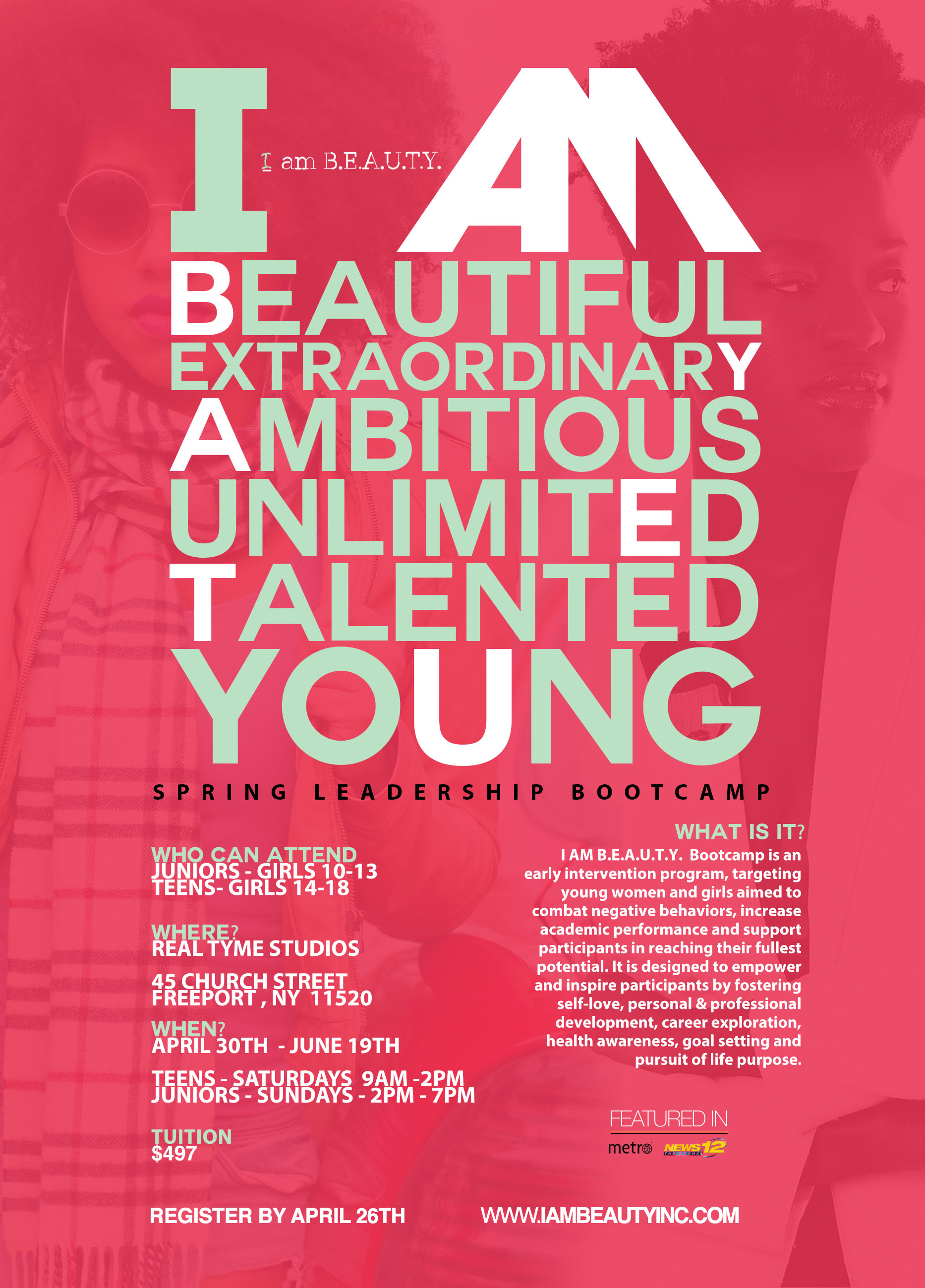 What does the program include ;
Small Group Setting -  We cap our bootcamps at 15 participants so that each participant gets an opportunity to receive the attention needed from facilators and contribute actively to the group.  
Weekly One on One- Coaching -  Our programs are led by amazing certified life coaches and inspirational speakers who are teen experts that will help the girls start to discover their passions, awaken their dreams and actively begin to pursue  them.  Its not called bootcamp for nothing! Our coaches set high expectations for the girls and lead with rigor, intensity, compassion and love to make sure they get the most out of the experience. Coaches speaking with the girls weekly outside of the program to follow up on assignments and progress. 
Experiential Learning & Discovery Excercises - Some things we only learn by doing. In bootcamp we challenge the girls through experiential exercises that brings awareness to things that may be impacting the girls unconscously that could impact how they build relationships and what they believe about themselves. 
Career Awareness & Mentorship - Professionals and topic experts speak throughout our programs to educate students on development topics. The  also serve as role models and mentors for participants and expose them to different careers and opportunities.
Personal & Professional Development - The program provides training and development through workshops and activities in areas essential for obtaining success and building confidence. The girls will learn how to craft resumes, conduct mock interviews, set goals, plan efffectively, social media ettiquette,  etc. 
Leadership & Team Building - The group builds together through activities to foster teaming skills and introduce the art of networking and relationship building. The come in as strangers and leave as life long sisters!  They also began honing leadership and public speaking skills as juniors!
Girl Talk - The participants are provided daily open forum discussion opportunities to address issues confronting their age group and current hot topics 
Beauty Day & Model for Life Photo Shoot - Every girl dreams of being a superstar and we make their dreams come true. On Beauty Day, the participants learn about beauty and hygiene, get a make-up lesson and mini-makeover to then participate in a career photo shoot.
Fitness Segment - Each session ends with a fitness activity to show teens the importance of exercise and maintaining an active lifestyle. Certified instructors  facilitate the fitness segments teaching Yoga, Zumba, Hip Hop Dance and Belly Dancing.  
The Finale - We understand how important affirmation is at this age.  At our finale girls show their parents all the new ground they have taken in I AM BEAUTY and are acknowledged by their parents.  
T-shirt -  Every participant wil get one of our signature " I AM BEAUTY " t-shirts unique to their team. 
Follow Up - After bootcamp , the participants become a apart of our I AM BEAUTY Community. The coaches follow up with girls after the program and are a lifelong resources to them.
Post Bootcamp benefits -  Participants that have completed bootcamp are welcome to participate in future bootcamps and activities at a 20% discount.  Girls who have graduated from high school are welcome to volunteer for bootcamps and intern for I AM BEAUTY.  They are also eligible for discounts on one-on-one coaching and apparrell. 
So what is the tuition investment? 
Only  $497!!!!  ( valued at $1,597)  . You can secure a space in the program with a $200 deposit.  Slots will go fast so be sure to act now. 
What are girls saying about the program? 
For the last 2 years girls who participated in our pilot groups in long island and bronx , raved about I AM BEAUTY which is why we now have programming all year.   
We have been featured on News 12 twice because of all the amazinfg feedback about I AM BEAUTY. 
Our Stats Say....
96% of girls report increase in confidence 
57 % of girls report academic improvements
95% of girls graduated high school and enter college 
30%  of girls reported that the bootcamp "saved their lives" due to prior suicidal ideation
80% of parents say the bootcamp improved the relationship with their teens.
For more information about I AM BEAUTY  or to purchase our apparel, please visit www.iambeautyinc.com 
Check out what some of our  Bootcamp graduates  and parents have to say about the program:
When & Where

RealTyme Studios
45 Church St.
Freeport , NY 11520


Organizer
I AM BEAUTY INC.
I AM BEAUTY  is an organization that facilates programming designed to empower and inspire young girls and women by fostering self-love, personal and professional development, career exploration, health awareness, goal setting and pursuit of life purpose. To learn more about I AM BEAUTY,  take a look at the website at www.iambeautyinc.com 
I AM BEAUTY SPRING BOOTCAMP - BRONX