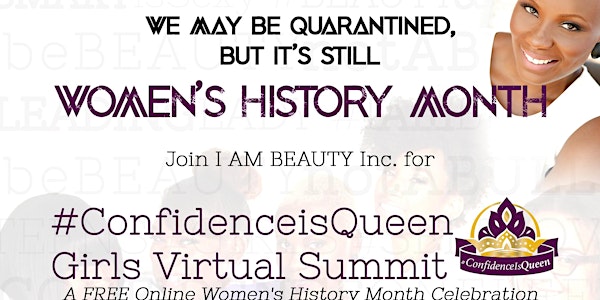 I AM BEAUTY Inc. #ConfidenceisQueen Virtual Summit
Description
Join I AM BEAUTY Inc. for
#ConfidenceisQueen Girls Virtual Summit
A FREE Online Women's History Month Celebration

Hosted By Akilah C. Bernard
Founder, Chief Beauty Officer & Self-Esteem Guru
We realized most schools are closed and events have been canceled, but we want to provide an opportunity for girls to still be inspired and empowered in the celebration of Women's History Month.
We are offering two FREE virtual session using Zoom, which is an interactive video conferencing platform.
SESSION 1: Saturday March 28th @ 10:00 AM -12:00 PM Ages 8- 12 years old
SESSION 2: Saturday, March 28th @ 1:00 PM - 3:00 PM Ages 13-18 years old
Video Participation is limited to the first 100 girls to log in to each session. Virtual doors will open to the summit room 30 minutes before each session.
Summit Includes: Online discussion & interactive activities to help girls boost self esteem, combat negative behaviors , find their strengths and maximize their potential.
Items Needed for Summit:
Computer, Tablet or Cell Phone with a Camera
Pair of Headphones
3 Blank Pieces of Paper
1 Pen or Pencil
We also encourage participants to wear their favorite empowerment or affirmation t-shirt. Rock a shirt that inspires you or makes you feel good!
Additional details about the summit and instructions on how to attend will be provided in your email confirmations.
If you have any questions, contact Akilah@iambeautyinc.com
We hope to see you Saturday!
Stay Safe and Well!