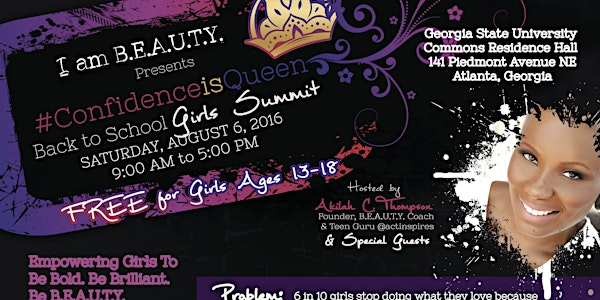 I AM BEAUTY #CONFIDENCEISQUEEN BACK TO SCHOOL GIRLS SUMMIT (GIRLS 13-18 YEARS OLD)
When and where
Location
Georgia State University Commons Residence Hall 141 Piedmont Avenue Atlanta, GA 30302
Description
I AM BEAUTY is an NYC based organization that facilates programming designed to empower and inspire young girls and women by fostering self-love, personal and professional development, career exploration, health awareness, goal setting and pursuit of life purpose.

Did you know?
Only 4% of women think they are beautiful .

90% of eating disorders are found in girls

44% of teens skip meals as a tactic to losing or controlling weight

Nearly 3 in 10 teen girls in the US will get pregnant at least once before age 20.

72% of parents of online teens are concerned about how their child interacts online with people they do not know.

91% of teens have been bullied.

Suicide rates have increased by 60% worldwide; 30% of adolescent girls have thoughts about suicide
We want to make sure girls all over the world are quipped to be wildly successfull and serve as a supportive environment for them as they transition into powerful women.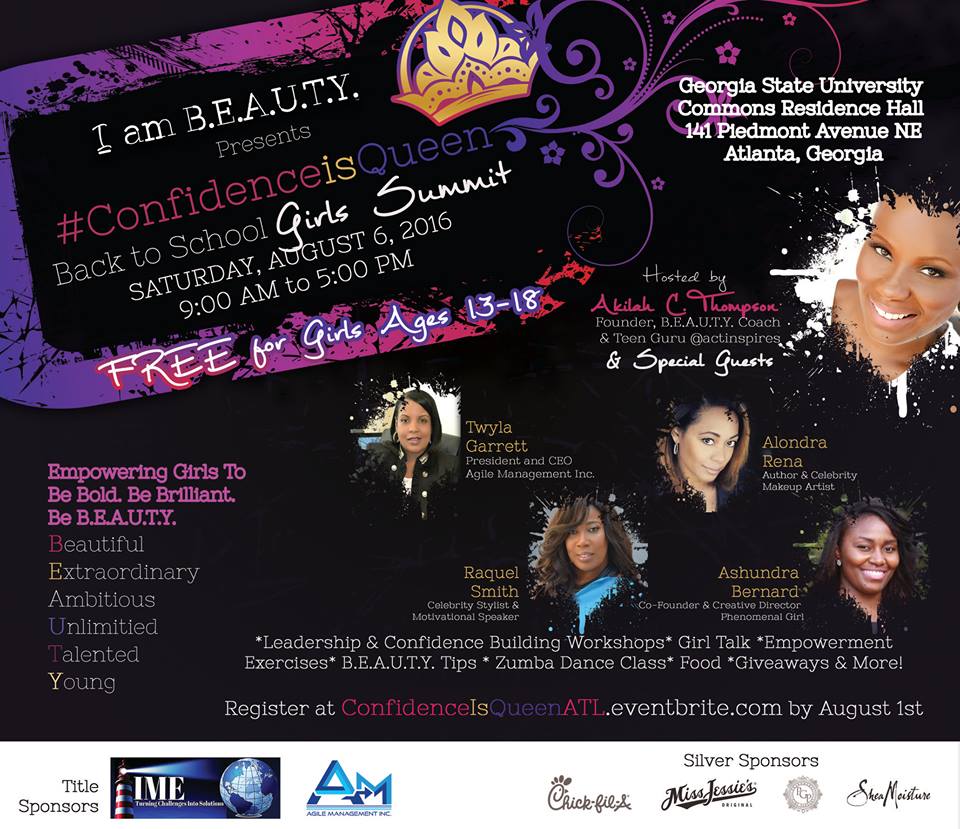 We are bringing I AM BEAUTY to Atlanta with a #ConfidenceisQueen Back to School Girls Summit on August 6, 2016 from 9 AM to 5 PM. Join us for a Free one day summit that is guaranteed to get the participants' confidence on fleek and equip them with tools to be successful this school year!
The summit includes:
#ConfidenceisQueen 101: Maximizing the BEAUTY In You Workshop w/ Founder, Akilah C. Thompson

Talk Like a Boss with Investment Management Enterprise President & CEO Twyla Garrett

Real Talk Girl Talk : Navigating being a Teen in 2016

Be A BEAUTY Not A Bully : Conflict management Exercises

ACT Like a Lady Etiquette Workshop

Phenomenal Girl Mock Pageant : Confidence is Queen

Its All about the MakeUp: Inside/Outer BEAUTY Discusion w/ Author & Celebrite Makeup Artist Alondra Rena

Styling 4 the Stars: Fireside Chat with A Celebrity Stylist , Raquel Smith ( Beyonce's Stylist )

Fitness Activities - Zumba Dance Class

Conversations with Men - Let's talk about love and relationships. Things I cant ask my dad.

Food , Giveaways And MUCH More !!
This event is for girls 13 - 18 years of age. Register by August 1st !!!