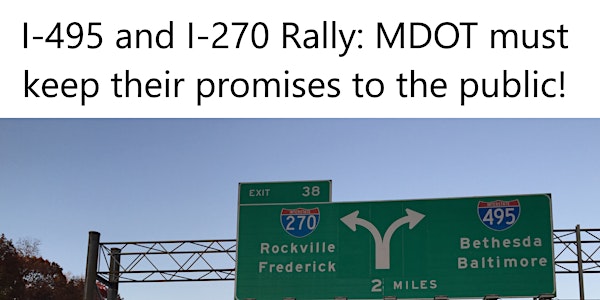 I-495 and I-270 Rally & Press Conference: MDOT Promises Act and P3 Reform
Senators, Delegates & Advocates Rally for MDOT to Keep its Promises to protect taxpayers and the environment on I-495 & I-270
About this event
Join House and Senate lawmakers, advocacy groups, and residents at an online rally and press conference for bills to restore public trust in public-private partnerships (P3) in the wake of the Purple Line cost overrun fiasco, and stop Governor Hogan from breaking key promises made for the proposed $11 billion I-495/I-270 tollway expansion – like completing the environmental review before hiring developers. The Maryland Department of Transportation could announce a developer at any moment, but the Final Environmental Impact Statement isn't expected until the Fall.
The press conference precedes a hearing in the Senate & Budget Taxation Committee on the MDOT Promises Act later in the afternoon.
Register to receive a link to the event! You will receive a link by the evening of February 23rd.
WHAT:
Press Conference/Rally for MDOT to not break its promises for infrastructure integrity and the swift passage of the I-495/I-270 MDOT Promises Act P3 Agreements Act (HB 67/SB 843) and P3 Reform Act (HB 485/ SB 361).
WHO:
Senator Jim Rosapepe (D-Prince George's) -- Vice Chair, Senate Budget and Taxation Committee. (SB 361 sponsor)
Senator Joanne C. Benson, (D-Prince George's) – Chair, Senate Rules Committee (SB 843 sponsor)
Delegate Marc Korman (D-Montgomery) – Chair, House Appropriations Transportation and Environment Subcommittee (HB 67 sponsor).
Delegate Jared Solomon (D-Montgomery) – Vice Chair, House Appropriations Education and Economic Development Subcommittee (HB 485 sponsor)
Mayor Patrick Wojahn, College Park Maryland
Sponsored by Maryland Sierra Club, Citizens Against Beltway Expansion, Coalition for Smarter Growth, National Parks Conservation Association, League of Women Voters of Maryland, Maryland Legislative Coalition, Maryland Legislative Coalition-Climate Justice Wing, and DontWiden270.org