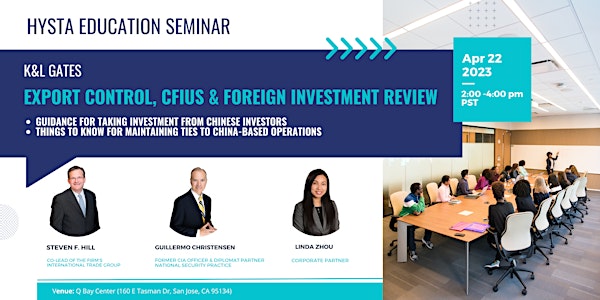 HYSTA Education Seminar 4/22 with K&L Gates
Export Control, CFIUS and Foreign Investment Review — Learn how to take investments from Chinese investors and maintain ties with operations
By HYSTA Entrepreneurship Program
Date and time
Saturday, April 22 · 2 - 4pm PDT
Location
Q Bay Center 160 East Tasman Drive San Jose, CA 95134
About this event
The US-China economic relationship has never been more fragile, and the next few years will be particularly trying times given the current political and economic dynamics in Beijing and Washington. From increasingly aggressive national security reviews by the Committee on Foreign Investment in the US (CFIUS), heightened export controls, to a proliferation of cybersecurity controls on cloud and artificial intelligence — and, most recently, the unprecedented efforts against social media platforms like TikTok—the international investment community is increasingly caught in the crossfire of this conflict. To help wade through these issues and answer questions about what may come next, HYSTA is pleased to host a seminar featuring a stellar team of attorneys from K&L Gates LLP, Steven F. Hill, who is co-lead of the firm's International Trade Group, Guillermo Christensen, a former CIA officer, science and technology advisor in the State Department and partner in the firm's National Security Group, and Linda Zhou, a veteran corporate partner for technology companies.
Topics:
Understanding the threat and risk calculus that drives the U.S. Government's approach to China and technology.
Current trends and issues in CFIUS reviews and how to navigate investment risks in the current environment.
Heightened controls on advanced computer and semiconductor technologies and the challenges for maintaining ties to China-based operations.
The next generation of critical technologies export controls.
The National Cybersecurity Strategy and the impact on cloud and technology platforms.
Likely developments in U.S. policy this year including implementation of the Chips Act and the "reverse CFIUS" proposal for an outbound investment review regime.