Description
Are you looking to build products that customers actually want? Do you think that product development inside your large organization has so much more potential? Are you intrigued by lean, agile, design thinking and other buzzwords?
Summer can wait a day!
Invest in yourself and build better products inside your company!
Join Adam Berk and Jonathan Bertfield, expert Lean Startup coaches and consultants who have been working with product organisations at global companies, to learn how to radically transform your approach to building products at your startup or large enterprise.
What you'll learn
Be strategic:
Your company talks a big game about getting closer to customers and reacting with higher speed and efficiency, we'll review and practice the best approaches to making that a reality and turning you into a rock star.
Execute Expertly:
Every business plan and product roadmap is full of guesses - You know it and your boss knows it. We'll teach you how to identify those assumptions to bring a healthy dose of honesty to your work.
It's all very well identifying your guesses, you'll need to understand how to translate these assumptions into testable hypotheses. Guess what, we'll cover that in detail.
Experiments have a nasty habit of getting people fired if done incorrectly. We'll guide you on how to avoid exposing the truth becoming a reason to start cleaning your desk.
Taking a cold hard look at the data that emerges from your experiments takes a steely nerve. We'll review best approaches to interpreting the data in a meaningful way, even with a small sample size.
Think outside your cubicle:
If your finance team are doing their job the way they have always done it, they are going to want to see big numbers right from the earliest inkling of an idea. There is, of course, no better way to shut down an idea. We'll explore the best thinking around innovation accounting to get your finance colleagues to think small before thinking big.
Finding real early adopters, not just running exercises to generate "personas" all day is critical to truly building validated learning from your customers. We'll review the best approaches to finding them and maximising their value.
Speaking to customers directly can be a huge hurdle if Sales play the role of dungeon master in chief. We'll practice doing customer development while still playing nice with the sales team.


Engagement Warning!
If you enjoy spending your company's Learning & Development budget to attend dull training sessions where the main feature is an opportunity to check your email in peace, this workshop is not for you.
This will be a fast-paced, highly interactive workshop. This will be a lecture free zone. We will be sharing our stories from the trenches and will be pushing you to share your stories and goals in a safe space.
This workshop will deliver highly focused, actionable outcomes and that will require your full engagement. Don't say we didn't warn you!
Spinnaker team:
Jonathan Bertfield is a co-founder of Spinnaker, Senior Faculty member at Lean Startup Co and General Assembly Enterprise and a coach and Mentor at New York University's Stern Business School annual Business Plan Competition. He has been leading product teams at large enterprises and startups for over two decades in a career spanning the UK, Israel, Silicon Valley and New York at companies such as Scholastic, Business Insider and Sesame Workshop.His consulting clients include Pearson, US Dept. of Defense, Marriot, Axa, USAA, K12, Citibank, News Corp, Associated Press.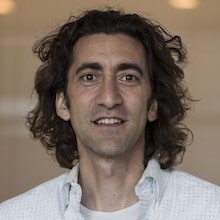 Adam Berk is a co-founder of Spinnaker and founder of an early sharing economy startup, neighborrow.com. He has been helping entrepreneurs design and run experiments for as long as he can remember and is focused on helping them identify and manage the biggest risks in their business models. He teaches product teams at early stage start-ups and massive global companies to apply the concepts of being "Lean". As a coach and trainer of product teams Adam has worked at Pearson, Google, Sodexo, Techstars, KauffmanLabs, TechPeaks, Bizdom, AOL, ESPN, News Corp, AMEX.