Description
HYPHEN MAGAZINE PRESENTS
SURVIVAL ISSUE RELEASE PARTY AND SILENT AUCTION
Sponsored by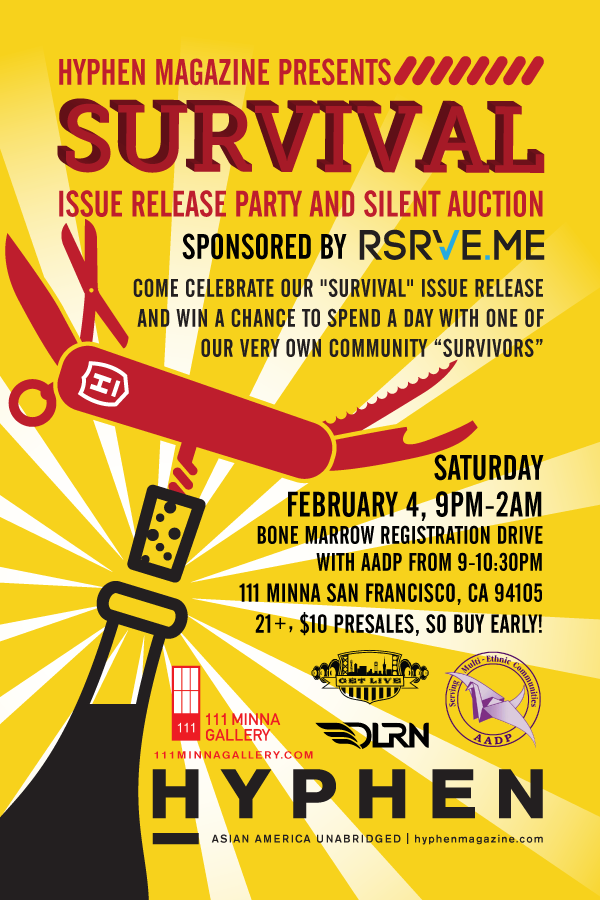 Destiny's Child and Gloria Gaynor made anthems of it. Now, Hyphen sings the praises of its very own community "survivors" - those that have made great strides for the Asian American community.
Join Hyphen magazine as we celebrate the release of our "Survival" issue. Participate in our silent auction and win a chance to spend the day with a prominent Asian American community member. Whether its attending a Warriors game or sharing a delicious lunch at one of SF's finest restaurants, you will truly find yourself in good company. This is your chance to spend time sharing passions, ideas and a great time with the men and women who empower the Asian American community with their "I've got all my life to live/I've got all my love to give" spirit.

*TIME*
Saturday, February, 4 | 9p - 2a

*VENUE*
111 Minna Gallery | 111 Minna Street, SF
21+ | $10 ($20 with 1-year subscription)

*AADP BONE MARROW REGISTRATION DRIVE*
9p - 10:30p in Zappa Room
*Important: If interested in registering please read the requirements on AADP's page:
http://www.aadp.org/learn/how-to-register/
===
OFFICIAL SPONSOR

===
PUBLICITY SPONSOR:
Asia Society Northern California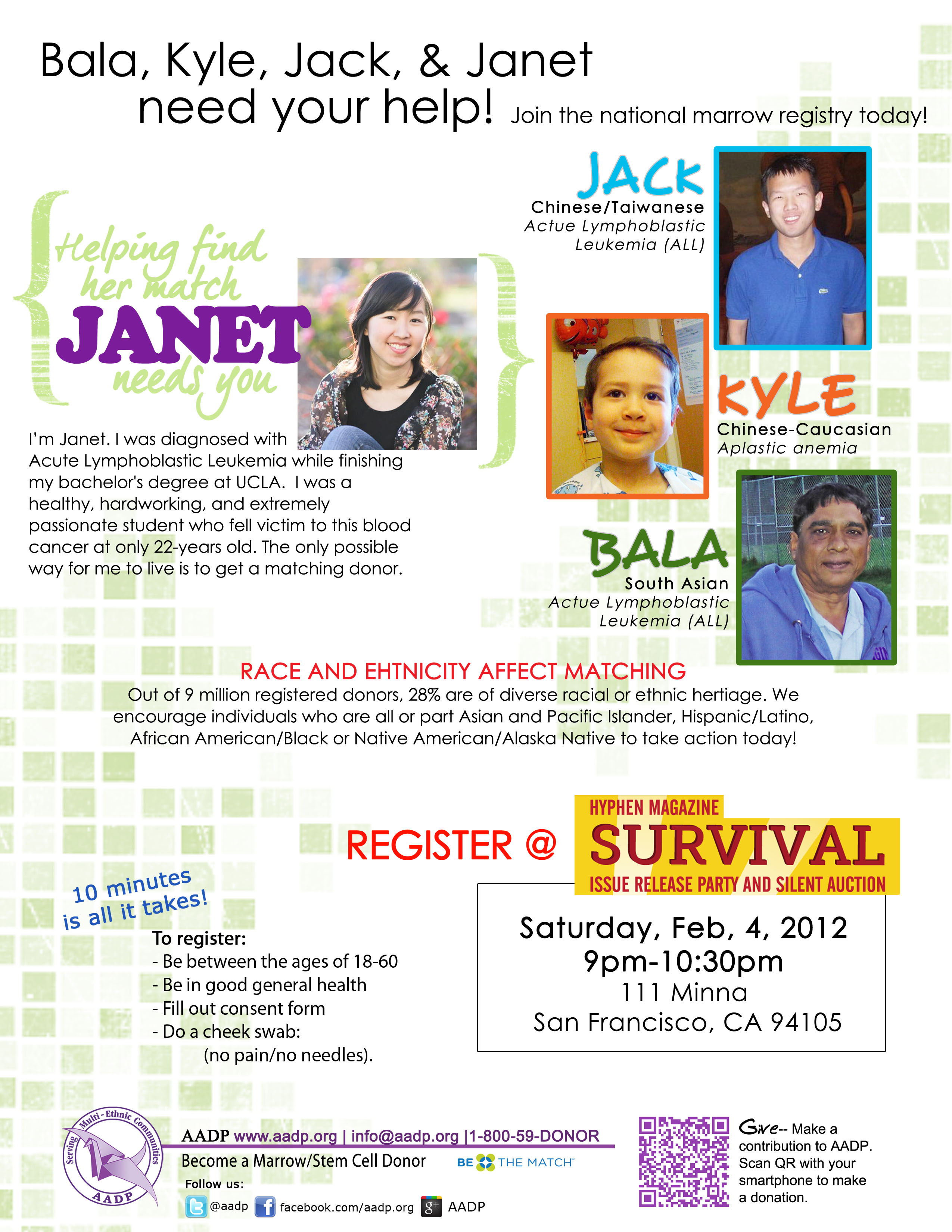 About Hyphen:
Founded in 2002, Hyphen is a nonprofit news and culture magazine and blog that illuminates Asian America through hard-hitting investigative features on the cultural and political trends shaping the fastest-growing ethnic population in the country. We offer in-depth profiles of change-makers in our community and a window into the world of artists and writers who are re-envisioning and rewriting what it means to be Asian American. Through balanced and incisive reporting and sometimes irreverent commentary, we relate the enormous richness, contradiction, and vitality that defines the Asian American experience to stimulate debate, raise awareness, and build bridges within and beyond our own community. Based in San Francisco, Hyphen is recognized nationwide as an authority on contemporary Asian American identity. Since its inception, Hyphen has been touted in print, online and on camera. Hyphen has been featured or quoted in media outlets such as Yahoo, ESPN, San Francisco Chronicle, Boston Globe, Houston Chronicle, Utne, Flavorpill, Gothamist and Racialicious.com.
www.hyphenmagazine.com
Can't make it? Subscribe to Hyphen now for your copy of the most recent issue, The Survival Issue!