About this Event
Welcome to Hyperspace Festival, your techno campout adventure. Experience magical views, hiking trails and wondrous night skies as we enter into a plane of existence beyond space and time. This event will take place in the beautiful mountainous region of the California high desert. Whether you're taking flight with your favorite music artist, or getting lost in the array of displayed and interactive art, Hyperspace Festival is created by and for its community. We can't wait to share this experience with you.
Save the date for June 12-14 and check out Hyperspacefestival.com for updates.
Sign up for the newsletter for the most up to date info on Hyperspace Festival 2020. Join the newsletter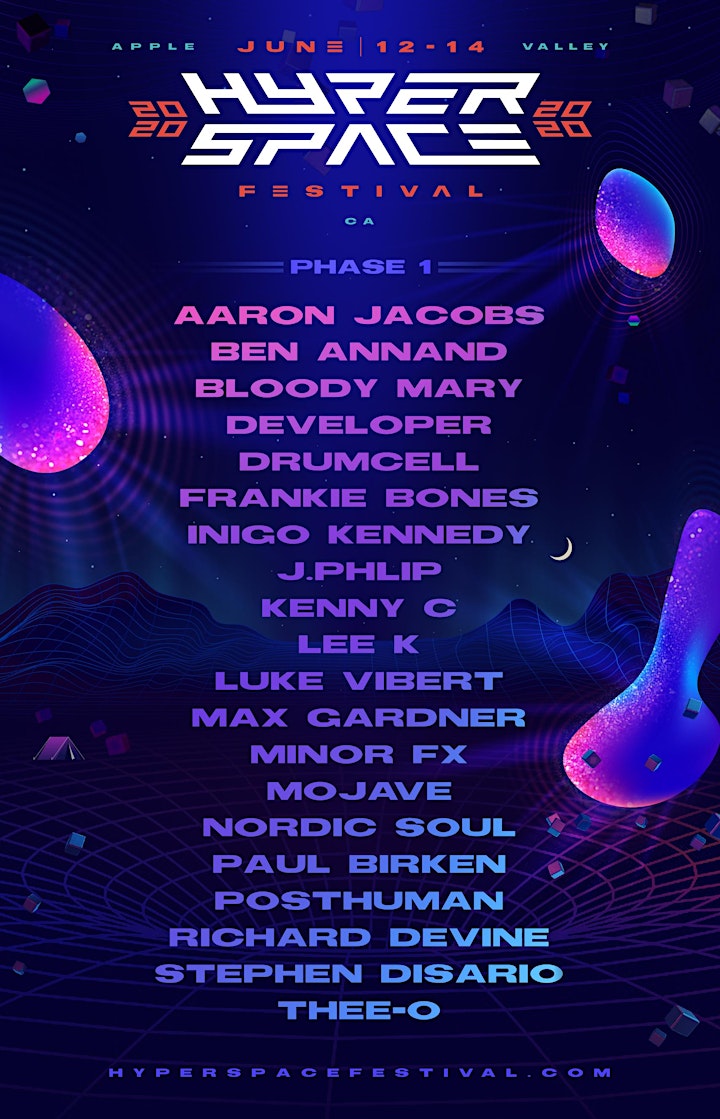 Ticket FAQ:
Is this event all ages? Can I bring my kids?
Hyperspace is an all ages event. A parent or legal guardian must accompany anyone under the age of 18.  A legal guardian must have proper documentation, no exceptions.
What is an Early Arrival Pass?
Allows for early entry on Thursday and gives you the opportunity to get settled in with a preferred camping spot. 
Do I need to purchase a Car Pass?
If you'd like to bring your car to the festival, you'll need to purchase a Car Pass in addition to your Festival Pass. With a Car Pass you have the ability to camp next to or inside your car. Does not give access to the event without also purchasing a Festival Pass. Only one Car Pass needed per car.
Does each person inside a vehicle need a Car Pass?
No, you only need one car pass per vehicle. Each person needs his or her own Festival pass.
What's the difference between a Car Pass and RV Pass?
Car, truck, van, camper van = Car Pass
Minibus, RV, car w/ trailer = RV Pass
I can no longer attend Hyperspace. Are there refunds?
This is a rain or shine event. All sales are final, no refunds or exchanges.  
Is there a VIP option?  
Hyperspace does not have a VIP option. While we are not pushing for any sort of members only or elitist way of belonging, we do appreciate those who volunteer or share something special of their own with us all. Giving love, gets love. We are all VIP here! 
Do I need a printed ticket?
Yes, you need to bring a printed ticket along with a government issued ID to the box office to receive a festival wristband.  No one will be allowed entry without a festival wristband.  Tickets will be available at the gate.
What happens if I lose my wristband?
If your wristband is lost you will be asked to pay for a Festival Pass. In the case that your wristband is damaged, please bring the wristband along with your printed ticket to the box office for it to be replaced. Wristband replacement is a $20 fee. 
Who do I contact with a question or concern regarding purchasing tickets online?
All ticket-purchasing inquiries are handled through Eventbrite. 
Can I transfer my ticket?
Yes. Login to Eventbrite with the email you used to purchase your tickets. Use the "Profile" icon in the upper-right corner, and select "Tickets" and then "Upcoming Events" to view your tickets. Select "Edit" on the right side of the page – this will open your ticket information. Update the name and email address of the new ticket holder. Then, to update the ticket information scroll to the bottom of the page to save!
Camping FAQ
How big is each campsite?
Hyperspace campgrounds are free form.  There is no pre-plotted or reserved space.  We ask for you to get cozy with your neighbors to eliminate any wasted space.
Is there a quite camp area?
Yes, quiet camp is perfect for families and people that would like to camp away from the music and hustle & bustle.
Are generators allowed?
No, all portable generators are prohibited.  Only factory installed generators in rvs are permitted.  
Are there RV restrictions?
Yes, motorhomes no longer than 28ft allowed.  Trailers no longer than 25ft allowed.  
Are there RV hookups available?
No RV hookups. No dump stations. No dumping allowed near or on festival grounds. There is an RV fresh water fill station available.
Can I camp together with my friends?
Sites are first come, first serve.
Can I bring speakers to play music in my camp?
No renegade sound systems are allowed.
Are Campfires allowed?
No campfires or open flames are permitted. There will be a community fire pit available.
What type of clothes should I bring?
Expect warm days, chilly nights. Warm bedding, closed-toe shoes and layers are a must!
What about cooking and grilling?
Enclosed gas grills are acceptable in the camping areas but no open flame or charcoal grills will be allowed.  No gas tanks over 1lb.
General FAQ
Is there water for sale? How much water should I bring?
Water will not be for sale at the event. Even better, there will be free water refill stations throughout the festival, bring a reusable container or cup.  
Is alcohol sold at Hyperspace?
No, if you're 21 and older you are allowed to bring alcohol for personal consumption.
Is fire spinning allowed?
Yes, only within the designated fire spinning area.
Is there a lost and found?
Yes, located at the info station.
Who should I contact for general festival and event questions?
You can reach us at hello@hyperspacesound.com.
Is there Safety and Medical teams at Hyperspace?
Yes! These teams will be on duty 24 hours a day throughout the festival. If you need assistance you can contact any staff member or go to the medical station or info station.
What is the safety policy?
All persons, items and vehicles are subject to search upon entry by the safety team. Safety personnel reserve the right to prohibit items seen as harmful, dangerous or not in the best interest of the festival and it's patrons.  
What is the policy for Photos and Drones?
By attending Hyperspace Festival 2020 (the "Festival") you consent to being filmed and or photographed, whereas your voice, image, and likeness may be used by Hyperspace LLC for promotional purposes. Any photography or video taken at the Festival is subject to a mandatory, non-exclusive license to Hyperspace LLC for use in promotional purposes.
Drone use is prohibited within the festival grounds.
Can I bring my pet?
No. Only documented service animals required for a disability, and who are trained to handle loud and active environments are allowed in the festival. If you require a documented service animal at the event, please register your furry counterpart at hello@hyperspacesound.com
Phase 1
Aaron Jacobs
Ben Annand
Bloody Mary
Developer
Drumcell
Frankie Bones
Inigo Kennedy
J.Phlip
Kenny C
Lee K
Luke Vibert
Max Gardner
Minor FX
Mojave
Nordic Soul
Paul Birken
Posthuman
Richard Devine
Stephen Disario
Thee-o
Performers
Date and Time
Location
Refund Policy