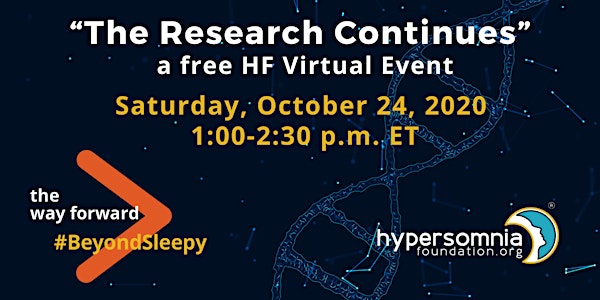 Hypersomnia Educational Virtual Meeting
THE RESEARCH CONTINUES - Research and pharma experts discuss sleep disorder clinical trials and research studies during COVID-19.
About this event
The Research Continues - a free HF Virtual Event!
Saturday, October 24th, 1:00-2:30 p.m. ET
The Covid-19 pandemic has left many in the hypersomnia community wondering about the status of clinical trials and research studies—how have they been affected by the lockdowns and safety advisories? Find out the latest answers!
Join us on October 24 for a FREE, interactive, 90-minute virtual program, during which hypersomnia experts from both the research and the pharmaceutical sides will update us on where their research studies and clinical trials stand.
Sessions will include:
HF Research Award Recipient Dr. Caroline Maness will provide an update on her research "Cytokine Profiles in the Central Disorders of Hypersomnolence" and participate in a live Q&A with our viewers. Cytokines are known for their role in inflammatory responses, and recently have been discovered to play a role in sleep, sleepiness, and fatigue. Dr. Maness' study aimed to further clarify the cytokine profiles of patients with sleep apnea, narcolepsy type 1, narcolepsy type 2, and idiopathic hypersomnia, as well as people who are clinically sleepy but do not fit into one of these diagnostic categories. Cytokine profiles for these groups, as well as a group of healthy controls, were compared along with sleep study data and survey data that measured levels of depression, sleepiness, and fatigue. With better understanding of the cytokine mixture in the various disorders of hypersomnolence, the hope is that cytokines can be used as a future therapeutic target for symptom control.
HF Research Award Recipient Dr. Todd Bishop will provide an update on his research on IH within the U.S. Veterans Health Administration and participate in a live Q&A with our viewers. He will 1) provide an update on efforts to develop and validate a case ascertainment algorithm that will be used to accurately identify cases of idiopathic hypersomnia within large electronic medical records and 2) describe plans for pending analyses regarding IH in the Veteran population.
Christina Brundage, Hypersomnia Foundation Volunteer and IH Patient Advocate will share her personal experiences in "Christina's Story: Volunteering for IH Clinical Trials".
Dr. Marisa Whalen, Associate Director, Medical Affairs at Jazz Pharmaceuticals will provide updates on research studies in "Unlocking Pharmaceutical Discoveries: Developing Meaningful Treatments that Address Patient Needs".
You will not want to miss this FREE virtual event!
Register today!