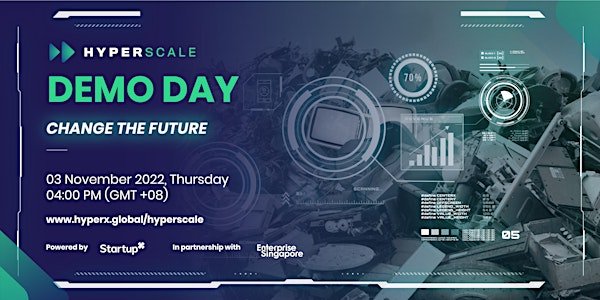 HyperScale Demo Day
Meet HyperScale's first graduating cohort at Demo Day, and support them on their journey to change the future!
About this event
About HyperScale
HyperScale is the global sustainability accelerator that seeks to identify, invest, and nurture innovations that can create a major impact on the future of the waste sector. The accelerator is organised in partnership with Enterprise Singapore, The Incubation Network, and leading corporations such as Panasonic, SembWaste, Circulate Capital, JFE, and IBM.
Tackling challenges along the plastic and electronic waste streams with product redesign, battery recycling, alternative materials, waste collection, sorting, management, and treatment solutions, our startups have worked hard over the past 3 months and we can't wait for you to hear from them.
Serving as the finale of the accelerator, our cohort of 13 startups will be pitching live virtually on 3rd November from 4:00 - 6:00pm (GMT+8), to showcase their solutions and connect with all of you to change the future together.
Agenda
16:00 | Welcome
16:05 | Opening Addresses
16:15 | Programme Overview
16:25 | Company Pitches - Find out more about HyperScale's first cohort here.
17:45 | Wrap-up
Find Out More
You will be able to find out more about HyperScale here, and we look forward to having you with us!