Description
Hyperledger Zurich Meetup: Dive Into Fabric 1.0. Use Cases and Projects with Hyperledger Fabric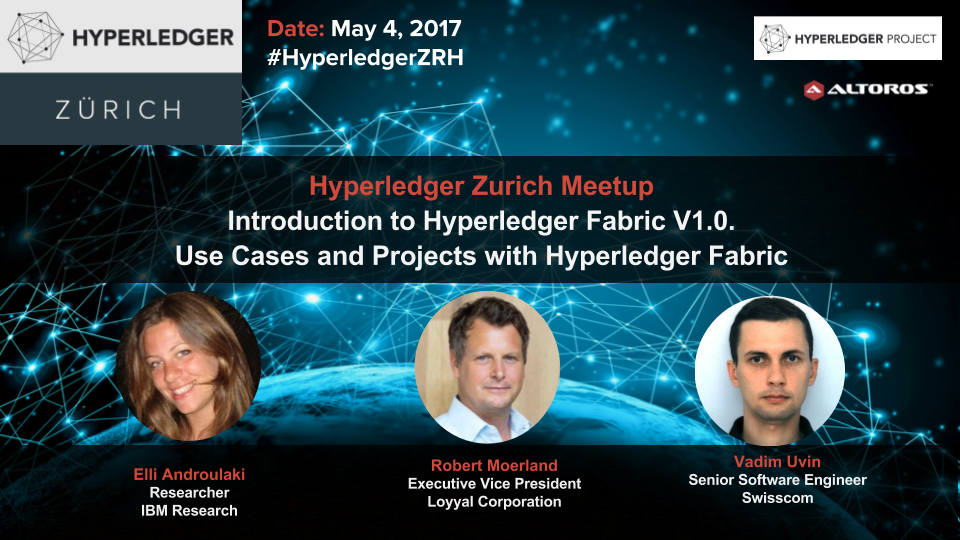 Join Hyperledger Zurich Meetup in May for networking with your peers and interesting technical and business oriented talks with our guest speakers! We will discuss the Hyperledger Project, open source blockchain project Hyperledger Fabric in its latest version 1.0, and real-life use cases and lessons learned with Hyperledger Fabric in different industries.
The meetup will take place at "Auditorium" Room at Zürcher Kantonalbank, near railyway station Hardbrücke.
AGENDA:
5:45 - Doors open. Networking, refreshments and drinks. Members each other.
6:00 - Welcome. Members to vote on the topics of interest for future meetings.
6:10 - Talk #1. Hyperledger Fabric 1.0. A Technical Dive Into Consensus and Security Mechanisms, by Elli Androulaki, Researcher at IBM
6:50 - Q&A break.
7:00 - Talk #2. Loyalty Industry Use Cases, by Robert Moerland, EVP at Loyyal
7:20 – Q&A break.
7:30 – Talk #3. Implementing Ethereum Token on Hyperledger Fabric: a Complete Example, by Vadim Uvin, Senior Software Engineer at Swisscom
8:00 - 8:15 - Q&A break &wrap-up.
HASHTAG #HyperledgerZRH - please help us spread the word!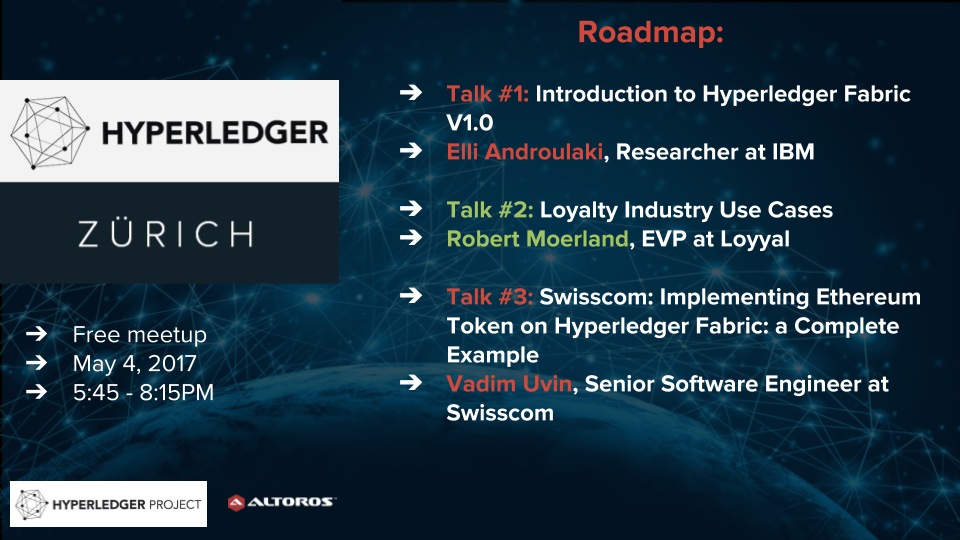 Event Host and Moderator:
Roman Bischoff, Project Manager at Zürcher Kantonalbank
Speakers:
Elli Androulaki, Researcher at IBM Research
Dr. Elli Androulaki joined the IBM Research – Zurich Laboratory in May 2013 as a member of the Cloud Storage & Security Group.
She obtained her degree from the Electrical and Computer Engineering school of National Technical University of Athens with distinction and received both her Ph.D. and M.Sc degrees from Columbia University, New York, under the supervision of Prof. Steven Bellovin. Her thesis involved the design and analysis of protocols for privacy-preserving and accountable e-commerce operations and resulted in the protocol-oriented construction of a centralized identity management architecture.
In 2011, and after her Ph.D. studies, Dr. Androulaki joined the Systems Security group at ETH Zurich as a postdoctoral researcher under the supervision of Prof. Srdjan Capkun, where she first started investigating Bitcoin & Blockchain Security.
Her current research interests involve blockchain security and the Hyperledger Project.
Robert Moerland, Executive Vice President at Loyyal
Robert is a recognized loyalty industry expert with a focus on currency management and technology innovation. He is heading up global
business development at Loyyal, a blockchain development company with headquarters in NYC, entirely focused on the global loyalty industry.

Robert will introduce Loyyal, the first universal loyalty platform built on blockchain technology. Loyyal joined the Hyperledger project very early on and is a launch partner of Hyperledger Fabric. Robert will talk about the Internet of Loyalty, and Loyyal projects that help to realize undiscovered relationship value. #loyyalcorp.
Vadim Uvin, Senior Software Engineer at Swisscom
Vadim is a member of developer team at Swisscom, with a proven track record in Android, iOS, OS X and Windows Universal development, software design, information security, cloud security, and specifically, Blockchain technologies (Bitcoin, Ethereum, Hyperledger).
Vadim will give a presentation to explain a real-life project of implementing an Ethereum Token on Hyperledger Fabric. Vadim will provide a deep-dive technical overview of the use case, and show the demo application.
This is a nice example of building the bridge between the two blockchain technologies.
To get a little more background about Ethereum Token, go to https://ethereum.org/token