Description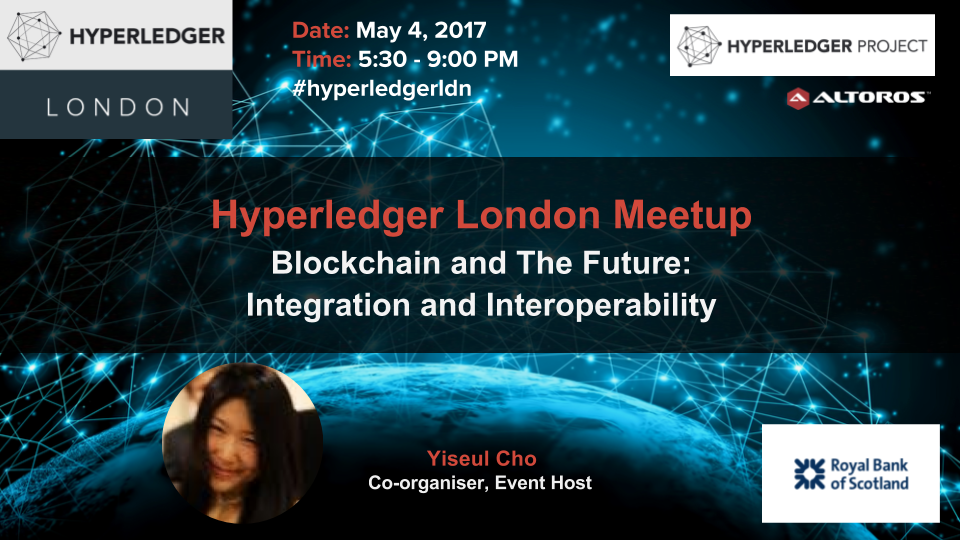 The event is SOLD OUT, registrations are CLOSED as we have limited room capacity and expect full house at the event.
If you had joined WAITLIST, please note that you will be allowed in case there are spots available after the main event registration. Unfortunately, seats are not guaranteed to waitlist. We apologize for any inconvenience.
The event will take place at RBS Building, 280 Bishopsgate, Liverpool Street.
AGENDA:

5:30 - Doors open. Networking, refreshments and drinks. Members each other.
6:30 - Welcome by Yiseul Cho, Co-Organizer and Event Host. Members to vote on the topics of interest for future meetings.
6:40 - Introductory talk by RBS: Lessons Learned with Hyperledger, by Mark Simpson (RBS)
7:00 - Talk #1. Technical Deep Dive Into Hyperledger Fabric 1.0, by Dan Selman and Ant Cole (IBM)
7:40 - Q&A break.
7:50 - Talk #2. Technical Deep Dive Into Corda, by Joel Dudley (R3 CEV)
8:30 - Panel Discussion: Blockchain and the Future of Finance: Integration and Interoperability, with Mark Simpson (RBS), Lee Braine (Barclays), Barry Childe (HSBC), Keith Bear (IBM),Todd McDonald (R3)
9:00 - Q&A break & wrap-up.
Speakers: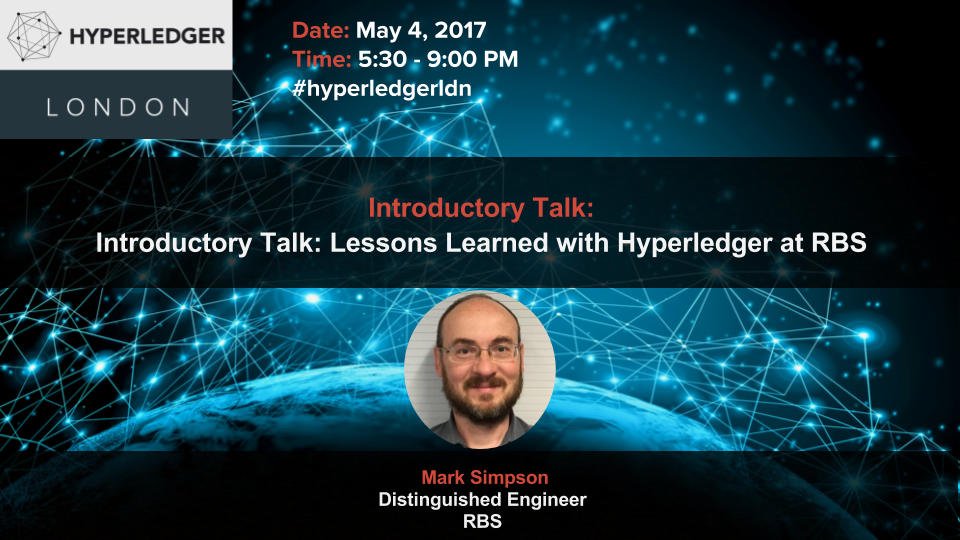 Mark Simpson, Distinguished Engineer at Royal Bank of Scotland
Mark 'Bart' Simpson currently works in the Innovation Engineering team at RBS. He has over 20 years of development experience in both retail and wholesale banking and has designed and built portfolio trading, algorithmic trading, trade processing and reference data systems. He has also worked on risk, cash management, clearing and data distribution systems in RBS.
Mark has been working with block chain technologies since the beginning of 2016 and using them to build prototypes for use cases across the bank.
He has worked on IBM Hyperledger Fabric, Ethereum and Corda from the R3 group.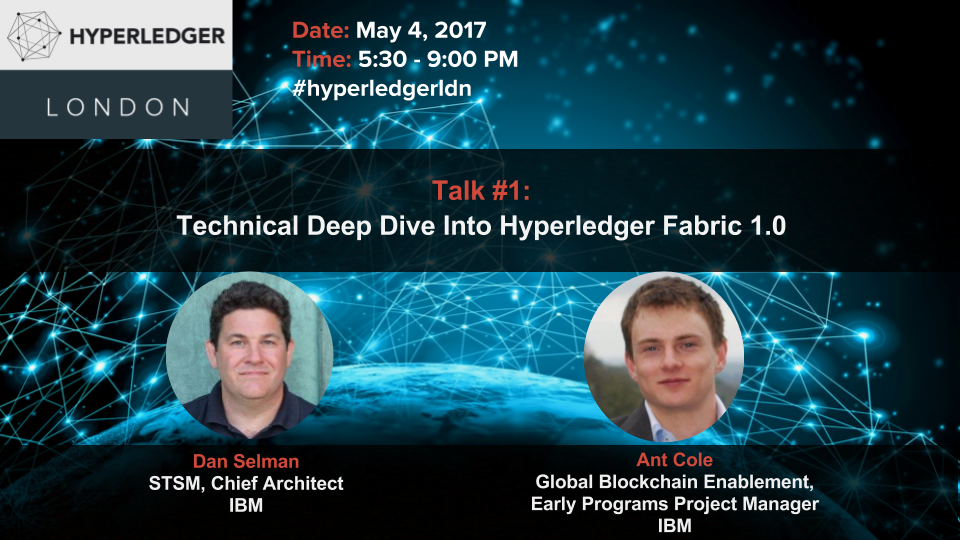 Ant Cole, Global Blockchain Enablement, Early Programs Project Manager at IBM
Ant works in educating IBMers and clients about the possibilities with the new technology Blockchain in initial overviews, use case explorations or deeper dives into components. This role is all about bringing new technology and software to clients to experiment with, understand their requirements and ensure the final product does the best job possible.
Dan Selman, STSM, Chief Architect, Fabric Composer at IBM
Dan has 20+ years of experience of the entire software product life cycle, with a passion for user-centric innovation, and software that facilitates IT and business collaboration. His specialties are innovation, large scale distributed architecture, blockchain, big data systems (data/compute), event and stream processing and rule-based systems. Dan works with Open Source ecosystems, such as Hyperledger.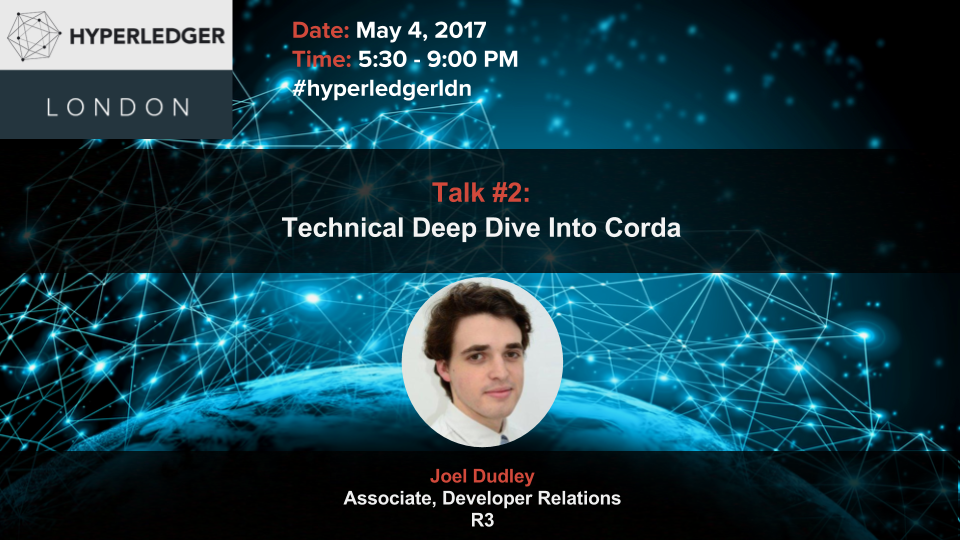 Joel Dudley, Associate, Developer Relations at R3 CEV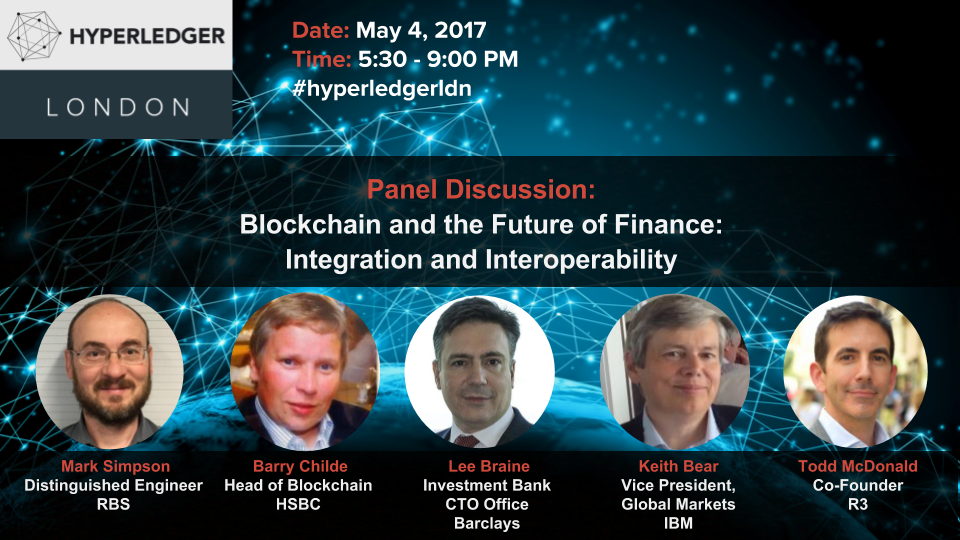 Barry Childe, Head of Blockchain and Distributed Ledger Technology at HSBC
Barry is a Technology Scientist / Blockchain & HPC specialist, Specialist in Financial Services IT and Distributed Computing, Member of Thomson Reuters, Microsoft customer advisory boards.
His specialties include: Blockchain and DLT, Cloud, BigData, HPC, Co-Lo, E-Trading, Finance, exotics, flow, trading, market data, grid, datagrid, database, management, web, ecommerce, stp, Market Data.
Barry holds a PhD in computer science and has over 30+ years experience within Financial Services technology. Previously Barry has served senior technology roles for Barclays Capital; The Royal Bank of Scotland; VMware; Westpac, TD Securities and Nordea Bank.
Dr Lee Braine, Investment Bank CTO Office at Barclays
Dr. Lee Braine, from the Investment Bank CTO Office at Barclays, has a deep interest in technology architecture and innovation. His focus in the blockchain-related space has been on smart contracts and shared ledgers - and he represents Barclays Investment Bank Technology on a number of distributed ledger consortia. His background is in banking technology, with a PhD in Computer Science and experience in investment banking, clearing & settlement, stock exchanges, corporate banking, and wealth management.
Keith Bear, Vice President, Financial Markets at IBM
Keith is the Global Leader for Financial Markets at IBM. As such he works with major clients globally on large transformational engagements and innovation initiatives within the industry. Keith is Co-founder of IBM's business in Risk Management. Currently responsible globally for business development in Capital Markets, with a specific focus on blockchain.
Todd McDonald, Co-Founder at R3
Thank you Royal Bank of Scotland for generously providing the venue, food, and drinks for the meetup!