Event Information
Location
Art Southampton - Theodore & Ruth Baum Private Collection - Southampton Social Club
East 15th Street & Union Square West, New York, NY
New York, NY 10003
Description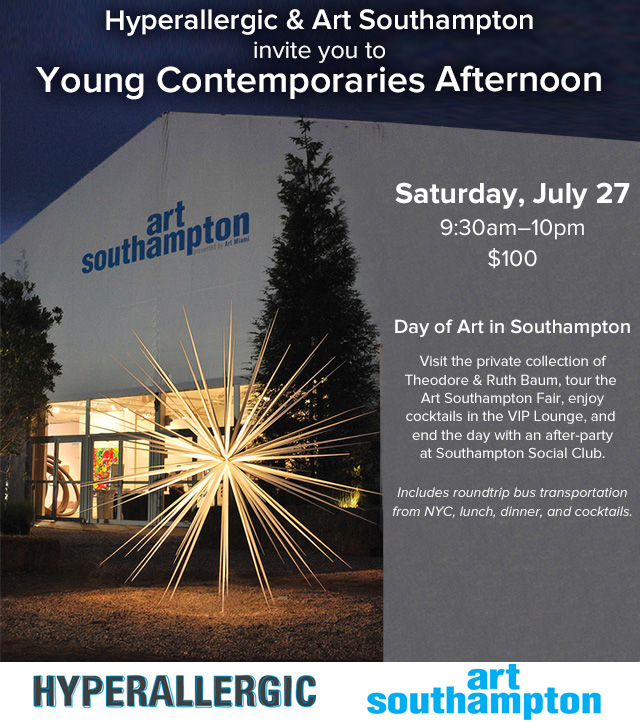 Well before Julian Schnabel and Eric Fischl made their indelible mark there, the East End of Long Island has loomed large in 20th century American art history. Jackson Pollock decamped from the city to East Hampton when he married Lee Krasner in 1945, establishing a modest home and studio with a loan from Peggy Guggenheim. And Cocaine Cowboys, Uli Lommel's campy 1979 whodunnit, starred Andy Warhol at his Montauk estate.
Today, Art Southampton, which is in its 2nd year, brings many major national and international galleries to the South Fork, and has in its own right become one of New York's most important summer art fairs.
Join Hyperallergic & Art Southampton on Saturday, July 27th for an intimate day trip to the Hamptons. We'll visit the significant private collection at the home of Theodore & Ruth Baum, tour the Art Southampton Fair, and enjoy lunch in the cafe and cocktails in the Art Southampton VIP Lounge with an after-party and dinner at the Southampton Social Club to follow.
A private tour of the Baum's stunning art collection will certainly be one of the highlights of this daylong trip. Collector Ruth Baum explains her and her husband's collection succinctly:
"Passion best describes our long standing interest in art, especially modern and contemporary. We are art activists, in that we love the process and love living with the works. Ted and I have chosen to focus on art from the 60's and 70's because those were our "salad days". We have explored many different art forms over the past forty years, from English Georgian lion head carvings to sleek Ming Huang-Hua-Li furniture. Collecting art has been a fun and magnificent lifelong experience."
Come join the adventure to explore the art treasures of the Hamptons and discover your own passion along the way.
Hyperallergic & Art Southampton invite you to a Young Contemporaries Afternoon
Saturday, July 27th, 9:30am - 10pm
Bus departs from NYC at 9:30AM from Union Square - 15th Street and Union Square West, New York, NY and will return to NYC at 10PM

$100 ticket includes roundtrip bus transportation ?from NYC, lunch, dinner, and cocktails.
For those meeting us in Southampton, we plan to meet at the Art Southampton pavilian at 12 noon, and the day will end at 8PM when the bus departs for the return trip to NYC.
Tickets are non-refundable within 24 hours of event.
Date and time
Location
Art Southampton - Theodore & Ruth Baum Private Collection - Southampton Social Club
East 15th Street & Union Square West, New York, NY
New York, NY 10003