Hyper Innovation Summit Registration - November 15, 2018

Thursday, November 15, 2018 from 8:30 AM to 4:00 PM (CST)
Event Details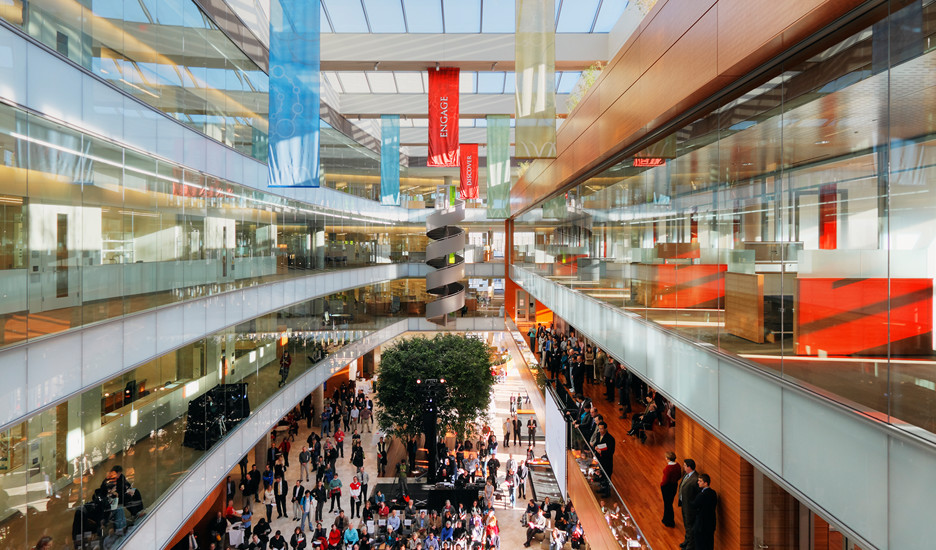 Who Should Attend:
Investors and innovation leaders from technology, marketing, business development, and innovation strategy from mid- to large-sized corporations interested in staying on top of emerging technologies and in new methods for more effective methods for working with startups, universities and other companies through rapid validation and activation of innovation ecosystems. 
A Unique Experience:

Come to Madison to learn the latest in disruptive tech and glean insights from our Labs in Connected Health, Transportation and Mobility, and Sports Innovation.
This is not a canned set of talks, it is intended to be an immersive experience of rapid presentations, lively QA, demos with innovators and tech startups and small group discussions with a diverse set of university thought leaders, technologists, startup CEOs, and other companies on the latest in applications for disruptive technology and innovation.
You will steep in concrete ideas and learn about real-world applications, not theory. Come prepared to learn how to harness disruptive strategies to grow your business and learn from cases and actionable ideas you can use immediately. 

**Participants may also opt to attend a small group round-table discussion and tour of the Home-Health Tech Lab in Fitchburg, WI on Firiday, 11/16, 8:30-12:30. Contact sandra@hyperinnovation.com for details and agenda.
---

"The connections have been tremendous in collaborating with other companies from very different industries. There are unique opportunities for learning that I can't get elsewhere."
Dan Kaiser, SVP, Innovation and Development
CUNA Mutual Group
"I appreciate the openness and opportunities for cross-industry learning,
it's a design thinking network."
Mike Zhang, VP Global Innovation
Lands' End
---
Agenda:
8:30 AM
Continental Breakfast, Networking and Registration

9:30 AM
Digital Transformation Trends and Introductory Remarks
Sandra Bradley, CEO, Hyper Innovation
9:45 AM
Lessons Learned from the Field at IDEO
Michelle Kwasny, Director, UW-Madison Design + Innovation
10:05 AM
Harness Disruptive Strategies to Grow Your Business
Matt Louison, VP Innovation Strategy, Hyper Innovation and Brian Wiegand, CEO, Gravy
10:25 AM
Lightning Round - Highlights and Insights from Hyper Innovation's Transportation and Mobility Initiative
Kris Canto, American Family Insurance, and Steve Caya, Roadview
10:45 AM
Refreshment Break
11:00 AM
Mini-Expo: Demos with Selected Early-stage Entrepreneurs and Technology Innovators

Axicor
Prescriptive analytics powered by next-generation AI and Data Science


100Crypto
Applications from Madison's Blockchain Incubator including mining, crypocurrency wallets and smart contracts


Badger Blockchain
UW-Madison student org. with demos of student blockchain projects


WID Virtual Reality Hub
Applications for VR innovations with UW-Madison faculty


Matrix Product Development
Internal GPS and other IoT applications


Data Chat
Actionable insights through conversational intelligence technology


Candorem
UX Triggers Color Theory and Market Analysis

12:00 PM
Lunch and Networking
Mesozoic Garden - East

12:45 PM
Understanding the Impact of Recent Game-changing Data Privacy Laws
Mindi Giftos and Vanessa Richmond, Husch Blackwell
1:05 PM
Lightning Round - New Modes of Rapid Experiential Learning to Stay on Top of Tech
Sandra Bradley, Hyper Innovation and Jeff Glazer, UW-Madison
1:25 PM
Lightning Round - Highlights and Insights from Hyper Innovation's Sports Innovation Initiative
Doug Barton, UBIX and Joe Bashta, Axicor
1:45 PM
Refreshment Break

2:00 PM
Lightning Round - Highlights and Insights from Hyper Innovation's Connected Health Initiative
Sandra Bradley, Hyper Innovation and Brian Tennant, CIO, Agrace Hospice

2:20 PM
Fireside Chats and QA - Deep dive, small group conversations
Strategies for Harnessing Disruptive Innovation
Matt Louison, VP Innovation Strategy, Hyper Innovation
Sports Innovation
Doug Barton, UBIX, and Nick Pasquarello, Wisconsin Athletics


Transportation and Mobility
Kris Canto, American Family Insurance, and Steve Caya, Roadview


Connected Health
Joe Bashta, Axicor, and Sandra Bradley, Hyper Innovation


Rapid Learning Through Collaboration and Experiential Learning
Michelle Kwasny, UW-Madison, and Jeff Glazer, UW-Madison


GDPR and Data Privacy - Legal Changes You Need to Know
Mindi Giftos and Vanessa Richmond, Husch Blackwell
3:00 PM
QA Recap and Insights
Reconvene to share back small group breakout insights
3:15 PM
Call to Action and Next Steps
3:30 PM
Networking Reception
4:00 PM
Event Concludes
When & Where

Discovery Building
330 N. Orchard Street
Madison, WI 53715


Thursday, November 15, 2018 from 8:30 AM to 4:00 PM (CST)
Add to my calendar
Organizer
About Hyper Innovation

Hyper Innovation (HI) is an Innovation-as-a-Service agency that creates new competitive advantage for global brands through strategic identification and prioritization of new opportunities, rapid test and learn methods to identify applications for emerging tech, and ways to inform build/buy/partner decisions.
About the Emerging Tech Hub at the Wisconsin Institute for Discovery (WID)

The Hub is a Wisconsin Institute for Discovery initiative built upon the importance of the impact and real-world application for emerging technologies. Through training, practice, and outreach, the Hub provides a catalyst for opportunities focusing on the next generation of future professionals and creating tangible community outreach and engagement.