About this Event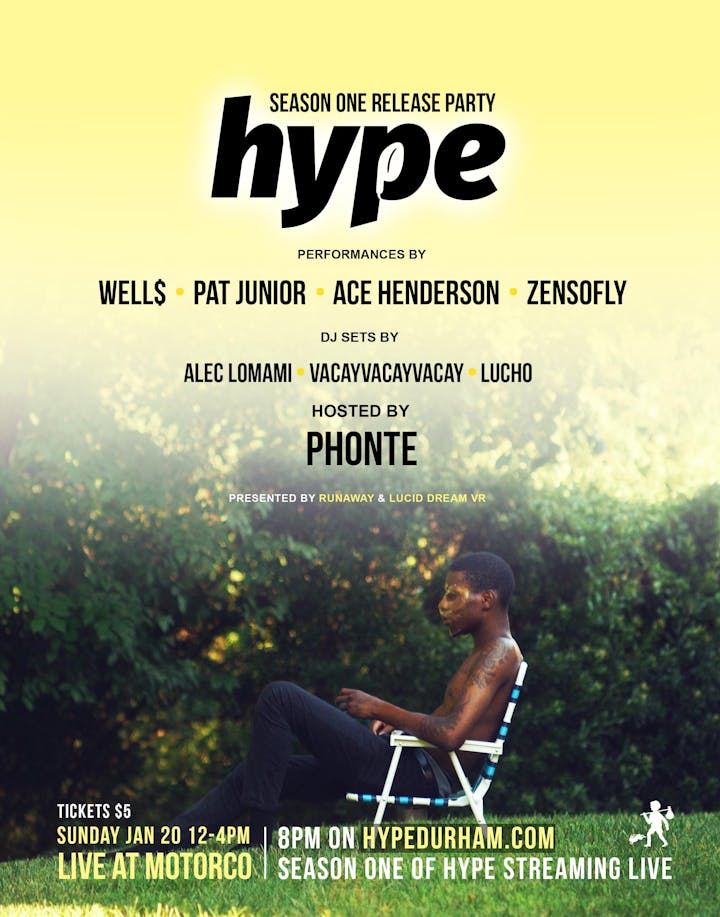 Come celebrate the release of season one of Durham's new web series Hype with a concert and VR experience at Motorco presented by Runaway & Lucid Dream VR!
Join us at 12pm and enjoy performances by Hype collaborators Well$, Pat Junior, Ace Henderson and Zensofly, DJ sets by Lucho, Alec Lomami, and vacayvacayvacay of NC creative collective Immaculate Taste, and a unique VR experience by Lucid Dream VR all hosted by Phonte of Durham's Little Brother.
And then at 8pm be sure to visit hypedurham.com to watch season one of the show as it premieres online! All proceeds from the event go toward funding a second season of Hype."
Hype season one is a five, twenty-minute episode drama about an exceedingly optimistic young man who, through trying to buy the house back for his adolescent love, gets caught in the rap and startup worlds of Durham, North Carolina.
12:30 - Alec Lomami (DJ)
1:00 - Zensofly
1:30 - Vacayvacayvacay (DJ)
2:00 - Ace Henderson
2:30 - Lucho (DJ)
3 - Pat Junior
3:30 - Well$