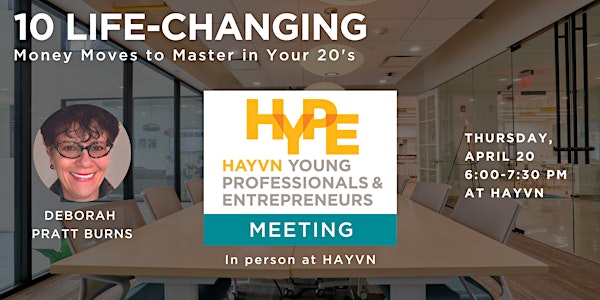 HYPE Monthly Meeting: 10 Life-Changing Money Moves to Master in Your 20's
Are you under 30 and looking to grow your career or business, make connections and learn from your peers?
Date and time
Thursday, April 20 · 6 - 7:30pm EDT
Location
HAYVN 320 Boston Post Road Suite 180 Darien, CT 06820
About this event
1 hour 30 minutes

Mobile eTicket
PLEASE JOIN US 6-7:30PM : Drinks and light appetizers will be served.
NOTE UPCOMING EVENTS & TOPICS BELOW - Mark your calendar!
HAYVN MEMBERS: Free (Junior Social Memberships available)
Non-Members: $20* per session
Learn How to Create Your Personal Roadmap to Financial Freedom!
Did you know that 79% of Millennials and Gen Z'ers turn to social media for financial advice according to a recent Forbes Magazine survey. The growing concern is, are they getting the most accurate financial information from these sources to make important life-changing decisions? Our speaker, Deborah Pratt Burns, is a leading personal finance educator and mentor for the past three decades. She has helped hundreds of young adults, including her 21-year-old daughter, her friends, as well as her nieces and nephews, to master their money. She also helped them to shift their limiting beliefs, behaviors, habits, and patterns around money to become more financially savvy and successful, in their careers and in their lives in general.
Learn How To:
Envision and Achieve Your Life and Career Goals
Develop Your Transformational Spending Plan & Spend Wisely
Set Up Your Debt Repayment Plan
Open a High-Yield Savings Account & Build Your Nest Egg Early
How to Establish Your Credit Score & Why It Matters
How to Begin Investing in the Stock Market for Growth and Income.
Career Strategies for Success
ABOUT DEBORAH PRATT BURNS
Deborah Pratt Burns is the Founder of Literacy to Legacy Mentors, LLC, Reframing Your Financial Future, a leading personal finance education, and mentoring company. She is a sought-after personal finance educator and mentor who, over the past three decades, has guided hundreds of young adults on how to master their money. Clients have learned how to more effectively earn, save, invest, and spend their money, and manage their debt with the goal of building a solid financial foundation for their future.
"Deborah is a personal finance educator and mentor like no other! From the moment we met, she has brought such transformative and positive energy to how I understand and interpret my finances. She has provided me with the financial knowledge, insights, and tools to be successful, and the confidence to know that I can tackle any financial challenge that comes my way. Deborah is simply THE BEST." – C.D. Social Media & Marketing Executive
UPCOMING MEETING DATES & TOPICS
May 18, 2023 – Potluck and Team Building Exercises
June 15, 2023– Leadership Skills
July 20, 2023 – Summer Social - HYPE + Entrepreneurial Women's Club
Sept. 21, 2023 – Charcuterie Board Making 
Oct. 19, 2023 – Women Power Talk
Dec. 14, 2023 – Holiday Social - HYPE + Entrepreneurial Women's Club
LEARN MORE ABOUT HYPE
HYPE is HAYVN's Young Professionals & Entrepreneurs Group led by Leala Marlin, HAYVN Community Manager and Kat Gunya, from Digital Retail Partners.
This group will bring young entrepreneurs and professionals together to support professional development and strategies for success in their business or their job.
Each meeting we will discuss ways to take your business or career to the next level with support from peers and industry experts.
5 REASONS TO JOIN
Discover – Explore meeting topics that will impact your life and your career
Learn From Industry Experts – Learn from professionals and experts in a variety of industries
Build Your Network – Expand your network and be part of a like-minded young professional community!
Get Support – Work with a group of professionals to problem-solve and get feedback on career and business challenges
Get Inspired – Exchange ideas, solve problems and get inspired
About the organizer
HAYVN is a flexible work space for enterprising women (and men) to connect, create and grow around business. We offer short term office space rental and long term office rental space, coworking, virtual mail, free meeting room rentals, event space rentals, conference room rentals, networking events, free WiFi, healthcare benefits, coffee and snacks, community management services.