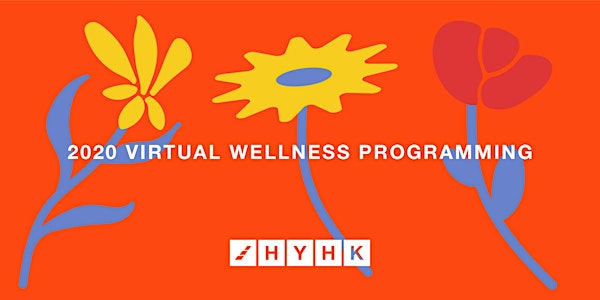 Multiple dates
HYHK Virtual Wellness
We've partnered with some of your favorite yoga instructors from the neighborhood to facilitate energizing & relaxing virtual yoga sessions.
Date and time
June 6, 2020 · 8am - June 30, 2020 · 4pm PDT
About this event
💻📲✨Free Live Stream Yoga Classes on ZOOM ✨💻📲
HYHK is hosting wellness programming via Zoom! We've partnered with some of your favorite yoga instructors from the neighborhood to facilitate a handful of mindful, energizing, and relaxing yoga and meditation sessions for you to access from home. See the schedule and Zoom link below 🌞
Zoom Link where ALL classes can be accessed during the schedule time of each individual class - https://us02web.zoom.us/j/83066626539
(or you can download the Zoom App) -- Daily Class ZOOM ID: 830 6662 6539
All updates to class will be posted on the HYHK Instagram.
____________________________________________
Monday: 6pm Slow Flow & Nidra w/Ko Im
Enjoy a slow flow sequence that helps with flexibility and inner strength. The class ends with a relaxing guided meditation.
Tuesday: 6pm Mindful Yoga Flow w/Veronica Beltran(bilingual Spanish/English)
Set the tone for your day, integrating mindful breathing and yoga movements for your mind. body, soul.
Wednesday: 6pm Mindful Yoga & Meditation w/Sabrina Moscola
Start your morning with mindful yoga and meditation. Engage in stretching and movement to wake up and bring spaciousness into the body. Calm and center the mind through breath and guided meditation.
Thursday: 6pm Vinyasa Yoga w/Ingrid Baquero
Turn up the heat from your home through a vigorous vinyasa flow, focused on strength, leading from the inside out.
Saturday: 11am Yoga Flow w/Malorie Bryant
This Yoga Flow is a traditional Hatha Vinyasa Flow Class. We will explore the various postures, to better align our chakras and live more in tune with our higher self.
Sunday: 11am Kundalini Yoga w/Malorie Bryant
Kundalini yoga is a body, mind, and soul workout. Through physical and meditation practices, we will work to put pressure on the body's systems in ways that rejuvenate and replenish your being— so that you can live more intuitively with the ebb and flow of life.
____________________________________________
All classes are free to participate, we are accepting donations via PayPal. All funds received will go towards supporting the Mayor's COVID-19 Emergency Relief Fund, the CDC Health Workers Relief Fund, and the Restaurant Workers' Community Foundation.
The Mayor's COVID-19 Emergency Relief Fund was activated by the Mayor's Fund in response to the outbreak, to provide resources and support to health care workers and essential staff, local small businesses, displaced hourly workers, including immigrant workers, and families, youth, and vulnerable New Yorkers. More info here.
The CDC Health Workers Relief Fund is a new fund set up by The CDC Foundation, to help CDC health workers who are impacted by a disaster. More info here.
The Restaurant Workers' Community Foundation is an advocacy and action nonprofit created by and for restaurant workers. The RCWF Board of Directors has approved directing funds raised during this crisis to be allocated in the following ways: 50% FOR DIRECT RELIEF TO INDIVIDUAL RESTAURANT WORKERS, 25% FOR NON-PROFIT ORGANIZATIONS SERVING RESTAURANT WORKERS IN CRISIS, and 25% FOR ZERO-INTEREST LOANS FOR RESTAURANTS TO GET BACK UP AND RUNNING. More info here.
About the organizer
The Hudson Yards Hell's Kitchen Alliance Business Improvement District (HYHK) is a 501(c)(3) not-for-profit organization dedicated to enhancing quality of life for the diverse population who lives, works and visits within the district. HYHK is an area broadly bound by West 42nd Street to the north, 11th Avenue to the west, West 30th Street to the south and Ninth Avenue to the east. Our work involves supplemental sanitation services, streetscape improvements, and neighborhood horticulture and beautification projects. HYHK is the NYC Department of Parks' official maintenance, operations, and programming partner for Bella Abzug Park.
Bella Abzug Park, is located between West 34rd and West 36th Streets, mid-block between 10th and 11th Avenues, along Hudson Boulevard East.