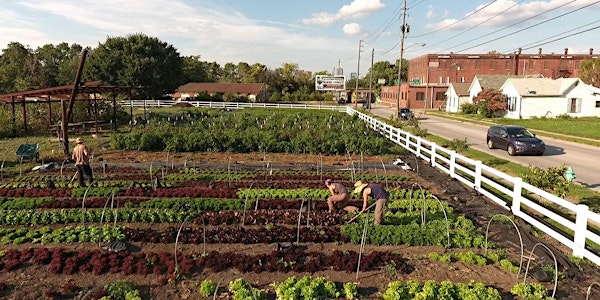 HYFC & Mad Farmers Collective Farm Tour and Fall Mixer
When and where
Location
Mad Farmers Collective 2048 S Meridian St. Indianapolis, IN 46225
Description
Mad Farmers Collective and Hoosier Young Farmers Collective are partnering for a fall event that will include everything a weary farmer needs by the middle of October: a tour of a highly productive urban farm (inspiration!), some focused and slightly nerdy discussion about best practices when it comes to washing greens (education!), a review and close look at the MFC homemade greens bubbler (specific how-to info!), and of course plenty of time to socialize and unpack the season over snacks and beers with other farmy types (physical and soul food!).
The event is free and will be held onsite at the Mad Farmers' gorgeous urban farm, just a few miles south of downtown Indianapolis. Light supper fare will be provided thanks to MFC and a generous SARE grant. We hope you can join us, and hope you'll take the time to RSVP so we can order food appropriately.
The afternoon will unfold like this:
3 pm - Gather and Welcome, quick tour of the 1.5 acre farm
3:30 - Greens Bubbler Review from the Mad Farmers. We'll post up at the wash/pack to hear about the research and process that went into building the greens bubbler and get a review of its perfomance and potential for increasing productivity and efficiency on a production farm. Lots of time for questions and hopefully a chance to hear from other attending farmers about their own greens washing procedures.
4:30 - Scott Monroe, Purdue Extension Specialist for Food Safety, will give a brief overview of his recent research into best practices for washing greens to eliminate contamination concerns.
5:00 - Eat and talk! Talk and eat! We'll provide light supper fare to enjoy while you ask a few follow up questions, catch up with folks you haven't seen all season, and hopefully meet lots of new folks.
We'll also have information available about joining the Hoosier Young Farmer Coaltion (it's free!) and about an exciting Fellowship opportunity (it includes money!) unfolding for the 2020 season. Hope to see you October 20th!