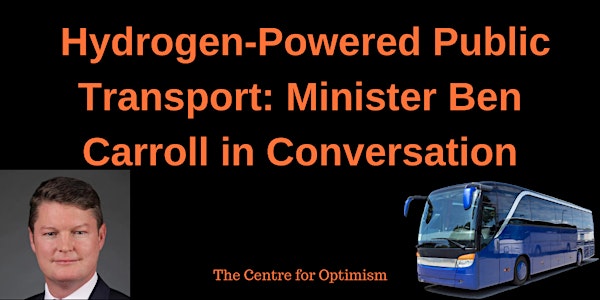 Hydrogen-Powered Public Transport: Minister Ben Carroll in Conversation
A thoroughly interesting and optimistic conversation on the future of hydrogen vehicles.
Refund Policy
Refunds up to 1 day before event
Eventbrite's fee is nonrefundable.
About this event
"We know how critical it is to invest in greener technology now – these Victorian-first hydrogen fuel cell buses will help us drive down pollution and remove noisy diesel buses from the public network for good."
That's Ben Carroll announcing hydrogen fuel cell buses will be added to Melbourne's public transport bus fleet. Ben is Victoria's Minister for Public Transport, Minister for Roads and Road Safety, Minister for Industry Support and Recovery and Minister for Business Precincts
Ben will join you, Madam Wheels Jacquie Hayes and The Centre for Optimism's Victor Perton in conversation.
We'll ask Ben what makes him optimistic and to share with us his vision of the future of hydrogen in Victoria's transport industry and public transport.
Ben will take your questions and comments on the future of hydrogen, public transport and optimism.
Joining us too will be Adam Fletcher, Program Manager of the Hycel Technology Hub at Deakin University's Warrnambool campus to fill us in on Australia's first fully integrated hydrogen fuel cell research and development facility
Glenn Wilson will talk to us about the role of the water industry and water more broadly in the hydrogen economy and the work that Yarra Valley Water is doing to establish a hydrogen hub around their Aurora Treatment Plant in Wollert. The hydrogen hub has the potential to supply hydrogen into the local supply grid, to refuelling stations, and a range of other uses from heating to powering fuel cells to meet electricity demand when other forms of renewable energy may not be available. Glenn Wilson is the General Manager of Service Futures at Yarra Valley Water. Glenn's team is responsible for delivering end-to-end solutions to improve customer and employee experience, reducing the cost to serve and, ultimately, water bills for customers, and driving the business's targets of GHG neutrality and using 100% renewable energy by 2025.
Brett Millington, Chief Executive Officer of Mildura Regional Development, will join us too. He'll share news on the Mallee Hydrogen Technology Cluster. The Cluster sits on the Victorian Cluster network and is also a founding member of National Energy Resources Australia Hydrogen Technology Cluster Australia.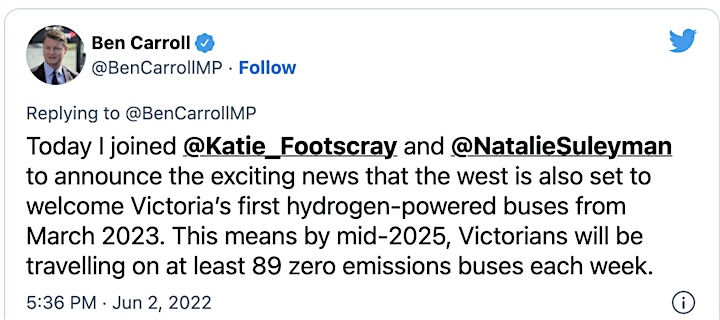 Related News: The Hume Renewable Hydrogen Highway
Applications are now open for $20 million in grant funding to support the design and delivery of The Hume Hydrogen Highway, powering renewable hydrogen trucking along Australia's busiest freight corridor co-funded by the Victorian and NSW Governments. The Victorian, NSW and Queensland Governments will collaborate on developing a renewable hydrogen highway by 2026, focusing on the Hume, Pacific, and Newell Highways.
The grant will support the development of at least four refuelling stations along the Highway and approximately 25 hydrogen-powered trucks.
Transport is one of Australia's most significant sources of greenhouse gas emissions, accounting for 25 per cent of Victoria's total carbon footprint. Renewable hydrogen shows strong potential to be cost competitive with diesel – which currently powers most of Victoria's freight industry.
Related News at Deakin University in Warrnambool
Works have begun on Australia's first fully integrated hydrogen fuel cell research and development facility -The Hycel Technology Hub project at Deakin University's Warrnambool campus. The Hycel Technology Hub will be a regional cluster of expertise for researching, testing, optimising and scaling technologies that use hydrogen. The facility will also support training, education and social licence, to ready the Australian workforce for the hydrogen jobs of the future. The research facility will see the development, assembly, testing, and demonstration of fuel cells, with a focus on developing fuel cells for transport and heavy vehicles, as well as trains or boats.