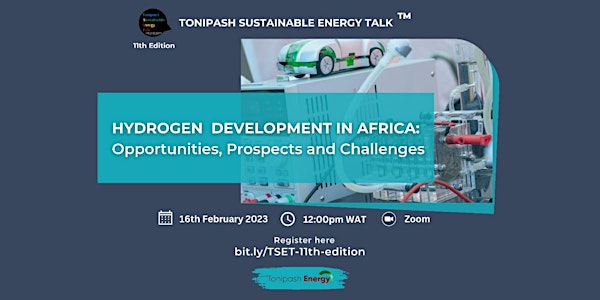 Hydrogen Development in Africa: Opportunities, Challenges, and Prospects
The 11th edition of TSET will discuss "Hydrogen Development in Africa: Opportunities, Challenges, and Prospects"
About this event
The 11th edition of Tonipash Sustainable Energy Talk will discuss HYDROGEN DEVELOPMENT IN AFRICA: OPPORTUNITIES, CHALLENGES, AND PROSPECTS with experts within and outside the continent.
Globally, Hydrogen demand grew by 5% in 2021 to 94Mt from its 2020 demand level according to the IEA's Hydrogen Tracking report released last year. Africa has the opportunity of leapfrogging its capacity to meet it's energy needs by adopting hydrogen. The technology in the continent as it is with other parts of the world is still nascent with a bright future for the continent. Already, some African countries like Namibia, South Africa, Morocco and have signed partnerships to develop this technology.
According to IRENA, energy efficiency, electrification and renewables can achieve 70% of the mitigation needed to keep temperature under 1.5 degree to meet the 2050 Net Zero target, hydrogen will be needed to decarbonise end uses where other options are less mature or more costly, such as heavy industry, long-haul transport and seasonal energy storage. The Executive Director of IEA, Fatih Birol has stated that "Governments need to take rapid actions to lower the barriers that are holding low-carbon hydrogen back from faster growth, which will be important if the world is to have a chance of reaching net zero emissions by 2050."
The event will highlight the challenges in harnessing the potential of hydrogen in the continent and what organizations are doing to promote its adoption.
Date: Thursday 16th February, 2023
Time: 12noon West African Time.
Venue: Zoom, register here; Bit.ly/TSET-11th-edition