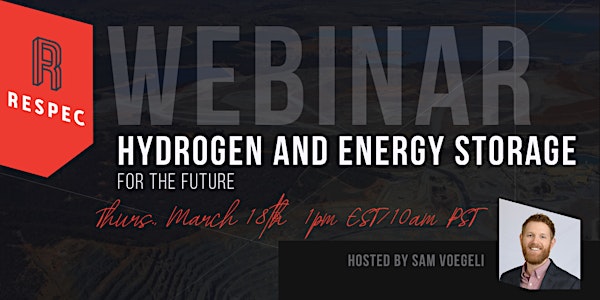 Hydrogen and Energy Storage for the Future
This one-hour webinar will focus on the growing hydrogen market and what the storage industry needs to know to capitalize on this demand.
About this event
WEBINAR WILL BE HOSTED AS A MICROSOFT TEAMS LIVE EVENT. LIVE EVENT LINK WILL BE EMAILED AND SHARED AFTER REGISTRATION.
Join Sam Voegeli from RESPEC's Energy Group as he hosts a webinar on Thursday, March 18th at 1pm EST/10am PST. Sam has worked on dozens of subsurface storage projects across the globe (including hydrogen storage) and is currently leading a Department of Energy (DOE)-sponsored research and development project that is focusing in subsurface storage.
Hydrogen is undoubtedly gaining traction in the energy industry and several new hydrogen storage projects are currently underway. Although hydrogen storage is not a new idea, the emerging market focus and production methods create several unique considerations for hydrogen storage. This webinar will address these considerations and provide a background on the hydrogen market. The main topics from this webinar will include:
• Why hydrogen?
• Introduction to hydrogen production.
• The unique aspects of hydrogen storage.
• The hydrogen roadmap for the future.