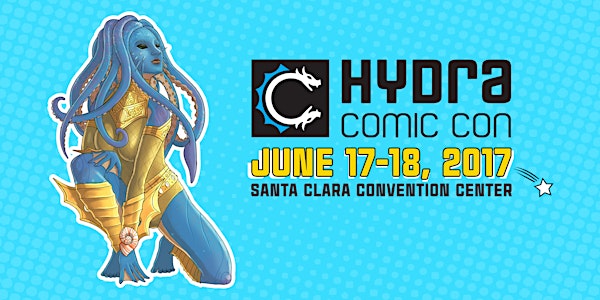 Hydra Comic Con 2017 - Comics, Cartoons, Media & Cosplay
When and where
Location
Santa Clara Convention Center 5001 Great America Parkway Santa Clara, CA 95054
Description
Hydra Comic Con is a comic convention at the Santa Clara Convention Center in Santa Clara, CA this June 17-18. Join us for a ton of fun for the whole family featuring amazing artists and their art, creativity-centric programming and shopping galore!
Children 7 years of age and under are FREE with a parent or guardian purchasing an adult ticket. You do not have to purchase a ticket for a child 7 years or younger! Just let us know that your child is with you when you check in/purchase your ticket. Children ages 8 to 14 can purchase a child ticket at a reduced rate. Everyone 15 and older must purchase an adult ticket.
Tickets are NOT REFUNDABLE and NOT TRANSFERABLE. Tickets are only sent via email. If you have not received your tickets within 24 hours of purchase please contact us at info@hydracomiccon.com for assistance.
Please keep in mind the following prior to purchase:
No pets are allowed except for service animals.
Hydra Comic Con maintains a strict zero-tolerance policy on harassment. Any act of harassment will lead to removal from the event and possible involvement of law enforcement.
By entering the premises you consent to have your voice, image, or likeness be used by Sea Monster Media LLC for the purposes of editorial news coverage and promotional advertising in perpetuity.
Please review all Hydra Comic Con Policies at https://www.hydracomiccon.com/about/policies/