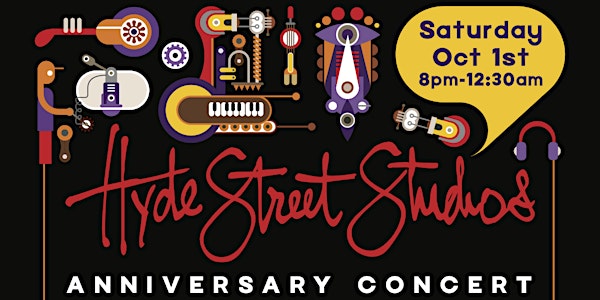 Hyde Street Studios Anniversary Concert
Tenderloin Museum & Hyde Street Studios announce the Hyde Street Studios Anniversary Concert!
When and where
Location
Alcazar Theatre 650 Geary Street San Francisco, CA 94102
Refund Policy
Contact the organizer to request a refund.
Eventbrite's fee is nonrefundable.
About this event
Tenderloin Museum & Hyde Street Studios announce the Hyde Street Studios Anniversary Concert to celebrate the legacy of creative collaboration, musical diversity, and sonic innovation in the neighborhood.
Presented as part of TLM's Sounds of the Tenderloin series and a Hardly Strictly Bluegrass Out of the Park concert, the program features a range of talent who have recorded at the studio performing their music live at the Alcazar Theater.
Founded in 1969 as Wally Heider Studios in the heart of the Tenderloin, it was the first technologically modern recording studio in San Francisco. Heider was not only a pioneering recording engineer but also a savvy businessman who saw an opening for a studio that placed creative control in the hands of artists (instead of their labels). The well appointed space attracted independent bands like the Grateful Dead, and a slew of iconic records were cut at Wally Heider, such as the Dead's American Beauty, CSNY's Deja Vu, Santana's Abraxas, and many more. The studio's freewheeling, convivial atmosphere engendered the "San Francisco Sound," which meant a "live" feeling coming through on the records: for example, Eric Burdon's impassioned, LSD fueled vocal performance on "Spill the Wine" with WAR, or Herbie Hancock's epic, unbridled jazz jams captured in whole thanks to cleverly daisy-chained tape decks.
When Wally Heider officially closed in 1980, local studio owner and songwriter Michael Ward, along with initial partners Tom Sharples and Dan Alexander, took over and kept the space alive as Hyde Street Studios; ever since, Hyde Street Studios has continued the legacy of encouraging creative collaboration and building musical community. Stylistically, the studio grew with the times, too, and the records cut there in the past 42 years reflect a wide spectrum of contemporary recorded music and a deep connection to many of the Bay Area's local scenes. Dead Kennedys, Flipper, and The Tubes, and later Green Day put Bay Area punk onto tape at Hyde St.; Tupac, Digital Underground, & Del the Funky Homosapien cut records of now classic Bay Area hip-hop. Other noteworthy names who have recorded at Hyde St. include Chris Isaak, Joe Satriani, Michael Franti & Spearhead, Train, et. al.
Today, the studio is still a robust hub for music making, and in addition to a long list of musical stars with major label support, Hyde St. boasts a thriving and connected community of local players, writers, and engineers who keep alive the spirit of creative collaboration that made the original Wally Heider studio so appealing to artists in the first place. Many of the studio community's musical projects will be performing at the Hyde Street Studios Anniversary, including Hop Sauce, Chris von Sneidern, Pamela Parker's Fantastic Machine, & studio owner Michael Ward's band Dogs and Fishes.
Ward & studio manager Jack Kertzman had been planning a 40th anniversary celebration in 2020, but the pandemic scuttled their plans for a proper fête. Now, the Ruby anniversary is getting its due at a nearby Tenderloin venue, the Alcazar Theater, located along Geary St.'s theater row. Timed to coincide with the in-person return of the Hardly Strictly Bluegrass festival with which the studio shares an extensive pool of talent, the Hyde Street Studios Anniversary is an official HSB "Out of the Park" Concert (HSB is also the generous supporter of the Tenderloin Museum's "Sounds of the Tenderloin" live music program series). Headliner Jimmie Dale Gilmore, co-founder of Texas based alt-country forefathers The Flatlanders, is on both bills, while alt-rocker Forrest Day & jazz master Richard Howell bring serious Bay Area talent to the Hyde Street show. A "superjam" closes out the night, an homage to the free spirited musical trips that defined the studio's legendary reputation and unique sound.
"After 42 years, it's time for a party" shared Ward. Studio manager Kertzman added that "it's an honor to have this evening to share music with our community. It's going to be a celebration and a culmination of decades of perseverance to keep this studio facility in the Tenderloin at the forefront of the SF music scene."
Join the Hyde Street Studios crew and the Tenderloin Museum at the Alcazar Theater on Saturday October 1st from 8pm-12:30am to celebrate San Francisco's most storied and vibrant recording studio and the mark it has made on music history! More info on each individual artist below; to learn more about the Tenderloin Museum's near weekly public programming and its "Sounds of the Tenderloin" live music series, visit tenderloinmuseum.org.
Jimmie Dale Gilmore has been writing and playing songs for more than 50 years. His music eludes categorization, blending elements of folk, rock, country, blues and bluegrass. His recordings have earned three Grammy nominations in both Contemporary Folk and Traditional Folk categories and he was named Country Artist of the Year three years running by Rolling Stone Magazine. His high and lonesome vocal style, coupled with sometimes mystical and poetic lyrics, has led to musical brandings such as Sagebrush Soul, Zen Country and Western Beat. Along with Joe Ely and Butch Hancock, Gilmore's legendary band The Flatlanders has been credited as fathers of the Alt-country movement. With his group The Wronglers, Jimmie Dale Gilmour recorded the critically acclaimed album Heirloom Music at Hyde Street Studios in 2011, featuring Hardly Strictly Bluegrass founder Warren Hellman on banjo and vocals.
-----------------------
Forrest Day defines eclectic. He grew up in the Bay Area, and was heavily influenced by the jazz he and his musically-talented family would listen to. You can hear the effect of his stellar background reflected in his group, which has been performing for over a decade. The music is new, it's unusual, and it personifies spontaneity and free spirit. With elements of hip hop and indie rock, Forrest Day is all things alternative — self-proclaimed attention-deficit-disorder rock with punk energy. As the band's songwriter, Day says, "It all pokes its head out in different ways at different times."
---------------------
Richard Howell and his bands have been an iconic jazz music force in his native Bay Area for decades. While revered by his peers as a Jazz, Blues and R&B musician and singer, the award-winning-composer Howell has long been an under-the-radar force as a producer, arranger and educator as well. He was decisively influenced by his teachers Don Myrick and Justo Amario, also musically inspired by Cannonball Adderley and John Coltrane. In the bands of Etta James and Chaka Khan, he played at legendary American and European Jazz festivals (Montreux, Nice, North Sea and London) and on major network US television shows (Johnny Carson, Jay Leno, etc).
-------------------
Michael Ward is a singer, songwriter, multi-instrumentalist, producer and owner of renowned Hyde Street Studios, living and working in the San Francisco Bay area since 1967. He has fronted many bands in that time which have been built around his unique singing, composition, and lyrical approach. The music blends elements of R&B, Country, Folk and World Beat, emphasizing the distinctive narrative voice of the lyrics and supported by the rich instrumental interplay among the stellar line up of musicians, some of whom have been with the band for close to twenty years. Band members Prairie Prince, Drew Zingg, Chris von Sneidern, Richard Howell, Jeff Cleland, and Fernando De Sanjines bring to the table incredible musicianship and experience to match, with members having played with artists ranging from Steely Dan to Todd Rundgren and Earth Wind & Fire.
--------------------
Pamela Parker captures the San Francisco music scene, ranging from rock to gospel to R&B to epic psychedelia. Her latest album, The Fantastic Machine blends sultry soulful vocals with powerful rock anthems. Pamela Parker has built a new sound of her own, and her live band brings it all together with dynamic stage presence and commanding vocals that can drive you, make you dance, & take you on a journey. The upcoming album, MotherSTAR, co-produced with Jaimeson Durr (Sammy Hagar, Joe Satriani, Jason Bonham), touches on some new & old sounds to create a luscious landscape with a wide range of surprising touchstones like Aretha Franklin, Heart, Lady Gaga, Erykah Badu, Led Zeppelin, & Funkadelic. Pamela's relationship with Hyde Street Studios continues to blossom, as the band rounds completion of their fourth studio album.
--------------------
Chris von Sneidern (CvS) is a San Francisco-based singer/songwriter and recording artist with thirteen critically acclaimed, self-produced albums. Deemed #6 of the all-time Greatest Power Pop Albums in Shake Some Action, by John M. Borack, CvS's 2nd CD, Big White Lies, remains a strong seller worldwide. He regularly performs in the Bay Area as well as in Europe and Japan. He toured Spain in tribute to UK band The Clash, recreating the London Calling album in its entirety to sold-out crowds with Chuck Prophet. CvS is a member of The Flamin' Groovies, who regularly tour Europe in 500-seaters to a fanbase going back 50 years. As an engineer/producer, CvS currently operates out of Hyde Street Studios and has worked with a variety of artists, such as E (Eels), Ryan Adams, Paula Cole, John Wesley Harding and Jewel.
---------------------
Hop Sauce is an East Bay concoction of instrumental groove, funk and jazz, balancing improvisation with composition and a knack for fun, tasty jams. The core trio (Jeff Cleland on bass, Chris Gamper on drums and Jono Kornfeld on guitar) has a rich history of playing together over many decades. Rotating guest saxophone players are a part of the current recipe - incorporating a voice-like dimension and flavorful zing to their sound. Their 3-song "Freshies" EP (released in 2021) features Simon on keys and Jamison Smeltz on sax.