Hyde Park Art Center: Exhibition Viewing Tickets
About this Event
Please note that we have reserved exhibition viewing hours for people who have a higher risk of contracting Covid-19. Our capacity during those times is more limited in order to create a safer environment for vulnerable populations. You can reserve tickets to visit us at times when our capacity is low by clicking here.
Thank you for your interest in visiting exhibitions at the Hyde Park Art Center. Exhibition tickets are FREE, masks and social distancing are required. Based on recent recommendations from the CDC, the Hyde Park Art Center strongly suggests that visitors wear two types of masks during their visits.
Current Exhibitions: Ground Floor, Cuts and Beats: Cecil McDonald Jr. and Next Window, Please!
About Ground Floor:
Ground Floor, an ongoing Biennial exhibition since 2010, brings together work by Chicago's most promising emerging artists. The exhibition offers a single destination to discover artists, who have recently graduated (in 2019 and 2020) from one of Chicago's five outstanding MFA programs and whose work demands to be seen and supported. Ground Floor presents art made in the past couple of years in hopes to investigate and articulate conceptual and stylistic trends coming out of Chicago art schools right now. Many of the artists in this year's exhibition came to Chicago from other cities and countries, attracted by the city's reputation as a hotbed of experimentation in art and activism. Ground Floor—so named because it provides a crucial platform for young artists and expands the entire lower level of the Art Center, gives exhibiting artists a major public venue in which to display their works at a critical juncture in their careers, helping to build, support and ensure a strong and vibrant community of artists in Chicago. This year, the exhibition will present for the first time in person the thesis work of ten 2020 graduates, whose thesis exhibitions were largely presented online because of the ongoing pandemic.
Exhibition Dates: February 22, 2021 - April 3, 2021.
Participating artists:
Seomy Ahn, Dabin Ahn, Kayla Anderson, Cecilia Beaven, Leticia Bernaus, Stella Brown, Jonathan Castillo, Atefeh Farajolahzadeh, Efrat Hakimi, J. Kent, Percy Lam, Jessica Martin, Jordan Putt, Daisy Schultz, Forrest Simmons, Bun Stout, Paige Taul, Tamara Becerra Valdez, Terence Wong, Qianwen Yu
The exhibition is made possible in part with support from: the School of the Art Institute of Chicago and University of Chicago
The exhibition expands three galleries in the Art Center's first floor.
Images above: Ground Floor Logo and detail of Forrest Simmons, Reconstruction 8, 2019, Lightbox print, 40 x 30 inches. Courtesy of the Artist.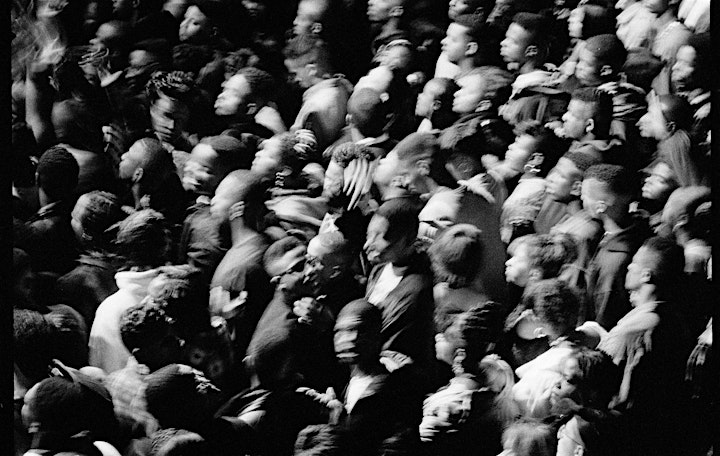 About Cuts and Beats: Cecil McDonald Jr.:
Chicago-based artist and educator, Cecil McDonald Jr. uses photography, video, and text to explore intersections of masculinity, ancestry, and the artistic and intellectual pursuits of Black Americans. Cuts and Beats refers to the title of McDonald's most recent body of work in which the artist subverts historical images, like publicity stills from Black artists in the Vaudeville and Minstrel era, by transforming them using techniques of photo collage, video, and performance combined with his own photographs. McDonald thinks of the process of cutting, altering, reassembling, and bringing images into different contexts as a metaphor for performance, dance, music, and the complex histories of Black Americans. The new built images, McDonald says, "look back to often racist representations, and much like memory, recede to a current, self-possessed and subversive imagery, each influencing and dictating to the other, serving as a remix of past and present culture."
The exhibition will feature new work that the artist began during his 2018 residency at Hyde Park Art Center.
Exhibition Dates: February 22, 2021 - June 12, 2021
This exhibition is made possible in part through generous support from a grant from the Illinois Arts Council Agency, and contributions from Kim & James Elbaor and Jill & Michael Lowe.
The exhibition is on view in Kanter McCormick Gallery.
Image above: Cecil McDonald Jr., We Want Eazy, 1997, Photomontage, 40 x 60 inches. Courtesy of the artist.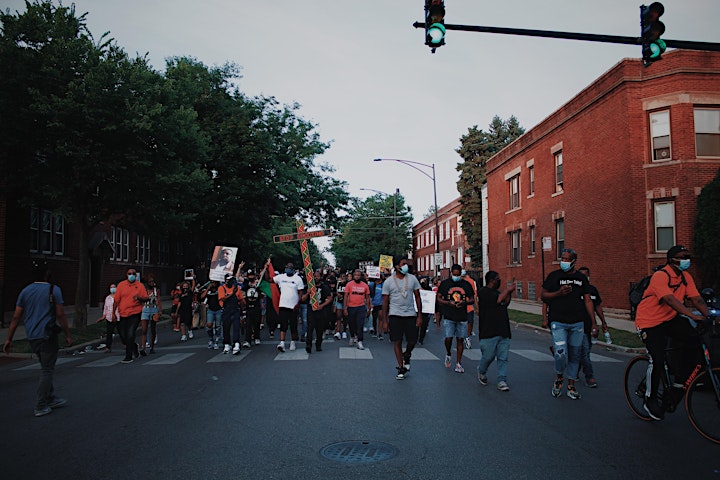 About Next Window, Please!:
Every year at Hyde Park Art Center, six professional artists mentor over 150 student artists to develop their artistic voices over the course of 30 weeks. During the 2019-2020 year, the young artists experienced the outbreak of the Covid-19 pandemic and the powerful wave of organized protests for racial justice that resulted from the murders of George Floyd, Ahmaud Arbery, and Breonna Taylor, among many others. Several photographs in the exhibition, produced by young artists in the Advanced Photography course led by artist Jonathan Castillo, document the days between March and May of 2020 from the perspective of young Chicago artists, whose voices demand to be heard. The exhibition's title, Next Window, Please is borrowed from a photograph taken during the Spring 2020 Advanced Photo class of a drive-through window filled with notes asking customers to move forward. The photograph and title speak to the current moment on so many levels. They are about our desire to move forward and to our new relationship with windows, digital or physical, that keep us safe and together at the same time.
Exhibition Dates: February 22, 2021 - April 3, 2021
This exhibition is made possible in part through generous support from Allstate, the Lloyd A. Fry Foundation, the Epstein Family Foundation, Polk Bros Foundation, and the Reva and David Logan Foundation.
The exhibition is on view in Gallery 5.
Image above: Alyssia Zepeda, Untitled, 2020, Inkjet print, 24 x 30 inches. Courtesy of the artist.