Embracing a hybrid working model; this event looks to explore the impact this will have on organisational culture and employee wellbeing.
About this event
The pandemic has brought many challenges and as a result, more and more organisations are adopting hybrid working models. According to recent CMI research, 80% of managers already work flexibly and 61% of managers expect that their staff will work in a blended fashion, but what are the pros and cons of this and what do we need to put in place to ensure that this benefits all?
The benefits seem to be clear, with organisations seeing increased productivity and cost savings and in many cases, employees enjoying greater job satisfaction and personal well being. However, hybrid working is not without its challenges and it is up to managers to lead the way by creating the right environment and embedding a culture of trust.
Join us on Wednesday 29th September where we will discuss the pros and cons of hybrid working and aim to highlight some practical examples that may help you on this journey.
What are the practical challenges?
Is there an optimal split between working in the office and remotely?
How do managers manage staff well being in light of the blurring of work/life boundaries?
And how do we ensure that we are inclusive of all?
Our guest speakers will share their thoughts on how managers should effectively manage the "new normal" from their experience and how managers should be mindful as people go back to the office and/or we embrace the hybrid working method.
Our Speakers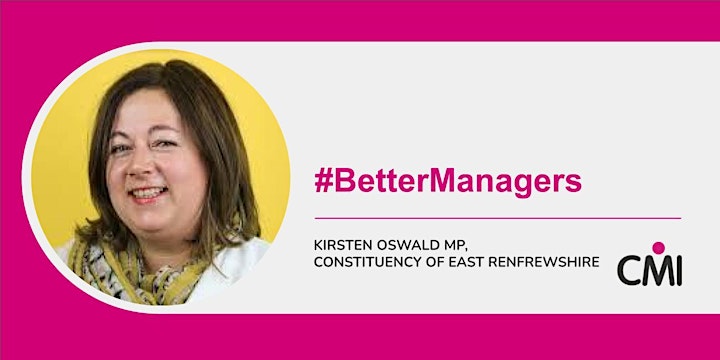 Kirsten Oswald MP
Kirsten Oswald MP represents the constituency of East Renfrewshire where she lives with her family. Her professional background is in Human Resources Management, and prior to entering political life, Kirsten worked as an HR Director.
Having joined the SNP in summer 2014, Kirsten quickly became involved with her local branch and was first elected in the 2015 General Election. Between 2015 – 2017 Kirsten was the SNP's Spokesperson for the Armed Forces and Veterans.
Kirsten then worked in both politics and education; and was soon appointed as the first female Business Convener, or Chair, of the SNP in 2018. Kirsten is now the SNP's Westminster Group depute leader and Spokesperson for Women and Equalities.
​Outside of politics, Kirsten is happiest spending time with her family, or with her nose in a book.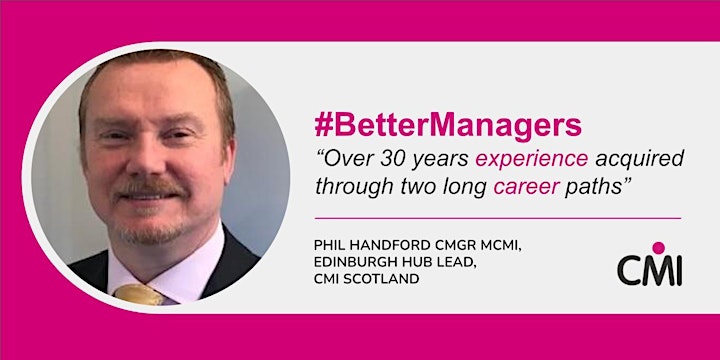 Phil Handford CMgr MCMI
Manager Engineering at Serco Caledonian Sleeper & Edinburgh Hub Lead, CMI Scotland
Phil Handford is a Chartered Manager and professionally registered mechanical engineer with the Institute of Mechanical Engineers (IMechE) with over 30 years of experience acquired through two long career paths in the Royal Navy's Fleet Air Arm and the UKs Railway Industry and currently delivers engineering solutions and business support as a Performance Engineer for Serco Caledonian Sleeper Limited, which is an overnight sleeper train service, linking Scotland and London.
Phil completed his extended Level 5 Diploma in Leadership and Management in 2017 and as an active member of the Chartered Management Institute, has been appointed as a Board Member and Hub Lead for Edinburgh within the Scottish Devolved Region of the CMI.
Phil is also passionate about motorcycles and is a lifelong member of the Harley Davidson Owners Group (HOG) and enjoys riding his extensively modified Harley with his partner Corrinna, in support of their affiliation with the Dunedin Chapter (Edinburgh) and the registered charity 'Thunder in the Glens'.
Phil can be contacted using the following Email address phil.handford@scotland-cmi.org.uk and is always willing to discuss opportunities and areas of interest relating to leadership and management and any other relevant matters concerning the CMI.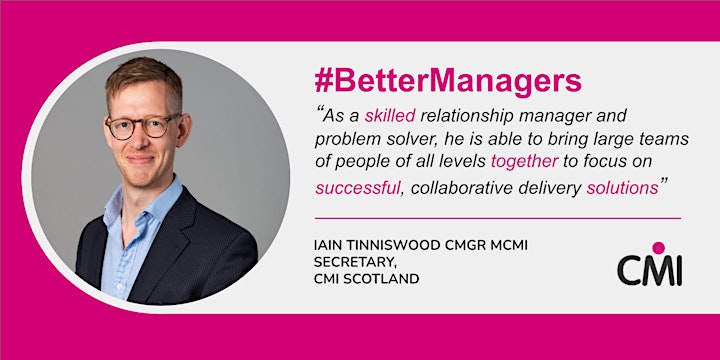 Iain Tinniswood CMgr MCMI
Associate at Mott MacDonald & Secretary, CMI Scotland
An experienced consultant with a background in civil engineering, he has a proven track record of delivering challenging and complex multidisciplinary infrastructure projects within the UK and overseas. As a skilled relationship manager and problem solver, he is able to bring large teams of people of all levels together to focus on successful, collaborative delivery solutions.
Currently, Iain is an Associate at Mott MacDonald ltd, a global engineering, management and development consultancy based in the UK, where he specialises in leading multidisciplinary teams in the provision of Technical Advisory and Design Management services to the NHS on large-scale healthcare infrastructure projects throughout the UK.
He is a member of the Chartered Management Institute, Institute of Healthcare Engineering and Estate Management and the Institution of Civil Engineers. Passionate for family and CPD, you are just as likely to find him either with his kids on one of East Lothian's glorious beaches or squirreled away in the home office on a webinar.
In the meantime...
If you're a member of CMI, or subscribe to our content, you can find thousands of exclusive, practical development resources in ManagementDirect. Log in here and search for a topic to get started!
Not yet subscribed?
From free newsletters packed with the latest trends, insights and tips for managers and leaders, to the full suite of invaluable tools and benefits that come with being a CMI member, we've got something for everyone. Visit our website to find out more.
Organizer of Hybrid Working: Culture and wellbeing in the "new normal"