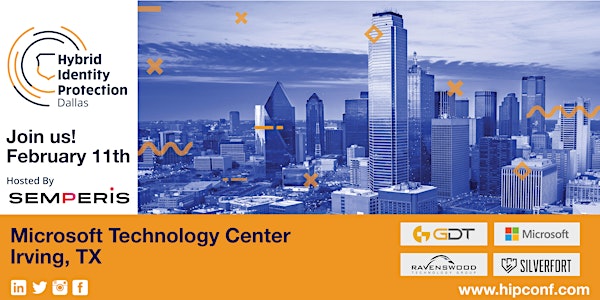 Hybrid Identity Protection Tech Day: Dallas
The premier educational event for identity-centric IT and cybersecurity practitioners.
When and where
Location
Microsoft Technology Center 7000 State Highway 161 Floor #4 | Room #4025 Irving, TX 75039
Refund Policy
Contact the organizer to request a refund.
Eventbrite's fee is nonrefundable.
About this event
NOTE: HIP Dallas is being held on the 4th floor of the righthand (southern) building in the Microsoft Las Colinas campus. Visitor parking is free and is located in the front of the two buildings, additional parking is located on the northside of LC2. Visitors should enter building "LC1", and can collect their visitor badges from the reception desk.
With the disappearance of the network perimeter, identity has become the last line of defense from cyberattacks. At Hybrid Identity Protection (HIP) Tech Day, join the world's foremost identity and access management experts, Microsoft MVPs, and industry peers working to solve complex infrastructure and cybersecurity challenges. This one-day regional event fosters a community of knowledge-sharing – with topics ranging from multi-factor authentication, identity governance, privileged access management, and more!
Your ticket includes:
Entrance into Educational Speaker Sessions
Entrance into Exhibit Area
Catered Breakfast and Lunch
Entrance into Networking Happy Hour
Conference Materials
Who should attend
This event is for IAM, IT infrastructure, and cybersecurity professionals.
Mobile workforces, cloud applications, and digitalization are changing every aspect of the modern enterprise. And with radical transformation come new business risks. HIP Tech Day is for IAM, IT infrastructure, and cybersecurity professionals charged with supporting hybrid, multi-cloud environments and defending against emerging threats. Participants discover innovative approaches and real-world solutions to safeguard directory services on-premises and in the cloud.
What to expect
Learn key insights and trends in today's evolving hybrid identity landscape
Discover proven practices that you can apply to your unique environment
Network with IT professionals facing similar infrastructure and security challenges
The full agenda for HIP Tech Day: Dallas is currently being finalized. Register now to receive updates.

Agenda
10:00 am – 10:15 am: Opening Remarks & Welcome
10:15 am – 11:00 am: Speaking Session

Passwords Must Die! An Introduction to FIDO2
Gil Kirkpatrick | Chief Architect at Semperis
Passwords are one of the weakest links in the authentication process that protects your systems and data. 80% of all data breaches involve stolen credentials like passwords. The recently ratified FIDO2 standard makes passwordless authentication a reality. Learn how FIDO2 works under the covers and how you can use it to protect your IT environment.
About the speaker:
Gil Kirkpatrick is a long-time veteran of the commercial software industry and has focused on identity and access management products since the early 1990s. He has held technology leadership roles at HTS, NetPro, Quest Software, and ViewDS Identity Solutions, and is known as the founder of the Directory Experts Conference (later renamed The Experts Conference). Kirkpatrick is the author of Active Directory Programming, the original reference book for developers working with Microsoft's Active Directory. He has been nominated as a Microsoft MVP for Active Directory and Enterprise Mobility for each of the last 15 years.
11:00 am – 11:15 am: Break Time
11:15 am – 12:00 pm: Speaking Session

Moving Identity From On-Prem to the Cloud, Rinse and Repeat
Chad Doty | Director of Identity at Ecolab
The choice to move identity from on-premise to the cloud is easy; the real work is determining what goes, what stays behind, and how you communicate between the two.  Also, cloud Identity is ever growing and changing, so you will continually be faced with reaffirming your choice and adapting.
About the speaker:
Technology leader with 25+ years in the industry covering development, architecture, security, and infrastructure. In his current role, Chad handles identity strategy and architecture. His teams are responsible for User Experience for Customer and Employee Identity, Mobile Device Management, Office 365, and ServiceNow.
12:00 pm – 1:00 pm: Networking Lunch
1:00 pm – 1:45 pm: Speaking Session

Be Our Guest!
John Savill | Principal Cloud Solution Architect at Microsoft
In this session we will explore the options around guest access to resources that are authenticated through Azure AD. This session will explore the key Azure AD B2B options in addition to the differences and when to use Azure AD B2C.
About the speaker:
John has been working with Microsoft technologies for over 25 years when he first stumbled across Windows NT by accident when Ctrl+Alt+Delete did not give him the expected response but rather popped up a strange security dialog. John is an 11-time Microsoft MVP, CISSP, Azure Solutions Architect and Azure DevOps Engineer Expert in addition to being certified on Azure administration, data engineering and security engineering. John specializes in Azure AD, Azure compute, storage, networking in addition to container technologies.
In his spare time John recently completed his 9th book on Microsoft technologies; Microsoft Azure Infrastructure for Architects and has authored over 50 courses on Microsoft technologies at Pluralsight, many of which are free as part of a Microsoft sponsored learning path. John also maintains an active YouTube channel with 20k subscribers posting many whiteboard and demonstration videos when he finds the time. When not at a computer John enjoys spending time with his family, training for full distance Ironman events and Krav Maga of which he is a certified instructor.
1:45 pm – 2:30 pm: Speaking Session

Preventing Lateral Movement (Including Mimikatz) with Agentless AI-Driven Authentication
Mike Carroll CISSP | Senior Engineer at Silverfort
Lateral movement refers to techniques cyber attackers use to progressively move through a network, searching for targeted key data and assets. They typically use multiple ways to get basic access, such as a phishing attack or malware infection, then leverage identity-based vectors to elevate their privileges and move from one machine to another. Detecting lateral movement is difficult because from there's nothing unusual going on.
In this session we will review some of the typical techniques used for lateral movement and explain how AI-driven agentless authentication can effectively detect and block it.
About the speaker:
20 years' experience in IT, growing from desktop technician to Unix systems administrator to IT Director and into independent consulting and Presales engineering delivering world class solutions to world class companies spanning every major industry.
2:30 pm – 2:45 pm: Break Time
2:45 pm – 3:30 pm: Speaking Session

DR.. Are You Ready?
Christopher Lowde | Senior Solutions Architect at Semperis
It's 3 am, and you get the call – Nothing is working. Do you pull out your DR plan? Start developing one? Or, stick your head under the pillow and hope it will be alright when you wake up?
What is a DR plan, and what do you need to include in it? We will cover the obvious things, and all the things that you did not think about that are absolutely essential.
About the speaker:
Chris Lowde has over 40 years in IT, working in operational and infrastructure architecture positions. He has worked closely with Microsoft on the initial development of Exchange as an enterprise messaging system and was an early development partner for NT5 – now Windows Server – focusing on Active Directory. Chris has over 20 years of experience of working with AD in large corporate environments. He gave the first public presentation on Active Directory by a non-Microsoft employee in April 1999 on implementing AD in a globally distributed corporate infrastructure.
3:30 pm – 4:30 pm: Speaker Panel & Happy Hour

Discussing Ransomware, Risk, and Recovery
Special Guest: Robert Myles | Fusion Liasion Officer at North Central Texas Fusion Center
Join our speakers in a panel discussion as they share their insights on topics that affect today's identity and security practitioners. For example, how is malware challenging traditional disaster recovery risk analysis? What should organizations really be preparing for? Ask our experts anything.
About the speaker:
As a highly accomplished thought leader, Robert consults with IT professionals across North America, advising on strategies for security architecture, technology, information, and cybersecurity. His expertise is supported by over thirty years of career experience, including a previous 15-year career as a Chief Information Security Officer, across a broad spectrum of industries. Robert is acknowledged for his ability to relate conceptually as well as technically. Robert is a retired commissioned officer from the U.S. Coast Guard, holds certifications as both a Certified Information System Security Professional (CISSP) and as a Certified Information Security Manager (CISM).
Specialties: HIPAA/HiTech, PCI, SEC, COBIT, ISO, NIST, CJIS, FICAM, FISMA, CDPA

Discussing Ransomware, Risk, and Recovery
Special Guest: Paul L. Kendall | Principal Consultant at GDT
Join our speakers in a panel discussion as they share their insights on topics that affect today's identity and security practitioners. For example, how is malware challenging traditional disaster recovery risk analysis? What should organizations really be preparing for? Ask our experts anything.
About the speaker:
Paul L. Kendall is a Cybersecurity, Risk, and Compliance executive with over 40 years' experience in Fortune/Global 500 manufacturing, health care, financial, and electric utility fields, including experience in international corporations with global presence. As a specialist in cost-efficient risk optimization and operational security & risk program development, Paul has successfully created several information security programs, and restructured existing programs to reduce overall program costs and still provide effective Risk Optimization operations. He hold current CGEIT, CHP, CHSS, CISM, CISSP, CSSLP, GDPR(P), and other certifications. Numerous publications and corporate, professional society, and trade show presentations to technical, managerial, and executive audiences.