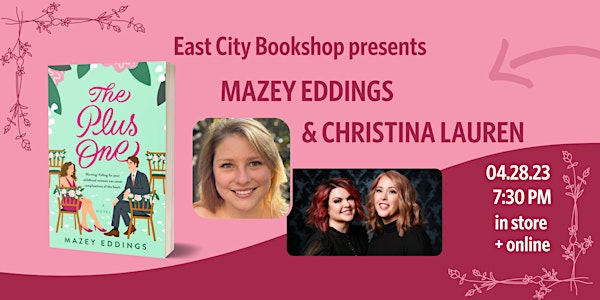 Hybrid Event: Mazey Eddings, The Plus One, with Christina Lauren
East City Bookshop welcomes romance author, Mazey Eddings, to discuss her latest novel, The Plus One.
Date and time
Starts on Friday, April 28 · 7:30pm EDT
Location
East City Bookshop 645 Pennsylvania Avenue Southeast ##100 Washington, DC 20003
Refund Policy
Contact the organizer to request a refund.
About this event
East City Bookshop welcomes romance author, Mazey Eddings, to discuss her latest novel, The Plus One.
Purchase of The Plus One is required for entrance into the signing line.
Note on Format: This hybrid event will have both an in-person component with limited seating as well as a virtual broadcast via Zoom Webinar. Both in-person and virtual attendees will be able to pose questions to the authors during audience Q&A.
COVID-19 Information: Please note that East City Bookshop continuously monitors public health guidance to ensure the safety of customers, authors, and our staff and reserves the right to adjust in-person events. Masks are required for all in-person attendees.
ABOUT THE PLUS ONE
What starts out as a fake wedding date turns into something these childhood enemies never expected in The Plus One, a sparkling romantic comedy by Mazey Eddings.
She's not looking to fix him. She's looking to love him, if he'll let her in.
Some facts are indisputable. The sun rises in the east, sets in the west. Gravity exits. Indira doesn't like Jude. Jude doesn't like Indira. But what happens when these childhood enemies find the only thing they can rely on is each other?
On paper, Indira has everything together. An amazing job, a boyfriend, and a car. What more could a late twenty-something ask for? But when she walks in on her boyfriend in an amorous embrace with a stranger, that perfect on paper image goes up in flames.
Jude has nothing together. A doctor that's spent the last three years traveling the world to treat emergencies and humanitarian crises, a quick trip home for his best friend's wedding has him struggling to readjust.
Thrust into an elaborate (and ridiculously drawn out) wedding event that's stressing Jude beyond belief and has Indira seeing her ex and his new girlfriend far more frequently than any human should endure, the duo strike a bargain to be each other's fake dates to this wedding from hell. The only problem is, their forced proximity and fake displays of affection are starting to feel a bit…real, and both are left grappling with the idea that a situation that couldn't be worse, is made a little better with the other around.
MAZEY EDDINGS is a neurodiverse author, dentist, and (most importantly) stage mom to her cats, Yaya and Zadie. She can most often be found reading romance novels under her weighted blanket and asking her boyfriend to bring her snacks. She's made it her personal mission in life to destigmatize mental health issues and write love stories for every brain.
ABOUT SOMETHING WILDER
The "reigning romance queens" (PopSugar) and New York Times bestselling authors of The Soulmate Equation and The Unhoneymooners present a charming and laugh-out-loud funny novel filled with adventure, treasure, and, of course, love.
Growing up the daughter of notorious treasure hunter and absentee father Duke Wilder left Lily without much patience for the profession…or much money in the bank. But Lily is resourceful, and now uses Duke's coveted hand-drawn maps to guide tourists on fake treasure hunts through the red rock canyons of Utah. It pays the bills but doesn't leave enough to fulfill her dream of buying back the beloved ranch her father sold years ago, and definitely not enough to deal with the sight of the man she once loved walking back into her life with a motley crew of friends ready to hit the trails. Frankly, Lily would like to take him out into the wilderness and leave him there.
Leo Grady knew mirages were a thing in the desert, but they'd barely left civilization when the silhouette of his greatest regret comes into focus in the flickering light of the campfire. Ready to leave the past behind him, Leo wants nothing more than to reconnect with his first and only love. Unfortunately, Lily Wilder is all business, drawing a clear line in the sand: it's never going to happen.
But when the trip goes horribly and hilariously wrong, the group wonders if maybe the legend of the hidden treasure wasn't a gimmick after all. There's a chance to right the wrongs—of Duke's past and their own—but only if Leo and Lily can confront their history and work together. Alone under the stars in the isolated and dangerous mazes of the Canyonlands, Leo and Lily must decide whether they'll risk their lives and hearts on the treasure hunt of a lifetime.
This page-turning adventure full of second chances, complicated relationships, and the breathtaking beauty of the American Southwest will take you on one wild ride.
CHRISTINA LAUREN is the combined pen name of longtime writing partners and best friends Christina Hobbs and Lauren Billings, the New York Times, USA TODAY, and #1 internationally bestselling authors of the Beautiful and Wild Seasons series, Dating You / Hating You, Autoboyography, Love and Other Words, Roomies, Josh and Hazel's Guide to Not Dating, My Favorite Half-Night Stand, The Unhoneymooners, Twice in a Blue Moon, and The Soulmate Equation. You can find them online at ChristinaLaurenBooks.com, @ChristinaLauren on Instagram, or @ChristinaLauren on Twitter.