About this Event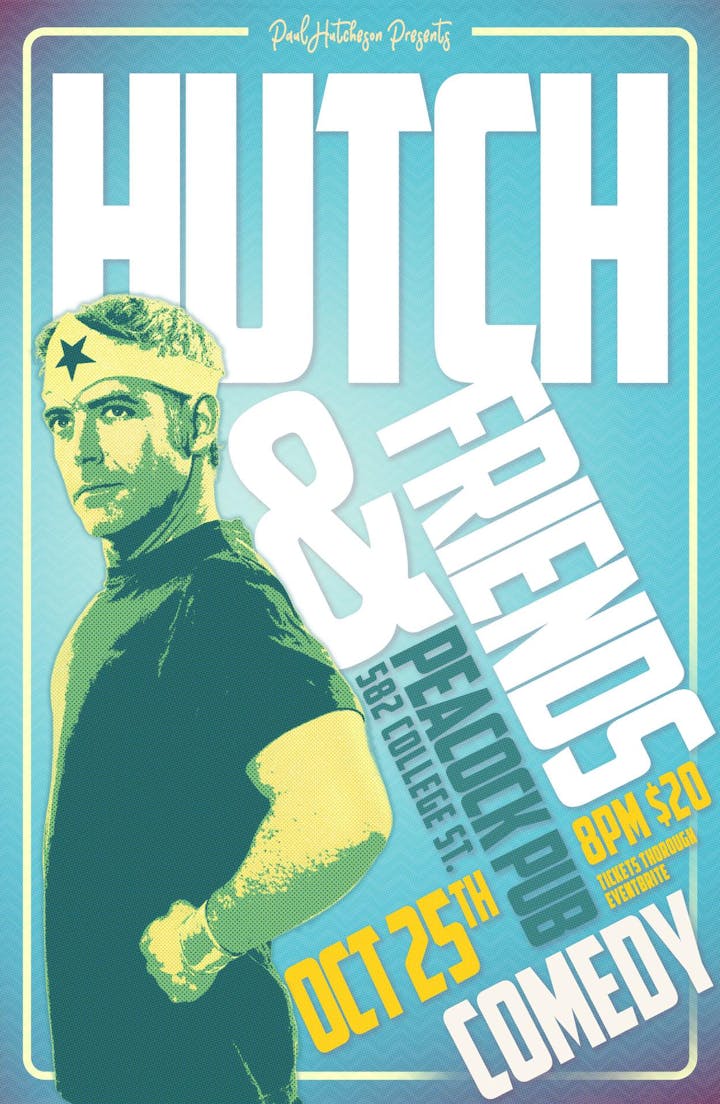 Hutch & Friends is a monthy showcase of Toronto comics. Located at the amazing Peacock Public House on College St. Seasoned host Paul Hutcheson runs a terrific evening of comedy!
Meet Your Acts!
Christophe Davidson
Christophe has performed numerous times at both the Just For Laughs festival in Montréal & JFL42 in Toronto, can be heard on SiriusXM, CBC Radio One's 'Laugh Out Loud' and seen on CBC at the 2018-19 Winnipeg Comedy festival's 'Punching Up' Gala. This past summer he returned to Montreal to record his first televised Gala at Just For Laughs. Christophe has delighted audiences in New York, Los Angeles, London, Croatia, Melbourne, Edinburgh and Singapore. After winning the JFL/CBC pitch program, he's currently developing an animated series with Big Jump Entertainment.
Surer Qaly Deria
Surer is a writer, stand-up and performer based in Toronto. She is a member of the sketch collective Fusion, one of the only POC only troupes in the city and has showcased at various hot-ticket shows in the city such as "Kenny Robinson presents The Nubian Disciples", "Yas Kween" and "Shade". She's also performed at this year's "Lady-Fest" and "Lady-Fest presents Sketchfest" in Montreal.
Nour Hadidi
One of the hottest comedians on the international circuit, Nour is a Toronto-based comedian who has been featured locally on the CBC News, FLARE Magazine and was picked as one of four comedians to watch in 2016 by the Toronto Star. She is a writing contributor to CBC Comedy, and is a writer for the political satire shows The Beaverton on the Comedy Network and This Hour has 22 Minutes on the CBC. Nour made her national television debut at the CBC's Winnipeg Comedy Festival in July of 2017, and her jokes have been played on CBC Radio's Laugh Out Loud and Sirius XM Canada Laughs. She has appeared on the CBC hit radio show the Debaters multiple times.
Dena Jackson
Dena has been working as a stand-up comedian and writer in Toronto for the past four years and in 2014, received a nomination for the prestigious Tim Sims Encouragement Award presented by Second City. She has performed at JFL42, the SheDot Festival, the Guelph Comedy Festival, Gilda's Laughfest and Toronto's Dark Comedy Festival. I have been featured in Canadian Living Magazine, the Charlebois Post and Blog T.O. She writes for CBC Comedy and the Beaverton and her stand-up can be heard on Sirius XM Radio. For more info, feel free to visit her website at: http://www.denajackson.net/
Nile Seguin
With appearances on Comedy Network's critically acclaimed The Beaverton as well as People of Earth and The Expanse, Nile is also known as Alister on the City TV sitcom Second Jen. Nile has performed at the Just for Laughs Festival, San Francisco Sketchfest, the Winnipeg Comedy Festival, the Halifax Comedy Festival and the Boston Comedy Festival. A three-time Canadian Comedy Award nominee, he has also opened for Gregg Proops, James Adomian, Janeane Garofalo, Greg Behrendt, Aparna Nancherla and Matt Braunger. Nile has written for Comedy Network's The Beaverton as well as This Hour Has 22 Minutes and the Gemini Award winning The Hour (where he was a regular on-air contributor). He was also nominated for a Canadian Screen Award for his writing on CBC's Still Standing.