Description
Inaugural "Hustle Your Heart Out to End Youth Homelessness" FUNraiser
This event is not for the Faint of Heart. It is a DANCING event that will include VIP Hustle instructors, guest dancers and hustle, ballroom, stepping music!
"Hustle Your Heart Out to End Youth Homelessness" is a FUNraiser to help serve homeless youth during our harsh Michigan winter. The mission of Detroit Phoenix Center is to provide critical resources, support and a safe nurturing environment for youth experiencing homelessness in Detroit.
DATE & TIME:
Friday, November 30th
6:00-7:00- VIP Reception with Steven Sturkey
7:00-11:00: Hustle Dance Party - Sound Powered by DJ Rue!
Guest Hust Host: Pageant Atterberry, Owner PBA Royale Dance Academy and George Eason, DPS Homeless Liasion
WHERE: Bethel Community Transformational Center, 8801 Woodward Ave
Guest Hustle Hosts
Heart2Heart Award Presentation
Silent Auction
Food & Drinks
ALL NIGHT DANCING
General Tickets: $35
VIP Tickets: $60
ATTIRE: Casual (bring your HUSTLE game)
AGES: 21 & up

For every ticket you purchase, one youth has access to a safe, affirming and warm space. Proceeds from this event will support the Rise Emergency Winter Shelter & year-round Asset Based Resource Center.
For more information about this event, please contact Becky Burton at info@detroitphoenixcenter.org or (313) 482-0916.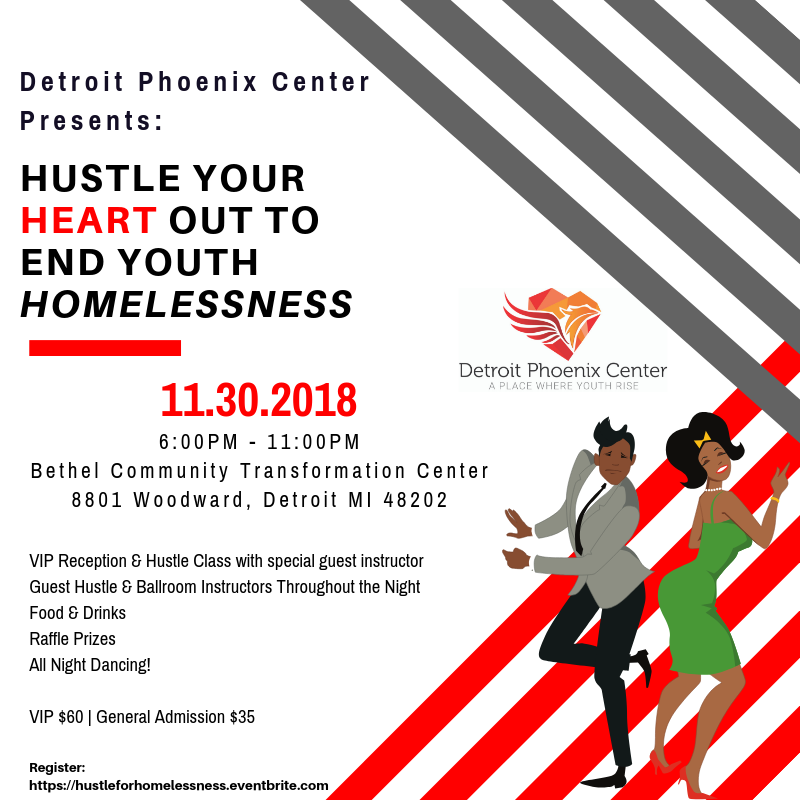 ASSET BASED RESOURCE CENTER (ABRC)
The Asset Based Resource Center provides drop in services to teens and young adults, ages 13-24 in crisis. Youth can can drop in and access showers, food, laundry, clothing, hygiene products, transportation assistance, computer lab, recreational activities and life skills/eductional programming.
RISE EMERGENCY WINTER YOUTH SHELTER
The RISE Emergency Youth Winter Shelter in partnership with Breakers Convenant Church International provides overnight respite, food, and support that meet immediate needs for young adults in crisis during the winter months.