Description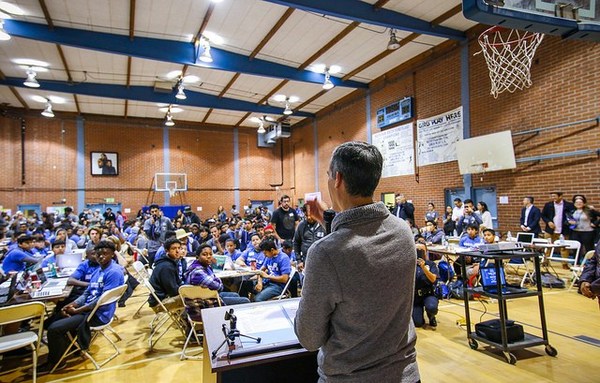 How can we disrupt a system where one is born into poverty? How can we thrive and boost upward mobility? What role can we play? Join us, come learn, and let your ideas run wild at our 5th annual Hustle N' Code Hackathon!
Today, one out of three residents of Watt's have a high school diploma, and only 3 percent of the population has earned a college degree. Students in areas like Watts lack the resources and support to ensure an optimal education. These teens are highly motivated, creative, curious, and committed, but do not get much exposure to resources, guidance, and careers.
The Hustle N' Code Hackathon is designed to inspire 100+ underserved students from the Watts community to come up with creative solutions that address community-based problems and strengthen their community through introducing them to computer programming. This event is open to all young minds ages 14-18. We will achieve our mission by harnessing the power of resource exposure and mentorship. The students will work with mentors during the Hackathon to learn to code and develop solutions to these problems. There will be cool tech prizes, t-shirts, breakfast, lunch, mentorship and a great time provided!!
Roles consist of three categories:
Students/Participants, will innovate with us to solve community problems using code and hack away to build web and mobile apps. Your app could help improve your church, school, block, park, or any part of your community. You must be 14 to 18 years old. All you have to bring is a hungry mind that is willing to learn and work with others. No coding experienced is required.
General

Volunteers

, will play a critical role in ensuring that the hackathon has all it needs to succeed. This includes space set-up, staffing the registration table, handing out breakfast and lunch, and helping to keep workspace clean and in order.
Mentor/Developer/Designer,

will engage with a diverse and passionate group of teens to help uncover the problem they are wanting to solve. Your background and skills will be needed to facilitate creative ways for teens to explore and develop an app concept that addresses their defined issue. Your help as a mentor is crucial for our participants to learn and expand their knowledge of the computer science realm. You will inspire underserved teens who have never coded in their life!



Play a key difference and be a part of this unique education event by signing up to be a participant, volunteer, or mentor. Help bring diversity to tech. RISE UP FOR UPWARD MOBILITY and take this opportunity to become the technology innovator and leader of tomorrow!