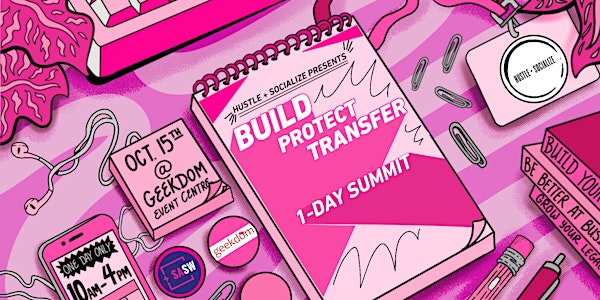 Hustle and Socialize Presents: Build, Protect, Transfer
1-Day Summit in partnership with San Antonio Startup Week and Geekdom - empowering businesswomen of South Texas with greater impact.
When and where
Location
Geekdom Event Centre 131 Soledad Street San Antonio, TX 78205
Refund Policy
Contact the organizer to request a refund.
Eventbrite's fee is nonrefundable.
About this event
Hustle + Socialize brings women in business together every year at our annual conference. For the first time, you get to experience that same magic at our 1-Day Summit!
This signature event is designed around our theme, "Build, Protect, Transfer" and we are honored to be working with partners, San Antonio Startup Week and Geekdom to curate this event.
Through continuing business education, opening doors to our professional networks, and facilitating leadership training, H+S creates a brave space for women to build the credibility, skills, network, and confidence to thrive as business leaders. This is your invitation to join us!
The summit is happening Friday, October 15, 2021, IN-PERSON.
Tickets are NOW AVAILABLE for you to claim your seat at our table!
*All CDC recommended safety measures will be in full effect - we will stay in close communication with all of our ticket holders about the specific measures we will have in place as we get closer to the day of the event*
As always, when you join us for any H+S event, you will get to experience an agenda packed with workshops, panel conversations, fireside chats, keynotes, and interactive activities. You will get to know our team, have a chance to meet with our speakers, and network with other amazing hustlers.
This event's agenda looks a little like this:
10 AM - Opening Check-in with Michelle + Christina
10:15 - 11:15 AM - Keynote Fireside Chat - Let's set the tone by going deep on mindfulness and mindset - in order to build empires and legacies this is where we've got to start.
11:30 - 12:30 PM - Build - Let's build our business mindset and confidence! Sometimes we don't know what it takes to be a thriving leader with multiple revenue streams while also being a mom/sister/wife/friend and THAT'S OK! We're going to hear from thriving business women and ask them personal questions about how they set the foundation for their eventual success.
12:30 - 1:30 PM - Lunch - more yummy details coming soon!
1:30 - 2:30 PM - Protect - The work doesn't stop once you set a solid foundation, now it's time to protect your work and the most important asset of all, Y-O-U. We are going to workshop through protecting our mental health and well-being all while our revenue, income, and profits all go up.
2:45 - 3:45 PM - Transfer - Once we build and learn to protect it's time to allow for our impact and influence to flourish. This session is all about setting down the stepping stones to a lasting legacy and transferring our knowledge to our team and even the next generation to follow in our footsteps.
3:45 - 4:00 PM - Closing
By the end of this 1-day hustle, you will have a plan and the action steps to build, protect, and transfer your impact for a lasting legacy!
H+S has been growing in the heart of San Antonio, TX for the past 4 years, and we are a home base for women at all levels in business ownership. Our community is made up of business beginners, business owners, and business builders.
Business Beginners are just about to make the jump into business ownership. They might have a "side-hustle" or be juggling a full-time job and a great idea and ready to bring it to life. Business Beginners might have just started a business but still feel like they have no idea what to do next. It's OK, mujer! We've got you!
Business Owners are those who have 1-2 years in business. They have had success in launching their idea, but things might still not be going according to plan...or there still might not even be a plan. That's perfectly OK! We are here to help get you on a path of sustainable growth. No more sacrificing your health, sleep, and sanity - we can do this together.
Business Builders are women that are leading the way in business but still have room to grow. Business Builders might have one, two, or even more business on their plate but still desire more community, more growth, and more freedom ($$$). Your next business coach, partner, and advisor will be in the room with you. We are bringing together the best of the best to accelerate your journey. Let's get you to the top!
Some of us are just getting started on our business journeys, some of us are learning how to make our efforts sustainable, and some of us are novice business owners ready to maximize our potential. At H+S, there is room for all of us to grow!
All those who join us will get an H+S bonafide swag bag, and access to all of our speakers, sponsors, and partners.
Purchase your ticket by October 8th before tickets prices jump up from $65 to $85. Ticket sales end on October 15th, 2021 at 11:59 p.m.
Only 50 tickets available for this one! Save your spot before they sell out!
*Tickets are priced accordingly and are not refundable*
COVID-19 Warning:
An inherent risk of exposure to COVID-19 exists in any public space where people are present. COVID-19 is an extremely contagious disease that can lead to severe illness and death. According to the Center for Disease Control and Prevention (CDC), senior citizens and guests with underlying medical conditions are especially vulnerable.
By purchasing a ticket and attending Hustle + Socialize 1-Day Summit, Build, Protect, Transfer, you voluntarily assume all risks related to exposure to COVID-19.