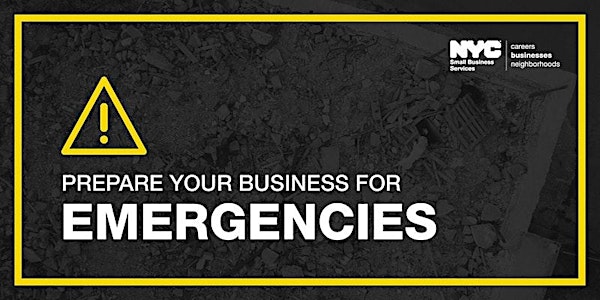 Hurricane Preparedness Webinar
Take action today to be ready for the hurricane season!
About this event
The Atlantic hurricane season began on June 1. The Department of Small Business Services (SBS) is here to help you guide through the start of a business continuity plan to better manage extreme weather events. Join us in starting your business continuity plan.
You will learn how to:
Stay in business: Identify your key business functions, employees, and documents
Protect your investments: Understand how to protect your assets and navigate insurance processes
Be ready for action: Create a business continuity plan for your business
-------------------------------------------------------
The webinar link will be sent out 2 days prior to the event.
Reasonable accommodations are available upon request. If you require accommodations, please contact Michelle Barnes-Anderson, MPA-IG, Director, Office For Disability Services at Mbarnes@sbs.nyc.gov.
If you have any questions regarding this event, please contact us at BusinessPREP@sbs.nyc.gov.