Description
For English see below

Har du någonsin undrat vad AI kan göra för dig? Låt oss hjälpa dig genom att diskutera hur, när och varför du ska implementera AI i din affärsmiljö.

Välkommen på ett kvällsseminarium torsdagen den 28 mars klockan 16:30, där du får svaret på alla dina frågor om AI; hur man kommer igång och hur man identifierar ett perfekt användningsfall.

Magnus Andersson, Divisionschef och Toni Trpkovski, CTO, tillsammans med sina kollegor kommer att guida dig genom processen ur både ett affärs- och tekniskt perspektiv.

Du kommer att lära dig:
- Vad är AI idag och vad kan man förvänta sig inom en snar framtid?
- När ska man överväga AI som lösning för problemet?
- Identifiera ett perfekt användningsfall för hur du kommer igång
- Demos av verkliga AI-implementeringar
Tid och plats:

När: torsdagen den 28 mars, kl. 16-18
Registrering från kl. 16. Seminariet pågår mellan kl. 16:30-17:30. Efteråt finns möjlighet till diskussion och samtal fram till kl. 18. Vi bjuder på lättare förtäring och dryck.
Var: Seavus kontor, Blekholmstorget 30, Hus F plan 10. (Karta)
Hur: Registrera dig senast 26 mars.
Presentationen kommer att hållas både på svenska och engelska.
Detta är ett seminarium du inte har råd att missa - välkommen med din anmälan!

Föreläsare: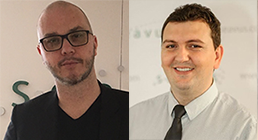 Magnus Andersson, Division manager - DNA-divisionen, Seavus. Har en bakgrund framförallt inom Microsoft-teknologier och har nästan 20 års erfarenhet inom systemutvecklingsområdet. Rör sig hela tiden i gränslandet mellan verksamhet och utveckling. På Seavus är han djupt engagerad i AI-verksamheten.
Toni Trpkovski, CTO, Seavus. Toni har arbetat på Seavus i mer än 10 år och haft flertalet betydande roller. Under sitt arbete har han varit en del av internationella team som levererar Data Management och Data Analytics-lösningar för företag i varierande storlek över hela världen.
Ni kommer även få ta del av fler Seavus medarbetares erfarenheter både när det gäller projektledning samt systemutveckling inom AI.
---
How to get started with AI: Identify the perfect use case!
Have you ever wondered what AI can do for you? Let us help you by discussing how, when and why implement it in your business environment.
Join us for an evening seminar on March 28 (Thursday) at 16:30h, where you will get answered all your questions about AI; how to get started and how to identify a perfect use case.

Magnus Andersson, Division manager of DNA and Toni Trpkovski, CTO, will guide you through the process together with their team from both business and technical aspects.
We will discuss:
Where is AI today and where will it be in the near future?

When is the right time to implement AI as a solution?

How to identify the perfect use case to get started?

Showcase some real-life implementations
Time and place
When: Thursday, 28 March at 16:00h-18:00h. Registration starts from 16:00h and the seminar is between 16:30h-17:30h. Afterwards, you can stay to discuss and do some networking until 18:00h. Simple food and beverages will be served.
Where: Seavus office, Blekholmstorget 30, House F floor 10. (map)
How: Register no later than March 26.
The presentations will be in both Swedish and English.

This is a seminar you can´t afford to miss - register now!
Speakers:
Magnus Andersson, Division manager - DNA division, Seavus. Magnus has a background mainly in Microsoft technologies and has almost 20 years of experience in the field of system development. he works between the borderland between business and development. At Seavus, he is deeply involved in the AI business.
Toni Trpkovski, CTO, Seavus. Toni has been working at Seavus for more than 10 years and has had several significant roles. During his work, he has been part of international teams that supply Data Management and Data Analytics solutions for companies of varying sizes worldwide.
You will also benefit from more Seavus employees' experiences in terms of both project management and system development within AI.