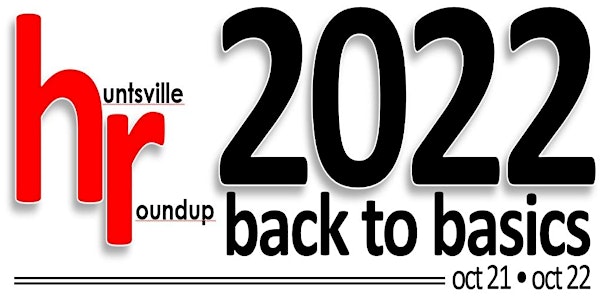 Huntsville Roundup 2022
BACK TO BASICS IS BACK TICKETS ARE NOW AVAILABLE!
When and where
Date and time
October 21, 2022 · 5pm - October 22, 2022 · 10pm CDT
Location
Jaycee Community Building 2180 Airport Road SW Huntsville, AL 35802
About this event
BACK TO BASICS IS BACK 
TICKETS ARE NOW AVAILABLE!
TICKETS WILL BE AVAILABLE AT THE DOOR. Please remember that we do not take credit or debit cards at the event - cash only.
Can't wait to see you there!
It's 2022, and we are still rocking it in the Jaycee Community Building!
The Jaycee Community Building is located at 2180 Airport Road in Huntsville, Alabama. 
There are several good hotels near our new meeting place so be sure to make your overnight arrangements.
SCHEDULED TIME FOR EVENTS
Speakers:
Fri 8pm - Al C., Nashville, TN (AA)
Sat 10am - Bill F., Memphis, TN (AA)
Sat 3pm - Bud S., Deering, NH (Al-Anon)
Sat 8pm - Gina F., Memphis, TN (AA)
* All sessions are open and non-smoking, but smoking is permitted outside in the back of the building
NEED A HUNTSVILLE ROUNDUP FLYER?  
FAQs ABOUT THE 2022 BACK TO BASICS ROUNDUP
Do I have to wear a mask?
Wearing a mask is not mandatory.
Are there benefits of our new, non-hotel location?
There are plenty! First, no restrictions on food. We will have access to much better kitchen facilities to serve awesome hospitality. Second, no sharing space. You won't hear the band next door crank up at 8pm, or the kitchen staff behind the wall during the speaker! The new place is centrally located. You'll be only a mile away from great restaurants on Airport Road and South Memorial Parkway, you're one exit away from Huntsville's newest mall - Parkway Place -- and you're close to major grocers including Publix, Whole Foods, Fresh Market and the newest Super Walmart. Finally, you have a straight shot to Starbucks, Panera or, if you prefer a local barista, Angel's Island Coffee.
What are my transportation options?
There is ample parking at the Jaycee Building for everyone. Transportation to and from the facility is the responsibility of attendees, but this is AA and we do try to help each other stay sober and get to meetings. Which means, this may be just the ticket to help you bond with someone new in the fellowship :-) 
What are my hotel options?
You won't be able to stay onsite at the Jaycee Building, but there are several nearby options. Use this link to see a map with nearby hotels. There are no room blocks this year.
How can I contact the organizer with any questions?
Just send an email if you need help or have a question.
What if the Roundup is canceled - will I get a refund?
Ticket sales are not refundable; however, if the Roundup is canceled, your admission will be honored at a subsequent date. If there are not plans to hold subsequent Roundups, we will refund your ticket price.
What's the refund policy?
Ticket sales are final but they are transferable. So if you can't come, give your ticket to someone who can.