Description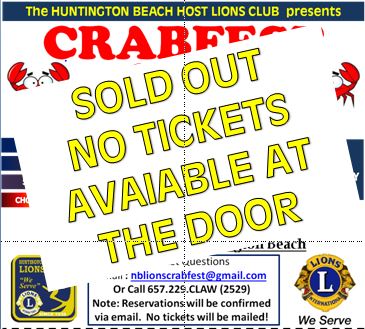 Have a group of people who wish to sit together? Please send us an email at hblionscrabfest@gmail.com Deadline to request your group sit together is March 21, 2015. We cannot guarantee seats together after this date!
The HBH Lions Club has provided 100% of the "Crabfest" proceeds to local community projects and charitable groups such as the Blind Children's Learning Center, Boy Scout Troop 1, Canine Companions for Independence, Huntington Beach Junior Lifeguards, Therapeutic Riding Center, and the Lions Wilderness Camp for Deaf Children.
We also provide glasses for sight-impaired individuals throughout Huntington Beach and the surrounding area, and hearing and vision health care for needy persons throughout Orange County and beyond!
Check out those who have made significant contributions to this year's Crabfest at http://www.hblionscrabfest.com/
The Huntington Beach Lions Foundation is a non-profit charitable organization 501(c) (3). Federal EIN 35-2283314. Donations to the Lions can be made by contacting us at hblionscrabfest@gmail.com