Description
Hunting for the Brown Buffalo: Poets Read & Reflect on Controversial Chicano Movement Leader Oscar "Zeta" Acosta
Chicano Movement icon Oscar "Zeta" Acosta's novels, Autobiography of a Brown Buffalo and Revolt of the Cockroach People, are considered testaments to the movement's focus on criminal justice, civil rights, cultural identity and affirmation, and discrimination. But others dismiss them for the sexism and misogyny that laces the books' prose.
Five writers read new work that reflect on Oscar Acosta's legacy and ask what Acosta's life and writing can teach us about social justice, sexual assault, and cultural identity today. The reading will be followed by a screening of director Phillip Rodriguez's Oscar Acosta documentary, The Rise and Fall of the Brown Buffalo.
This event is made possible by PBS SoCal and Impact Media Partners. The Rise and Fall of the Brown Buffalo will premiere on PBS SoCal on Friday, March 23 at 9pm.
SCHEDULE FOR THE EVENING
6:30PM Meet near the Redwood Bar for a special performance! (sidewalk on the east side of Hill Street between 2nd and 3rd at 252 Hill St.)
7:00PM Poetry Reading at The Redwood Bar & Grill, 316 West 2nd Street
8:15PM Screening of "The Rise & Fall of the Brown Buffalo" documentary about Oscar Zeta Acosta (Civic Center Studio, 207 S Broadway, Suite One, 90012)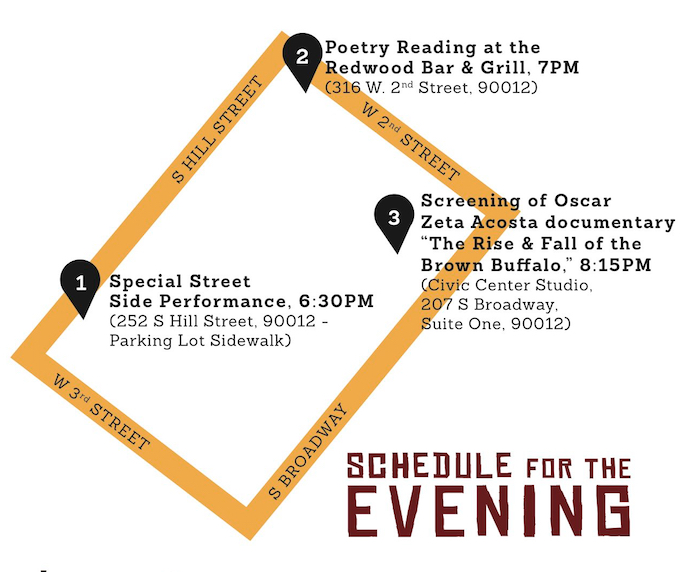 FEATURED GUEST POETS

Adrián Arancibia
Adrián Arancibia is an author and critic based in San Diego, California. He is a founder of the seminal Chicano/Latino performance poetry collective Taco Shop Poets. Born in Iquique, Chile (1971), Arancibia is the co-editor of the
Taco Shop Poets Anthology: Chorizo Tonguefire
(Chorizo Tonguefire Press). He has authored the collection of poetry titled
Atacama Poems
(City Works Press) and
The Keeper/El guardador
(Editorial La Ratona Cartonera) and will release another collection of poetry in 2018 titled
Poems of Exhaustion
(Parentheses Press). A Literature Ph.D., he currently works as a professor of English and Creative Writing at Miramar Community College. His creative work depicts and comments on the lives of immigrants, while his critical work focuses on literature and its relation to social spaces and popular culture.
Darren J. de Leon
Darren J. de Leon is an award winning poet from San Bernardino, playwright, performance artist, radio journalist and producer, taquero, DJ, teacher, and community activist. He earned his Masters Degree in English from San Francisco State University and has published poetry in numerous publications including the University of Arizona Press, Cipactli, and Fourteen Hills. In 1995, he founded Los Delicados: Poetas del Sol, San Francisco's avant garde leaders of the Latino Spoken Word scene.
Carribean Fragoza
Carribean Fragoza is a writer and artist from South El Monte, CA. She has published fiction and poetry in publications such as BOMB Magazine, Huizache, Entropy, Palabra Literary Magazine and Emohippus. Her arts/culture reviews and essays have been published in online national and international magazines such as the Los Angeles Review of Books, L.A. Weekly, KCET, Terremoto, Culture Strike, and Tropics of Meta. Her chapbook, "K-12" was published by Eohippus Labs. She is the co-director of the South El Monte Art Posse (SEMAP), a multi-disciplinary arts collective.
Adolfo Guzman-Lopez
Adolfo Guzman-Lopez is a poet and journalist. In 1994 he co-founded the performance-poetry group The Taco Shop Poets. His writing has been published in Geography of Rage: Remembering the Los Angeles Riots of 1992, Huizache The Magazine of Latino Literature, and other publications. He's been a reporter at NPR-affiliate KPCC 89.3FM in Los Angeles since 2000.
Joseph Rios
Joseph Rios is the author of
Shadowboxing: Poems and Impersonations
(Omnidawn). He is from Fresno's San Joaquin Valley. He's been a gardener, a janitor, a packinghouse supervisor, and a handyman. He is a recipient of scholarships from the Community of Writers Workshop at Squaw Valley and CantoMundo. He is a VONA alumnus and a Macondo Fellow. He was named one of the notable Debut Poets by Poets & Writers Magazine for 2017 and was a finalist for a Ruth Lilly and Dorothy Sargent fellowship. He is a graduate of Fresno City College and the University of California, Berkeley. He lives in Los Angeles.
Yesika Salgado
Yesika Salgado is a Los Angeles based Salvadoran poet who writes about her family, culture, and brown body. Her work has been featured in Latina Magazine, Univision, Vibe Magazine, Huffington Post, NPR, TEDx and many other digital platforms. Yesika is the Co-founder of the Latina feminist collective Chingona Fire and an internationally recognized body positivity activist. Her first book Corazón was published with Not A Cult, fall of 2017.