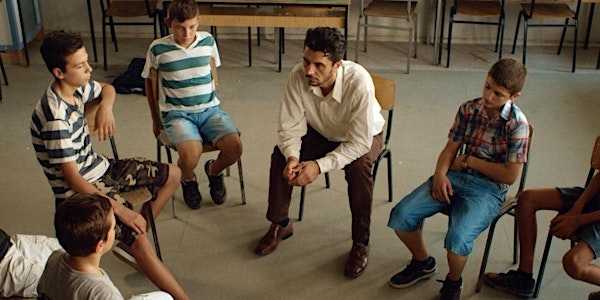 Hunting Flies/Fluefangeren
When and where
Location
Scandinavia House 58 Park Avenue New York, NY 10016
Description
Hunting Flies/Fluefangeren
SAT—September 28—7 PM
In this political metaphor about the rise and fall of dictatorship, set in a classroom in Macedonia over the course of one intense day, idealistic teacher Ghani discovers that he's lost his job on the very first day of school. In an attempt to get it back, he locks his students inside the classroom, and forces them to resolve a generation-long conflict between their villages.
As the day unfolds, principles are forced up against necessity — how long would our beliefs of any kind stand intact when we are forced to choose between them and our livelihood? Directed by Izer Aliu (Norway, 2016)
This event is presented in collaboration with the Albanian Institute in New York.
Izer Aliu (b. 1982) is a Macedonian-born Albanian who grew up primarily in Norway and Sweden, and is now a Norwegian citizen. Since graduating from the Norwegian Film School at Lillehammer in 2012, he has made films in various places in the world. His student film To Guard a Mountain dubbed him one of ten Nordic directors to watch, and he has been nominated for the Student Academy Award and been a winner of several other national and international awards.
Hunting Flies (2016) is a low-budget feature film which he made on his own initiative, a spontaneous project which taught him a whole lot about how things function when you finally have a film on your hands. His next feature film, 12 Dares, is a co-production between Sweden and Norway.
---
TICKET INFORMATION
All sales are final. Tickets are non-refundable.
Once you purchase your ticket(s), you will receive an order confirmation email from Eventbrite on behalf of Scandinavia House. Your e-tickets will be attached to your order confirmation email. Make sure to print them out and bring them to the event. Or go green and download the Eventbrite app on your smart phone!
IMPORTANT: If you do not see your confirmation in your inbox, make sure to check your junk/spam folder. If you still do not see your order confirmation, click here to access the Eventbrite help center. If you are having any other ticketing-related issues with your order, click here to contact Eventbrite.