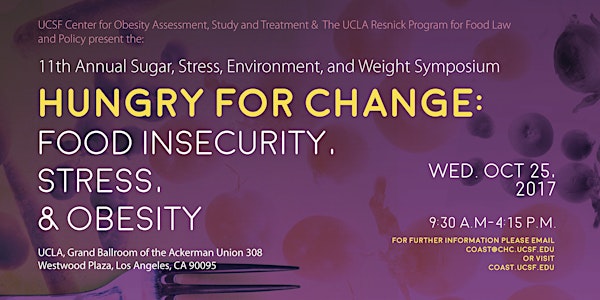 Hungry For Change: Food Insecurity, Stress, and Obesity
Sales Have Ended
Ticket sales have ended
Thank you for your interest in the SSEW 2017 Symposium: Hungry For Change. Our ticket sales have ended. Visit our website: http://coast.ucsf.edu for recaps and information about our upcoming events. Follow us on Twitter @SSEWScience. Thank you, UC SSEW Initiative
Event Information
Location
UCLA - Grand Ballroom of the Ackerman Union
308 Westwood Plaza
Los Angeles, CA 90024
Sales Have Ended
Ticket sales have ended
Thank you for your interest in the SSEW 2017 Symposium: Hungry For Change. Our ticket sales have ended. Visit our website: http://coast.ucsf.edu for recaps and information about our upcoming events. Follow us on Twitter @SSEWScience. Thank you, UC SSEW Initiative
Description
The 11th Annual Sugar, Stress, Environment, and Weight (SSEW) Symposium, presented by the UCSF Center for Obesity Assessment, Study and Treatment (COAST) and the UCLA School of Law Resnick Program for Food Law and Policy, brings together leading researchers to present the latest science on how the food we eat and the stress we experience create a perfect storm, accelerating one of the most urgent public health crises of our time: the obesity epidemic.
Join us on October 25th, 2017 from 9:30am-4:15pm at the University of California, Los Angeles to witness critical exchange between forward-thinking researchers, healthcare providers, and policy advocates on innovative approaches that move the needle forward on hunger, obesity, social equity, and public health. Don't miss this unique opportunity to participate! See below for more details on speakers, meditation workshop, and lunch options. Sign up today- space is limited!
Visit the SSEW Symposium Event page for more information on the symposium speakers.
Follow us on Twitter @SSEWScience to join the #SSEW2017 #HUNGRY4CHANGE conversation. We look forward to seeing you there!
:SYMPOSIUM SPEAKERS & HIGHLIGHTS:
"Strategic Research in Preventing Hunger and Obesity"
Dr. Kelly Brownell, Duke University, Dean, School of Public Policy presents Transformative directions in obesity prevention and "Strategic Research"— linking scholarship to meaningful policy change.
"Food Insecurity and Stress: From the Inside Out"
Dr. Cindy Leung, UCSF and University of Michigan - Understanding new mechanisms of stress in food insecurity and health.
"Always Hungry: Through Abundance and Scarcity"
Dr. David Ludwig, Harvard - Understand why we overeat, separate fads from the facts, and how to lose weight without hunger.
"From Local to National Programs: What REALLY addresses Food Insecurity?"
Dr. Hilary Seligman, UCSF - Weighing the hidden costs of food insecurity on the mind, body, and economy while prioritizing the most effective solutions.
:PANEL DISCUSSIONS:

Food Insecurity, Stress, and Nutrition" How can psychological stress and food insecurity can shift food preferences, fat storage, and worsen metabolic health?
Panelists: Dr. Janet Tomiyama, UCLA, Dr. Deborah Cohen, RAND Corporation, Dr. Barbara Laraia, UC Berkeley, Dr. Annie Gupta, UCLA.
"The Future of Student Health: Igniting Evidence Based Action at Educational Institutions" A dynamic discussion exploring how students, faculty, and staff got started in the quest to address the basic needs (food and housing) of UC students; what they are collectively learning along the way; where this journey is taking them; and who they are partnering with in the University of California system and statewide. Panelists: Dr. Lorrene Ritchie, UC Agriculture and Natural Resource, Dr. Suzanna Martinez, UC, Ruben Canedo, UCB, Antonio Sandoval, UCLA
"Connecting the dots: Linking food systems locally and globally" An impactful discussion between four leaders in food policy and law surrounding troubling trends of food insecurity, poor diet, chronic disease and obesity along with novel strategies that can be implemented locally and globally.
Panelists: Dr. Kelly Brownell, Duke University, Dr. Laura Schmidt, UCSF, Allison Korn, J.D. UCLA, Breanna Hawkins, LA Food Policy Council
: EAT LUNCH WITH PURPOSE & PRACTICE MINDFULNESS :
Experience a Mindful Morning, by registering for an AM Meditation Session before the Symposium
The facilitator, Amanda Gilbert, meditation instructor and previous SSEW Executive Director, will offer registered participants a brief mindfulness meditation session in the morning and optionally during lunch to apply what we know about the effects of stress on our mind, body, and biology, and encourage skills for mindful eating. RSVP free during checkout to save your spot, limited spaces available.
Date and time
Location
UCLA - Grand Ballroom of the Ackerman Union
308 Westwood Plaza
Los Angeles, CA 90024