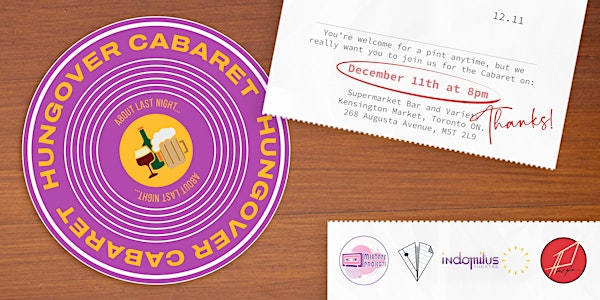 Hungover Cabaret 2.0
HUNGOVER IS BACK! Hungover Cabaret is a ONE-NIGHT-ONLY fundraiser cabaret containing a list of musical fun times, all for a good cause.
When and where
Location
Supermarket Bar and Variety 268 Augusta Avenue Toronto, ON M5T 2L9 Canada
About this event
Bored in these cold winter months and got nothing better to do? Come on down, hang up your coat, order a drink, and join us for a night of musical fun times!
This is our second Hungover Cabaret, it originally started as an idea when there was very little room for live performances. Now, it continues as a yearly effort from us to give back to the community we love and create for. The name Hungover Cabaret came up when some of us had described the feeling of the last two years almost like a hangover that never recovered. This year, we continue to lament that feeling with our theme: Into the Unknown (no, not like frozen 2). 17 songs perfectly describing our collective fear of being launched into the unknowing. Intrigued?
On top of a spectacularly music-filled evening. Hungover Cabaret is also an effort to fundraise for a charity of our choosing. This year, we've decided to go with Planned Parenthood Toronto. In light of the recent Roe V Wade decision that took place in the U.S., where freedom has been ripped away from those who need it the most. We felt that, as agents of change, it is our responsibility to make our art reflect current world events. We hope with this cabaret, we're able to bring awareness to the other parts of the world where voices are continuously being silenced and stifled.
This year's Hungover Cabaret is brought to you by: Mixtape Projects, Theatre Foolscap, Indomitus Theatre and Precipice Productions.
Directed by Margot Greve
Musical Direction by Liam Lynch
Featuring Katarina Fiallos, Steven Hao, Madeleine Hodges, and Ben Yoganathan
Graphics Design by Ally Mackenzie
Stage Managed by Annasofie Jakobsen