Event Information
Location
Budapest
Váci út 99.
Starschema iroda | 7.emelet
Budapest, 1139
Description
Sziasztok,
itt az ősz és vele elérkezett az újabb HUNTUG találkozó is. Milyen újdonságokat tartogat számotokra ez az esemény? Ezúttal az est 3 előadója a Tableau térképes világába kalauzol Titeket. Bemutatjuk, hogyan használhatunk különböző forrású / típusú térbeli adatokat és további tippeket és trükköket arról, hogyan lehet azokat megjeleníteni Tableauban.
Program
17:30 -18:00 Érkezés
18:00 -18:30 Egyedi/üzleti területi határok kirajzolása Tableau-ban– Korompai István | Data Visualization Intern - Starschema Kft.
18:30 -19:00 Térbeli adatelőkészítés Alteryx-szel – Petrik Béla | Data Visualization Expert - Starschema Kft.
19:00 -19:30 Térképes use case-ek a BKK-tól – Kizárólag érvényes vonaljeggyel tekinthetőek meg :) – Gyurkovics Péter | Adattárház szakértő - BKÜ Zrt.
19:30 - Networking
Helyszín: 1139 Budapest Váci út 99.– Starschema iroda, 7.emelet - View Map
Időpont: Szeptember 28 – Add to Calendar
Ha bármilyen kérdésed lenne a TUG talákozóval kapcsolatban vagy szívesen előadnál, akkor nyugodtan keresd a HUN Tableau User Group szervezőt az alábbi címen: kovacsi@starschema.net
Hamarosan találkozunk!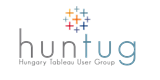 Date and Time
Location
Budapest
Váci út 99.
Starschema iroda | 7.emelet
Budapest, 1139