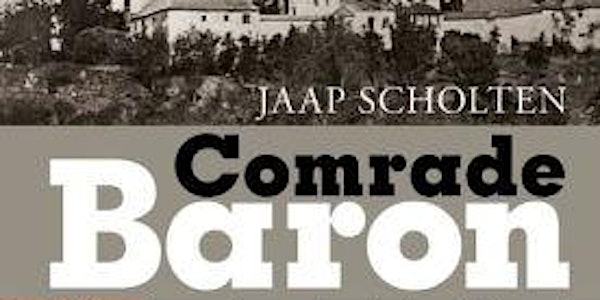 Hungarian Science Club_9.15.17
When and where
Location
CCNR & Barabasi Lab: Northeastern University, Network Science Institute 11th floor 177 Huntington Avenue Boston, MA 02115 MA 02115
Description
Dear Boston-Hungarians and Friends,
The Hungarian Society of Massachusetts cordially invites you to the next Science Club from 6 pm on 9/15/2017. Please register and help us to plan the event accordingly. If you arrive after 6.30 pm, the security will not be there, so you need to call one of the numbers: 617-320-3400, 617-905-2281 and somebody will come down and pick you up. Please do not call the security's phone number, we do not want to bother them.
Location: CCNR & Barabasi Lab: Northeastern University Physics Department, 11th Floor, 177 Huntington Avenue, Boston, MA 02115
Language: English
Speaker: Jaap Scholten
Title: Comrade Baron: A Journey through the Vanishing World of the Transylvanian Aristocracy
About our Speaker:
Jaap Scholten (b. 1963) made his debut in 1995 with his successful and acclaimed novel Tachtig(Eighty). From then on he devoted himself entirely to writing, including work for television. His second novel Morgenster (Morning Star), about the 1977 train hijack in Drenthe by Moluccan separatists, was published in 2001. Scholten has lived in Hungary for several years, where he writes columns and letters that appear in NRC Handelsblad and other publications.
Abstract:
In the darkness of the early morning of March 3, 1949, practically all of the Transylvanian aristocracy were arrested in their beds and loaded onto trucks. That same day, the Romanian Workers' Party was pleased to announce the successful deportation and dispossession of all large landowners. Communism demanded the destruction of these ultimate class enemies. Under the terror of the Gheorghiu-Dej and later Ceausescu, the aristocracy led a double life: during the day they worked in quarries, steelworks and carpenters' yards; in the evening they secretly gathered and maintained the rituals of an older world.
To record this unknown episode of recent history, Jaap Scholten traveled extensively in Romania and Hungary and sought out the few remaining aristocrats who experienced the night of March 3, 1949. He spoke to people who survived the Romanian Gulag and met the youngest generation of the once distinguished aristocracy to talk about the restitution of assets and about the future. How is it possible to rebuild anything in a country that finds itself in a moral vacuum?
We look forward to seeing you there!
Szabari Gitta, Kovacs Istvan
---
Kedves Boston kornyeki magyarok!
Szeretettel varunk minden kedves erdeklodot 2017. szeptember 15-en pentek este 6-kor a Northeastern University, CCNR & Barabasi Laborba: Northeastern University, Network Science Institute,11. Emelet 177 Huntington Avenue,Boston, MA 02115.
Vendegunk: Jaap Scholten
Kerjuk regisztralja reszveteli szandekat, hogy a szervezest megkonnyitsuk. Ha nem regisztralt, es megis ugy dont, hogy eljonne, akkor a recepcion jelezze, hogy a magyar rendezvenyre jott. Ha 6.30 utan erkezik azonban mar nincs recepcio, igy fel kell hivja a kovetkezo telefonszamot: 617-320-3400, vagy 617-905-2281 ekkor valaki lemegy es beengedi az epuletbe.
Az eloadas nyelve: angol
Mindenkit szeretettel varunk!
Szabari Gitta, Kovacs Istvan