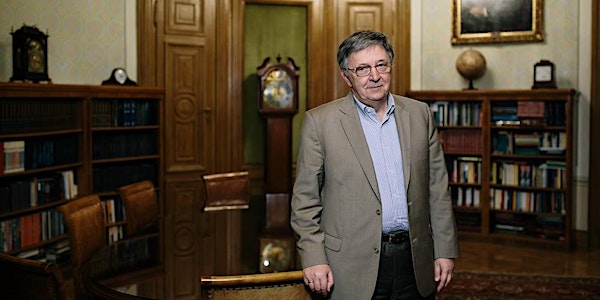 Hungarian Science Club_4.3.18
When and where
Location
CCNR & Barabasi Lab: Northeastern University, Network Science Institute 11th floor 177 Huntington Avenue Boston, MA 02115
Description
Kedves Boston kornyeki magyarok!
Szeretettel varunk minden kedves erdeklodot 2018. aprilis 3-en kedd este 6.30-kor a Northeastern University, CCNR & Barabasi Laborba: Northeastern University, Network Science Institute,11. Emelet 177 Huntington Avenue, Boston, MA 02115.
Vendegunk: Dr. Lovász László, matematikus Professzor, a Magyar Tudományos Akadémia elnöke
Website: http://web.cs.elte.hu/~lovasz/index.html
Kerjuk regisztralja reszveteli szandekat, hogy a szervezest megkonnyitsuk. Ha nem regisztralt, es megis ugy dont, hogy eljonne, akkor a recepcion jelezze, hogy a magyar rendezvenyre jott. Ha mar nincs recepcio mikor megkerkezik, kerjuk hivja a kovetkezo telefonszamot: 617-320-3400, vagy 617-905-2281 ekkor valaki lemegy es beengedi az epuletbe.
Az eloadas cime: "Grafok es halozatok: jatekoktol a tudomany uj paradigmajaig"
Az eloadas nyelve: magyar
Az eloadorol: Lovász László Professzor Szechenyi-nagydijas, Bolyai-nagydijas, valamint Bolyai Janos alkotoi dijas es Wolf-dijas magyar matematikus, egyetemi tanar, a Magyar Tudomanyos Akademia es az amerikai National Academy of Science rendes tagja. A szamitogep-tudomany vilaghiru kutatoja. 2014 ota a Magyar Tudományos Akademia elnoke.
Mindenkit szeretettel varunk!
Szabari Gitta, Kovacs Istvan
Dear Boston-Hungarians and Friends,
The Hungarian Society of Massachusetts cordially invites you to the next Science Club from 6.30 pm on 4/3/2018. Please register and help us to plan the event accordingly. If the security is not there, when you arrive, please call one of the numbers: 617-320-3400, 617-905-2281 and somebody will come down and pick you up. Please do not call the security's phone number, we do not want to bother them.
Location: CCNR & Barabasi Lab: Northeastern University Physics Department, 11th Floor, 177 Huntington Avenue, Boston, MA 02115
Title: "Graphs and networks: from games to a new paradigm of sciences"
Language: Hungarian
Speaker: Dr. Lovász László mathematician, President of the Hungarian Academy of Sciences
Website: http://web.cs.elte.hu/~lovasz/index.html
About the speaker: László Lovász is a mathematician and a world-famous computer science scientist. Professor Lovász was awarded the Széchenyi prize, the Bolyai János and the Wolf Prize. He is the current president of the Hungarian Academy of Sciences and member of the US and the Hungarian National Academy of Science.
We look forward to seeing you there!
Szabari Gitta, Kovacs Istvan