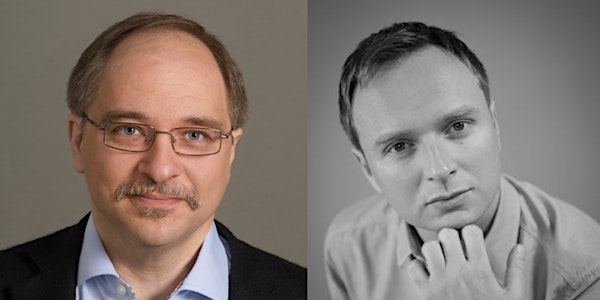 Hungarian Science Club_05.10.19
Date and time
Friday, May 10, 2019 · 6 - 10pm EDT
Location
CCNR & Barabasi Lab: Northeastern University, Network Science Institute 177 Huntington Avenue 11th floor Boston, MA 02115
Description
Dear Boston-Hungarians and Friends,
The Boston Hungarian-American Science Club cordially invites you to the next event. We will have 2 speakers from Hungary, the first talk will be in Hungarian, the second will be in English.

The event will be on Friday May 10, 2019. We will start gathering from 6pm onwards. Presentations will begin at 7pm sharp.
1. Speaker / Előadó : Dr. Bereczki András történész
Title / Cím : Szabadságszeretet és nemzeti önállóság. Észtek, finnek, magyarok és a viharos 20. század
About our Speaker / Az előadóról: Bereczki András (PhD) történész, egyetemi oktató (ELTE BTK Finnugor Tanszék); az Észt Köztársaság tiszteletbeli főkonzulja; a Magyar–Észt Társaság ügyvezető elnöke. Fő kutatási területe a 19–20. századi észt és finn történelem, művelődéstörténet és kapcsolattörténet. A 2001-ben megvédett disszertációja témája: Észtország és Finnország kisebbségi politikája a két világháború között.
About the talk / Az előadásról: Három különböző útról, az észt, a finn és a magyar nép története legutóbbi évszázadának legfőbb fordulópontjairól esik szó az előadásban. Ezúttal azonban nem a magyar történelem áll a középpontban, az inkább csak összehasonlítási alapul szolgál. A három – politikai értelemben – kelet-európainak számító állam története között érdekes párhuzamok, különbségek, sőt bizonyos esetekben kapcsolódási pontok, kölcsönhatások is vannak. E virtuális történelmi kirándulás célja a gondolatébresztés: hozzásegíthet bennünket, hogy a magyar történelmet más szemszögből is szemügyre vehessük.
---
2. Speaker / Előadó : Péter Nagy, PhD jelölt
Title / Cím : Angel Investors & Startup Founders: A Good Relationship
About our Speaker / Az előadóról: Péter Nagy az Eötvös Lóránd Tudományegyetem Pszichológiai Doktori Iskolájának PhD jelöltje. Kutatási területe az gazdasági (üzleti) pszichológia, szűkebben a vállalkozói és befektetői magatartás. Közgazdászként végzett a Budapesti Közgazdaságtudományi Egyetem /jelenleg: Corvinus Egyetem/ gazdálkodástudományi karán (Bsc, Msc, 2004) Ezt megelőzően műszaki menedzser diplomát szerzett a Gépipari és Automatizálási Műszaki Főiskolán /jelenleg: Neumann János Egyetem/ (Bsc, 2000). Az elmúlt több mint 15 évben aktív volt kisebb részben corporate, nagyobb részben entrepreneurial területen. Jelen kutatási témáját a gyakorlati élet inspirálta, jóllehet összesen négy tudományos diákköri dolgozatot írt és mutatott be egyetemi évei alatt. 17 éves koráig versenysportolt atlétika később kézilabda terén, azóta úszik, néha vitorlázik. A vizuális művészetek és a tehetségfejlesztés érdekli, kedvtelésből űrkutatásról, kvantumfizikáról olvas, jelenleg általános iskolásoknak oktat programozást.
About the talk / Az előadásról: In the last decades, there was a worldwide explosion in the number of newly founded innovative companies, startups, whom most important external financing source coming from angel investors. Startup entrepreneur is a founder of an innovative, mainly technology-based company in its early life cycle, with very scarce resources under management. Angels are wealthy individuals, who invest their own funds in early-stage companies. Next to money, angels have a significant value-added impact on the invested company development. Besides this they have a more direct and personal relationship with entrepreneurs compared to other kinds of investors. We have limited research-based knowledge about startup founders' and their angels' cooperation dimension. My lecture, based on a pilot research, focusing on the parties' partnership quality from the positive psychological point of view.
Location: CCNR & Barabási Lab: Northeastern University, Network Science Institute, 177 Huntington Ave, 11th floor, Boston, MA 02115
Parking garage: 235 Huntington Ave
Rates: 0-1 Hours: $10.00; 1-2 hours: $16.00; 2-3 hours: $22.00; 3-12 hours: $32.00
Public transit: Green E Line to Prudential stop

Bicycle: 247 Huntington Ave, racks located underground in garage
Refreshment contributions are always welcome. Please RSVP here on Eventbrite.
The event will be recorded and streamed online here: https://www.facebook.com/events/326915064679800/
If you haven't registered but decided to attend, then let the security desk know you came to the Hungarian event. If you arrive after 7pm, and the doors are locked, please call 617-320-3400 (Gitta) and someone will go downstairs to let you in.
We look forward to seeing you at this event!
---
Please subscribe to our email list by sending an email to bostontudosklub-subscribe@yahoogroups.com and get updated information about our events.
Please subscribe to our youtube channel: https://www.youtube.com/channel/UC-m9PT4QlPKhkLKWOO3doOg and never miss any of our presentations.
---
Link to share this event: https://bereczki-nagy.eventbrite.com