Description
Stand for Climate Justice with us!
On September 9, 2018, we invite you to join us at Crissy Field for an immersive flash mob experience where we'll co-create an iconic visual message to the world that will be filmed from the sky. This artistic ritual will be fueled by people power as we share our collective intention to manifest a regenerative future. This co-created symbol is a message to world leaders of all levels that the climate has changed and so must we.
*

Your RSVP is required to support in the technical aspects of the art creation
Centering the Wisdom Of Indigenous Leaders
We are creating a community platform to center the demands of indigenous people, amplifying the voices of youth and impacted frontline communities. As such, we are honored to host delegations of indigenous leaders from around the world to bless this gathering and share strong calls to action.
This is a free event with a suggested donation of $15 to $25 to help cover the expenses related to making the MindTravel Experience & artistic programming possible.
What to Expect
On the new moon, join hearts in an iconic setting for a collective moment of unity and creative declaration to GCAS leaders that the time to act is now.
Large choreographed aerial art flashmob calling for a regenerative future.
A MindTravel Immersive Experience with live pianist Murray Hidary - mindtravel.com


Schedule
4-5pm: Sign up and pre-show - DJ music, sing along with the Thrive Street Choir, enjoy Rebbl drinks, get your headset and your Climate Ribbon.
5pm: Welcome, blessings offered by representatives from the Ohlone Tribe of the SF Bay Area, messages from the frontlines offered by Indigenous leaders from around the World, live performances with special guests.
6pm: Aerial Art Formation - an amazing choreographed flashmob supported by Mind Travel Headset Technology, Live Piano performance by Murray Hidary and inner journey guided by Magalie Bonneau of Dancing Without Borders.
6:40pm Community uprising and celebration!
6:45-7:30pm: Integrative Sunset Experience with MindTravel.
Want to volunteer?
We're seeking the support of 50 volunteers. We have many roles that can fit your gifts and availability. Sign up HERE for more info.
Join our Outreach Team
We would greatly appreciate your support to get a diverse group of participants to the event. Click HERE to join our outreach team. We'll send you our outreach kit to help spread the word.
Why Gather Now?
With more than 15 devastating environmental disasters in 2017, and 2018 faring no better, it is deeply apparent that the Earth is calling out for help. In light of the United States pulling out of the Paris Agreement, the time is now for the world to unite to protect our Mother Earth, from further desecration and devastation wreaked from the impacts of globalisation and capitalism. This message is created to inspire leaders who are a part of the Global Climate Action Summit to prioritize indigenous rights and wisdom, climate justice, and keep fossil fuels in the ground.
The image we will create with our bodies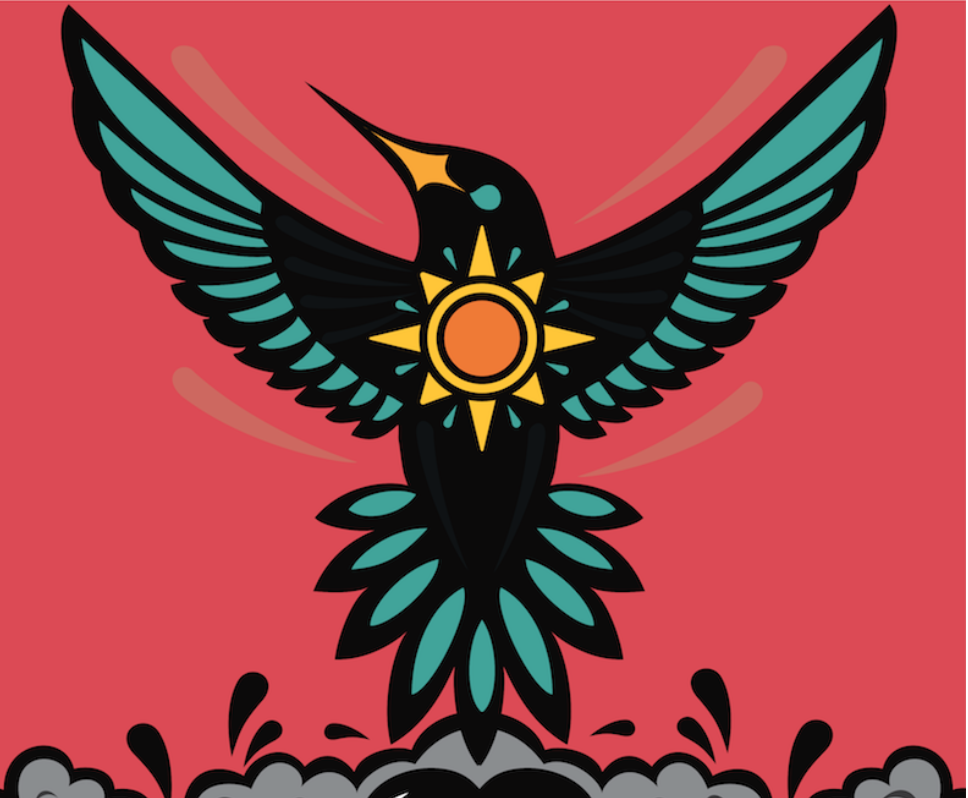 The illustration is the creation of Jhon Cortés, a Colombian artist. His work of art was selected to represent the Rise for Climate movement.
Together, we'll co-create this symbolic image of the hummingbird to reflect the collective power of the human spirit, solar energy, joy and resurrection. The image will also include the message **Rise for Climate Justice** which will morph to **Rise for 100% Renewables!** in support of the Climate Justice Movement. The whole bird and sun will become alive by the collective movement of our bodies synergizing together.
This Production is Offered By Dancing Without Borders & Spectral Q, in Collaboration with MindTravel.
Together, we stand for:
Unleashing Joy & the Power of the Human Spirit
Fostering Connection
Reclaiming Indigenous Wisdom
Igniting Positive Visions
Dissolving Separation
Building Bridges
Harnessing the Power of Community
Accelerating a Just Transition towards a 100% Renewable Energy Future
and Embodying a Regenerative Future
About MindTravel
MindTravel is an immersive musical experience that takes place in iconic theaters and beautiful outdoor spaces. Gorgeous and provocative avant-garde real-time piano compositions, spontaneously improvised, infused with wisdom traditions, theoretical physics and the power of communal elevation. The experience has been brought to famed venues including Lincoln Center, The Theater at the Ace Hotel, The Brooklyn Museum, The Metropolitan Museum of Art, The Grace Cathedral, The National Arts Club; festivals including Wanderlust, and Burning Man; and in venues, beaches and parks in cities including Los Angeles, San Francisco, Chicago, Denver, New Orleans, Europe and India. WATCH MindTravel Experience.
This Event Is Offered in Partnership With:
Greenpeace | Amazon Watch | Guardians of the Forest | Climate Action Network | Pachamama Alliance | Beehive Design Collective | The Climate Ribbon | Planting Justice | Soul Motion | Thrive Choir | Strategic Energy Innovations | Unify | Project Drawdown | Impact Hub Oakland | San Francisco Department of the Environment | The Shift Network
This Event Is Made Possible with the Support Of:
Invoking the Pause | Lush Charity Pot | MindTravel I Shugar Magic Foundation | Namaste Foundation I & Friends