Conversations with present-day Ohlone community members and a glimpse into the culture-documentation.
About this event
Janet Clinger and Ruth Morgan documented the efforts of three generations of Native Americans in California committed to keeping their culture alive and thriving, in "Ohlone Elders and Youth Speak". For fourteen thousand years the ancestors of contemporary Ohlone peoples served as caretakers of this beautiful region— from San Francisco to Pt. Sur - but there are only a few culture-bearers today that carefully maintain and propagate these traditions and practices.
The conversations will be between Ohlone elders, current culture-bearers, and moderators talking about their journeys, participation in the Ohlone Elders and Youth Speak project, passing on their traditions to their youth, and where all of this fits in with current life and times.
Moderated by Charlene Eigen-Vasquez and Priya Das.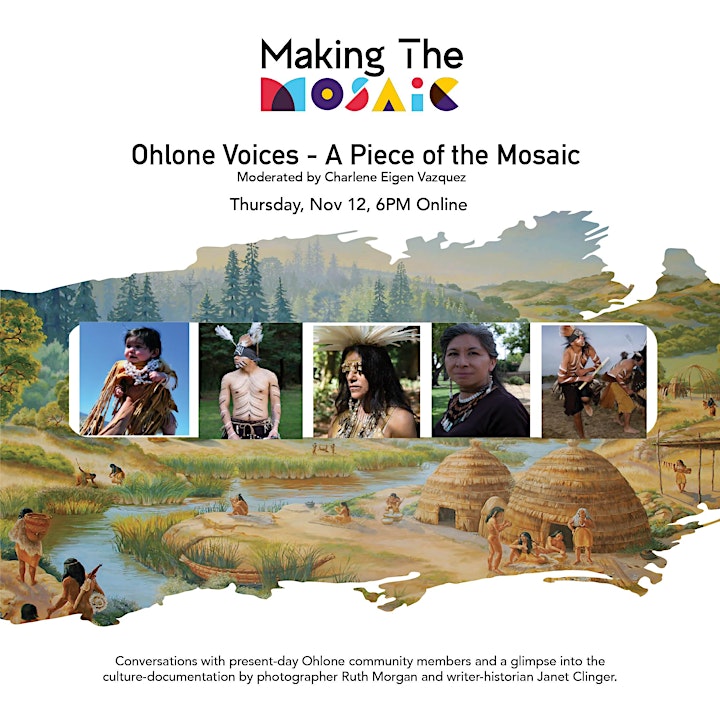 Organizer of Hummingbird Circle: Ohlone Voices
Mosaic America is a nonprofit organization that strengthens communities, cultivates belonging, and catalyzes inclusion through inter-cultural and co-created art. Our team of artists uses inspiration from their cultures and art forms to collaborate on unique performances and expressions that highlight the common threads of our shared American story 
# # #