Refund policy
Contact the organizer to request a refund.
Eventbrite's fee is nonrefundable.
Find out about the background and spiritual importance of our favorite hymns. Don't miss Vicar Michael's final course with us!
About this event
If you've ever wondered "why did the priest pick that hymn?", "what is an "Ebenezer" and why do we sing about it?", "Can you sing Amazing Grace to the tune of the Gilligan's Island theme song?", or had other questions or even concerns about the language in some of our hymns, this session is for you! Join Soprano, Rachel Evangeline Barham, and her cousin, the Reverend Michael P. Barham, for a workshop on the hymnody of the church. The workshop will cover a selection of hymns to reflect the breadth of the music tradition that is part of our inheritance as Christians, including ancient and modern texts, and some of our favorites ("most requested"). Through the music itself, the lyrics and the compositions, we will explore the rich heritage available for our common and personal worship and devotions. Topics covered will include background and importance of selected hymns, and spiritual reflections (including questions or challenges that hymns lyrics can raise). Participants are invited to submit a hymn request for consideration by our facilitators, along with any questions you have about a specific hymn or hymns in general. Send questions/requests to Rachel Barham, sopranorachel@gmail.com or Vicar Michael Barham, vicar@holyfamilyhmb.org.
The presenters may not be able to cover every suggestion or question but will include as many as possible, and provide some pointers on resources to learn more about hymns.
Michael P. Barham, D.Min.
As an Episcopal priest with fourteen years of ordained ministry experience, and as a life-long Christian, Michael has been steeped in the hymns of the church, both ancient and modern, which become part of his spiritual vocabulary and life of prayer. Growing up United Methodist, he was raised in a rich musical tradition of choirs for children, youth, and adults. One of his favorite memories as a youth was participating in annual gatherings of church youth choirs for a daylong workshop and concert. Throughout college and graduate school, he participated in choirs dedicated to the offering of sacred music in churches and university worship. Rev. Michael also enjoyed a stint singing with the San Francisco Gay Men's Chorus. His immersion into the Anglican musical tradition, which began with his active participation in the church, has expanded during his tenure as a priest, and many have expressed appreciation of his use of chant and song in worship.
At Holy Family, he often participated in choral offerings and has loved being part of the Annual Coastside Christmas Sing, and at Good Shepherd, he helped facilitate a concert series as an outreach for the community. Communal singing is one of the things he has missed most during the Covid-19 Pandemic! He is thoughtful and prayerful in guiding the process of selecting hymns and other sacred music for services to aid the congregation in prayer and worship, and for several years he has offered Advent and Lenten daily reflections based on musical selections ("Curated Advent/Lent Playlists"). He also enjoys exploring sacred themes in secular music. Reverend Michael's contribution to our session with his cousin, Rachel Evangeline Barham, will include spiritual reflections on selected hymns presented, and the spiritual benefits of the singing and the hymnody of the church in general for both personal and communal devotion and prayer.
Michael has a Master of Divinity from Duke University, and a Doctor of Ministry from Church Divinity School of the Pacific, studying the spirituality of Christian pilgrimage.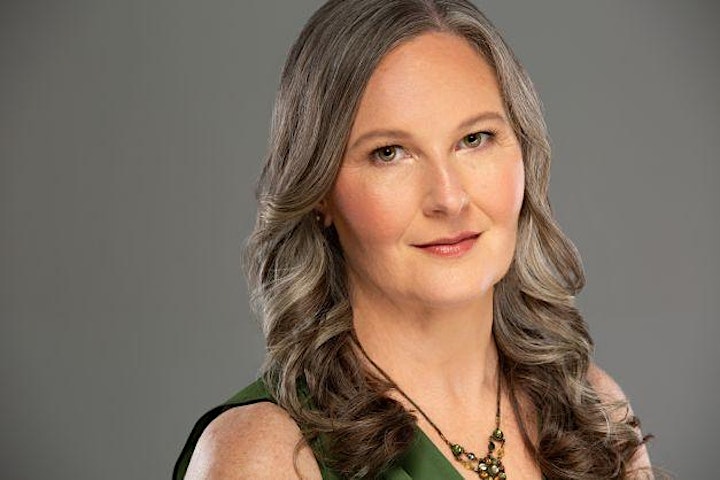 Rachel Evangeline Barham, Soprano
American Soprano Rachel Evangeline Barham, whose voice has been described by the Washington Post as "ample . . . precisely articulated and confident," is best known for importing her keen sense of theatricality to the concert repertoire. In addition to her specialty in Baroque music and oratorio, Ms. Barham is sought after by contemporary composers due to her vocal versatility and sensitivity to text. Ms. Barham's recent solo album Up Toward the Sky (Guild 7819), with pianist Jeremy Filsell, features previously unrecorded and under-recorded American art songs highlighting the poetic and musical voices of women, and may be purchased at www.guildmusic.com. An innovative recitalist, she has performed frequently in DC venues including the Mexican Cultural Institute, the National Museum of the American Indian, the Church of the Epiphany (Tuesday Concert Series), and DACOR Bacon House, as well as in North Carolina, Mississippi, and Hawaii. Her engaging program notes and translations are popular with audiences and reflect her curiosity about the creative process and her love for bringing words to life. Her work has earned her a 2020-2021 Fellowship from the DC Commission on the Arts and Humanities.
A veteran of the oratorio repertoire, Ms. Barham has performed Requiem settings of Fauré, Mozart, and Brahms. As a Young American Artist with the City Choir of Washington, she received critical acclaim for performances of Magnificat settings of Bach, Stanford, Mozart, and Berio (a Washington-area premiere); she has returned to The City Choir to sing Haydn's Creation, Handel's Dettingen Te Deum, and Mozart's Coronation Mass. She performed Haydn's Theresienmesse with the Arts Chorale of Winchester, and she is a frequent soloist with Cantate Chamber Singers, most recently in Handel's Israel in Egypt and DiOrio's Stravinsky Refracted and notably in Handel's monumental Brockes Passion. Ms. Barham's extensive ensemble appearances include Videntes (the Schola Cantorum of the Church of the Epiphany), Opera Lafayette, Gallery Voices, and a guest appearance with the award-winning Medieval music trio Eya at the National Gallery of Art. She was one of four singers to premiere The Initiation, an exciting collaboration between composer Stephen Gorbos and artist Dawn Whitmore brought to life on the labyrinth at the Georgetown Waterfront Park.
Ms. Barham has received enthusiastic reviews for her chamber opera premieres at the Capital Fringe Festival, starring as Cassie in Andrew Earle Simpson's opera The Outcasts of Poker Flat (2012), where she "devour[ed] her meaty role" (Robert Battey, The Washington Post); in 2010, she was chosen as a Fringe Favorite musical performer for her leading role as Sonia in Kyle Gullings's opera Oblivion. She created the role of Mrs. Simpson in Maurice Saylor's 2009 opera Unfinished Sermons (a parable for church performance) and was seen as the Milliner in the National Symphony Orchestra's semi-staged performance of Der Rosenkavalier (conducted by Christoph Eschenbach) alongside an all-star cast including Renee Fleming and Stephanie Houtzeel (2014).
Visit her website at https://www.rachelbarham.com/bio