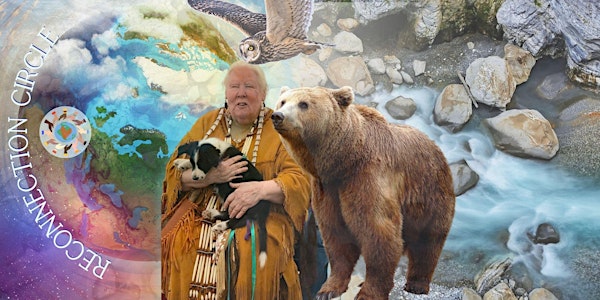 Humans and animal relationship through Native American Culture lense
Reconnection Circle: indigenous wisdom integration into modern times
By Dr. Jeff Feinman and Grandma Nancy
When and where
Date and time
Sunday, March 19 · 12 - 1:30pm PDT
Refund Policy
Contact the organizer to request a refund.
Eventbrite's fee is nonrefundable.
About this event
We have a special invitation for you - an opportunity to learn more about indigenous wisdom and apply it to our times. The times we are in are calling for working together, creating sacred circles and reconnecting with each other, animals, and all of nature.
We'd be honored to have you join us for a unique webinar series, as Grandmother Nancy Andry, a French Algonquin elder, sheds light on the interconnectedness of everything here on our Mother Earth with storytelling & ritual.
Drs. Allen Shoen and Jeff Feinman will help integrate Grandma's indigenous teachings with the scientific actions that help improve the overall health and life experiences of both people and pets.
These three powerful webinars are designed to help us become better animal guardians and stewards of the earth.
WEBINAR SCHEDULE:
~~~Sun. Feb 19, 2023 3pm ET/12pm PT 8pm BST and 9am Mon. 2/20 NZT | Relationship between humans and animals (you will receive the recording)
~~~Sun Mar. 19, 2023 (same time) | The "medicine" animals bring
~~~Sun April 16, 2023 (same time)| How can animals guide us in our daily life?
This webinar series is donation based, and everyone is welcome regardless of their financial means.
SIGN UP HERE >>https://www.holisticactions.com/grandmother/
Grandmother Nancy, has much to teach us about the Native American understanding of the natural world. Grandma is a captivating storyteller about the miracles of nature whether two or four-legged, flying, crawling, swimming, or rooted in Mother Earth. Her universal stories all teach about a life force that can be harnessed to help all living beings.
Grandma Nancy likes to remind everyone of a quote from Revered Medicine Chief Frank Fools Crow of the Oglala Sioux Nation:
"The Sacred Ceremonies do not belong to Indians alone, they can be done by all who have the right attitude and who are honest and sincere about their beliefs in Wakan Tanka (Great Spirit) and follow the rules. Survival of the world depends on sharing what we have and working together."
The indigenous people of North America view health holistically, believing that mental, physical, and spiritual strength and balance – both within the body and in harmony and stewardship of the environment at large – promote good health. Dis-ease is the result of imbalance, and Spirit (energy) is an integral component of balance, strength, and health.
What Grandmother Nancy teaches, and what generations of elders before her have taught, is that ALL of life comprises energy and water, that all of life is interconnected, and that an imbalance in one aspect may create dis-ease in the others.
Please join Grandma, Jeff and Allen for these fun and transformative webinars that celebrate life and the miraculous beauty all around and inside us - click here to sign up: https://www.holisticactions.com/grandmother/
And share with your family, friends and circles who might be interested!